OLYMPICS:
Can't get enough of the action in Vancouver? Even if you've had it with the Olympics, you probably can't get enough of the ladies. So delight in this handful of desktop wallpapers handed down to you from the ancient Greeks. You can pick a sweet design showcasing your favorite event, or you can just choose a hot lady Olympian of the day. You can't go wrong.
Still haven't had enough? Check out these scientific explanations of the Olympic events, equipment and strategies. How does the physics of bobsledding work? Why are skis designed like that? Though I'm not sure all the physics in the world could make me believe that ice dancing is a sport. I'm only just warming up to curling, ever so slightly.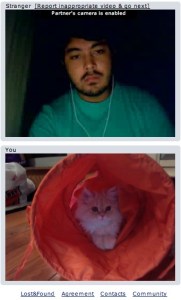 CHATROULETTE:
Chatroulette, a strangely primitive but kind of brilliant social media site, is stirring up a lot of controversy. Created by a 17-year0old with too much (just enough?) time on his hands, Chatroulette couldn't have a more apt name. Go on the site, click "play," and you are instantly paired in video chat with a complete stranger. Don't like what turned up? Click "next" and instantly cycle to the next weirdo, unspeakable part of the anatomy, or oh-so-quirky individual just like yourself.
Try it out at your own risk (!) and see what horrors or happy surprises await! This photo from the occasionally hilarious Tumblr "Catroulette" captures the weirdo essence of the site perfectly. Well, almost perfectly. Chatroulette is NSFW and likely Not Safe For Home either. You've been warned.
BLACK HOLES:
Someone is always trying to shut down my Number #1 Favorite Thing Ever, the Large Hadron Collider. I hate them for suggesting that the LHC might "destroy life as we know it" or "create a black hole with unknown consequences" that would "likely kill us all." Where's your sense of adventure, guys?!
SCI FI MUGSHOTS:
You couldn't make this stuff up. Check out these totally amazinghilariousterrible mugshots from all kinds of celebs who've starred in geeky films and tv shows.
Seriously, Hawaiian authorities must have their hands full with half the fucking cast of Lost running around like drunk tropical douchebags. And considering how big the cast is, they might need to think about expanding their detention facilities. Also can we talk about how Robert Downey Jr. was "arrested for driving naked while 'throwing imaginary rats' out a window." No, really. And David Bowie is such a gentleman. Who looks that hot in a mugshot? Who?!
Y: THE LAST MOVIE:
Brian K. Vaughan might not be pleased, but his fans certainly were when a leaked version of the script for the upcoming film adaptation of Y: The Last Man turned up the interwebs. Vaughan's graphic novel portrays a fascinating post-apocalyptic world in which a mystery disease wipes out half of mankind, specifically the half with a Y chromosome. Hopefully the film can do the comic justice for all of us Y fangirls.
GAY CAPRICANS:
If you haven't caught Caprica yet, Sam Adama's character is yet another good reason to check it out. The show's great for sci-fi haters and non-haters alike. Adama, played by Sasha Roiz, is not only a totally awesome Tauron mafia strongarm, but he's gay-married on the show!
"You know what's great is that I think it's a wonderful addition to the character that he's gay. But the thing is, on Caprica, there's no discrimination as far as the sexes or sexual orientation. The discrimination is more cultural. We're more discriminated against as Taurons as anything else. As a matter of fact, the word gay wouldn't even be used on Caprica because it's not an issue. It's a completely normal way of life. You love who you love." – afterelton.com
Not only that, but he's covered in these awesome "traditional" Tauron tattoos. Some of the tats even relate to his on-screen hubby! And Sasha Roiz ain't so bad lookin' in a fedora.
AN OTTER A DAY:
No internet meme can make me happier than a good old-fashioned photo of an otter. Seriously, check out The Daily Otter for some of the best otter shots around. There are other otter enthusiasts out there, right? Thanks, Associate Editor Sarah-Otter-Lover-To-The-Max!
AUTOTUNED:
Today is the day. All of your dreams have come true. You can now translate your favorite websites into music. Go type in Autostraddle, close your eyes and imagine a strobe-lit club filled with babes and glitter and booze. And while you're at it, check out Tone Matrix, another playful and  innovative insta-music site!
G-SPOT:
This is weird and I don't know what to say about it, to be honest. It's a computer mouse that's supposed to look like a vagina. I just… I just don't know why.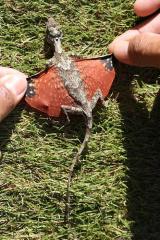 DRAGON BEAT:
Oh hai there tiny dragon. You're much smaller, cuter and less able to fly than I was led to believe, but did I mention you're adorable? Maybe I'll put one of these babies (or like, a bunch of them) in my pocket and go watch How to Train Your Dragon. 'Cause it looks awesome.
CHILD'S PLAY:
Apparently Mattel decided that the world needs a  "computer engineer" edition Barbie. Because female geeks should have body issues, just like everybody else. It's a hard call, but the new Barbie just looks like a phone sex operator to me.
While you're at it, just buy this instead: the Ironman version of the classic anxiety-inducing terrifying-if-you-think-about-it surgery game. Because who wants to touch the organs of a creepy naked guy with a bowl haircut? I sure as hell don't.
DIABLO III:
Blizzard just revealed some sexy character classes for Diablo III. Get ready! The female barbarian and female monk are totally hot and gay for each other. Isn't it obvious? Look at this haircut.
In other Blizzard news, the Starcraft II: Wings of Liberty beta is alive and kickin' and it looks pretty sweet. Screenshots don't lie.
ASSKICK:
There's a new (red band) trailer for Kick-Ass, the movie adaptation of Mark Millar's comic series. Is it safe to get excited about this movie even though McLovin is in it?
ZELDA LATTE:
Tired on your long quest for the triforce? If you're feeling weary forget the great fairy; stop in at Ye Olde Hyrule Starbucks and order one of these babies. Try demanding one from your local barista and see what happens! Because Zelda nostalgia and caffeine combined are truly the way to a woman's heart.