HEY PORTARD YOU BIG GAYMO:
Earlier this month, a CBS news poll showed that if you ask Americans how they feel about "gay men and lesbians" serving in the military, 70% are in support. But when you ask whether "homosexuals" should be allowed in, the support drops by 5%.
AmericaBlog's John Aravosis:
Bottom line: Homosexual is a nasty, clinical-sounding word with nasty connotations for far too many Americans. It's what I've argued for years and have been routinely beaten up by some in the gay community who claim I'm nuts: namely, that no one should use this offensive word, and we should correct anyone who does. It now appears I'm not so nuts after all.
The linguistics of gender and sexuality are perhaps murkier now than they've ever been — when we launched this website, some Autostraddlers less immersed in gay culture thought the widespread usage of "queer" on the site could be offensive, whereas many of us insisted it was actually the best word of all. Some actually attribute the reclaiming of "queer" to the TV show Queer as Folk.
Whereas for most of the 20th-century, queer was used as "a derogatory term for effeminate gay males who were believed to engage in receptive or passive anal/oral sex with men, and others exhibiting untraditional gender behavior."
Amongst some lesbians and in particular the African-American lesbian community, the word "dyke" is considered offensive, whereas others wear the term with pride — and even participate in "Dyke Marches."
Our Editor-in-Chief says that when searching for news stories on Google news, the linguistic disparity is clear — searching for "homosexual" is how you can easily find anti-gay articles, searching for "gay" or "lesbian" garners mainstream, liberal-leaning or gay press. "Queer" is almost never used outside of the gay press.
What came first, the chicken or the egg? Check out these news searches from this morning:
WILL & GRACE:
At least they talked to Margaret Cho. Alive Sydney reports on straight women and their gay boyfriends. "'Having a gay BFF – or "hubby", as I like to call mine – is brilliant because we can gossip about cute boys and clothes as these are topics that interest him too. It's just nice to have a handsome and well-dressed man on your arm who is not trying to hit on you and who will tell you that you look fabulous with no hidden agenda,' she says." Does this irritate the shit out of anyone else? Am I just being too sensitive? I seriously want to know people. I get that it's great that we're all so progressive, but when do gay men stop being friends and start becoming fashion accessories? Also I am gay and stylish and not catty and will talk about cute boys with you and will never steal your boyfriend. (@alive sydney)
THE OTHER SIDE:
Okay, so you can pretty much bank on an article about anything LGBT from Fox News not being 'fair and balanced,' but they're still worth looking at, if only to note the subtleties that they use to spin it. Take a look at what they're calling the anti-discrimination bill. (@fox news)
ROBOTS:
Avatars And Discrimination "Au writes about a white woman named Erika Thereian who changed her blue-eyed, blonde avatar and for three months modeled "the skin of a staggeringly photorealistic, attractive young African American woman." During the three months she wore this particular skin, she faced a good deal of racism-including being called racial epithets by strangers in world and even having her own friends distance themselves from her." (@jezebel)
SMOKE FREE:
Put down the ducky. a new study shows that non-smokers have higher IQs than smokers. (@reuters)
SARAH HASKINS:
Sarah Haskins is back!
(via @jezebel)
GAYS WITH MONEY:
Companies are going crazy about the 'pink dollar,' and this has one man up in arms.
"Part of the problem with much of the data used by marketers is that it's voluntarily self-fulfilling. Those who are "outwp_postsenough to be identified as gay consumers tend to be those secure enough in their lives and professions to talk about it — in other words, the very same well-educated, high-earning professionals whose habits and preferences end up standing in for those of the entire community. Do market researchers purporting to study gay spending habits place a call to the apartment of the 17-year-old closeted Latino kid who's bagging groceries in Brooklyn? You tell me."
Also riddle me this: has everyone forgotten that the "pink dollar" isn't just supposed to be about dudes? Lesbians seem to face the same hesitation from advertisers that has always faced various marginalized female markets, regardless of our alleged homosexual appeal. (@brandweek)
SEA OF GREEN:
Did you know that women weren't allowed to serve on submarines? Me either. It looks like walls in the military are coming down left and right. (@abc news)
Guys, this is just begging to be in a daily fix, but it actually belongs in a+e:
PREGS: Bristol Palin is set to play a teenage mother on The Secret Life of the American Teenager (@gawker)

Hey Autostraddlers! This is Alex here to give you the update on the design-happenings here at our humble little website. Guess what? We've made it easier for you to reach our blogs and video page by putting these items in our header. Additionally: Audiostraddle, Autofocus, Technostraddle and our Autio/Video pages have all been redesigned for easier browsing! Check it out! Bookmark 'em!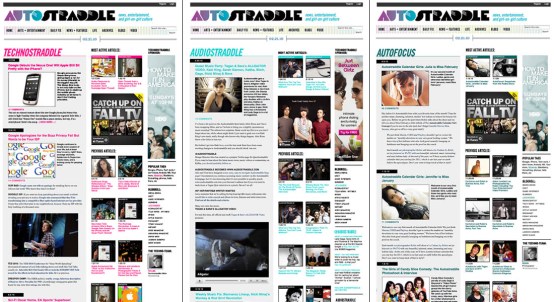 Any complaints about the hot pink color on our 'Technostraddle' page can be directed to yourmom[at]autostraddle.com, and any real problems or suggestions or words of wisdom can be sent to mememe: alex[at]autostraddle.com.
---