Meet Rayna:
Rayna loves music. She is the lead singer of queer punk rock band The Creeps, has about a zillion instruments (including a banjo, like me! ask her to play Hard Ain't It Hard if you ever run into her) and has a real sweet electro-pop solo album From the Nearby North under the name Little Lion. Oh, and she drives a motorcycle. Are you in love yet?
How Would You Describe Your Style?
"Dynamic and glitzy. Glam rock. Usually I wake up in the morning and figure out which gender I'm leaning toward. If masculine, I go for a 'hipster that did too much acid in the early 90s and got stuck in this time warp' look."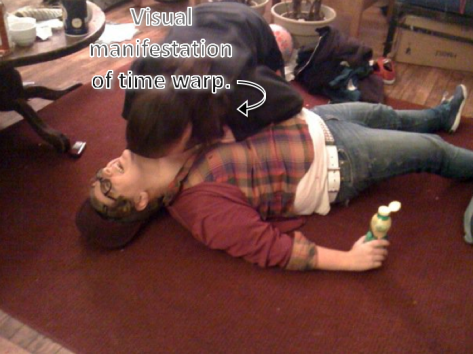 "When I'm feeling feminine, I really turn the glitz on; lot's of sparkly. Actually sparkly no matter what."
Where do you shop the shop?
"Goodwill. Mostly I just thrift, but I also like Top Shop, I'm really glad that they came to the U.S. If I had dollar dollar billz I'd hire a personal clothing maker to sew my clothes right onto my body. or Marc Jacobs."
Favorite piece of clothing?
"My leather jacket. I never had a jacket that I wear every single day. But this jacket, it's like I found my one true love."
Who are your fashion icons?
"The lead singer of The Gossip, Beth Ditto. She dresses really well when she's not just naked. Which she is a lot.

Also David Bowie and Lily Meratta from my high school…she doesn't know who I am, but yeah, she dressed well."
Anything you think looks hot on other girls but you wouldn't wear yourself?
"Definitely! Tons of stuff. Heels in general… stiletto boots. Garter belts. Anything from Chicos, actually. Like I would never wear Chicos right now, but I really appreciate people who do. And I know that one day I will. I will hit that golden point in my life and just go into Chicos and buy everything… it might also coincide with the day I become menopausal. Also, this may be stretching the definition of 'style' but I really envy the people who go around wearing butt plugs and just go about their day like everything's totally normal. That's hardcore."
Let's talk about your underwear.
"Okay. I never throw out underwear. I probably have like 75 pairs of underwear. I don't really care that much about what my underwear looks like actually, because I feel like if they're already 'there' they're not gonna give up."  
And what about your hair?
"I love talking about my hair! I'm working on something new this semester. It's a pompadour. It adds that roackabily effect to my glam. This is the first time I've had natural color hair since the 4th grade. I started off as a brunette but my mom really wanted a 'blonde lady' so until 8th grade as my natural hair got darker, I just made it lighter until I was like, a platinum blonde. Then I went though every color of the rainbow Manic Panic style. Then dreadlocks. Now just short and easy, and yeah, the pompadour."
Earliest fashion memory?

"My mom used to dress me in a tuxedo all the time when I was like, 7 years old. And also I remember when I had the chicken pox I just ran around and put stickers all over my body. I guess that's a pretty liberal interpretation of 'fashion' though."
Favorite accessory?
"My tattoos! I have three."
What do you think will be your next purchase?
"A black hoodie.

I've never had one because..I don't know, I always just wanted cardigans. But I think it's time."
Flagging*
*So before I talked to Rayna, I always thought handkerchiefs in your back pocket were a cute and innocent accessory to rock in your jeans. So did Rayna, until she found out what they all meant. Read about about the handkerchief code here. Also, a quick breakdown of the code can be see below (in coloring book form!) created by erotic lesbian coloring book blogger, (and autostraddle reader) Rocket. If you haven't seen her stuff already, you should definitely check it out at Illustrocity.

"One day I was just wearing a red bandanna in my back pocket, and this guy came up to me and was like 'oh so you're into anal fisting?' I was really confused until I looked it up–see it's a code. Each color, and the back pocket you wear it in, means something different…
My standard is red and white Gingham pattern (a.k.a the picnic table-cloth pattern). It basically means you want to have 'park sex' which makes sense for me because I really like the outdoors."
For reals! It's even an application on iphone you guys! I'm pretty sure we should all start flagging. Actually, remember Ericka? She just bought one with dinosaurs on it and we decided it meant you like to have prehistoric sex. So, look out for that one too. And look out for next Wednesday! For another fun-filled I'LL HAVE WHAT SHE'S WEARING!