Hello all you foxy ladies out there,
Welcome to I'LL HAVE WHAT SHE'S WEARING! Since Sundays are all about girls taking off their clothes, Team Style figured it'd be good to have a day that's all about girls putting their clothes on.  This feature will appear every Wednesday, but this week it's on Monday for special & mysterious reasons! So! in addition to talking about sweet clothes in general, we're going to start posting pictures & interviews for you of real live queer grrrls and what it is they're wearing! Think lookbook.nu except gayer and a little more chatty. Here, we'll have ladies talk about their styles so you can relate, be inspired, or just procrastinate some more. These ladies are living proof that lez fashion can really be anything–and that you don't have to wear skinny wife-beaters that show your nipples a-la-shane to be hawt (unless, you know, that really IS your style). So check up on us weekly to see who's rocking what and why!
To kick off our new segment, I'd like you to all give a warm welcome to Ericka:

Documentary filmmaker, American studies major, and all around chillest girl in the world. She's living proof that jeans and a t-shirt, beyond being really comfortable, can be oh-so-fetch. Her personal style is an androgynous mix of urbanity, ease, and function. Think boy-next-door only cuter (and arguably better, cus she'd rather cuddle then play videogames any day).
The Basics:
"Fashion is really androgynous right now which is good for me; like I bought these jeans i'm wearing now in the boy's section, but they're still pretty tight–that being 'the style'–so they actually fit really well. Also my type of glasses are apparently really 'in' at the moment which suits me just fine because I've had these for years. Oh! and nice kicks. My grey Nike high tops make me really happy. If there's something stylish I believe in it's definitely having sweet kicks."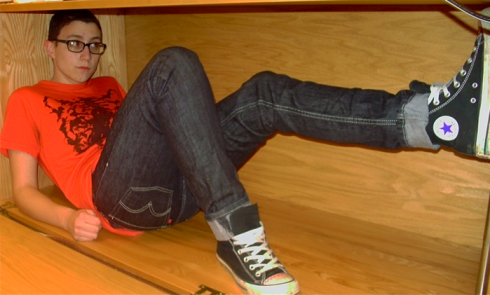 Where are your spots to shop?
"When I can, I like to shop at Haight Street in San Fransisco. It's full of pricey vintage stores that can get pretty touristy since it's this 'trendy spot', but they do have good stuff there. I also like Telegraph street in Berkeley. I would like to go shopping more, but I don't. It's not that I hate shopping, my problem is I just don't know where to shop".
What's next for you wardrobe?
"I really want to buy something for the cold weather here in Connecticut. Something warm. I'm not sure what exactly I want yet…but I wouldn't be opposed to a poncho."

When I have to dress up…
"Nice black pants, a well fitting button down collared shirt usualy with a vest. Maybe some wing tipped shoes and a cropped spencer tux jacket if I'm going to be super dressed up. And for REALLY special occasions I do own gold suspenders".
Favorite article of clothing?
"This one time I bought this Hanes black t-shirt 2 pack. For some reason though they both fit me really differently. One of the two fit me really well. It isn't 'exciting' but I feel good in it. You know when something just fits amazingly? It's like instant confidence."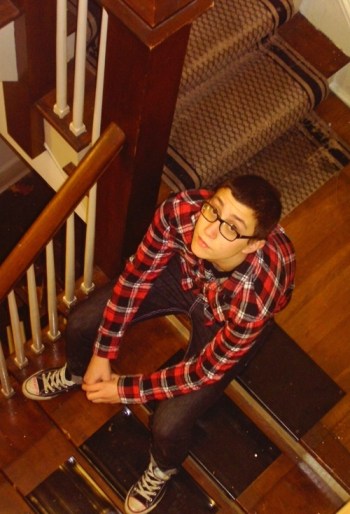 Who would you dress like, if you could?
"And look as good as they do doing it? I don't know. Lady Gaga wears some pretty crazy stuff. David Bowie does too…Tom Hanks in Apollo 13, definitely, because he gets to wear a space suit… Jennifer Beals in Flashdance for sure, I mean she wears a tuxedo on a date." (This is the perfect time to share with you guys, one of my fav. blogs: Clothes On Film: Flashdance ) "Really though I'd want to dress like the cast of Blue Crush. Board shorts and flip flops all the time."
Ericka Approved clothing:
Black Beanie, like this one from Brixton Heist.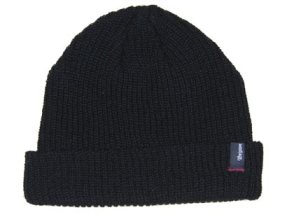 Waffle/ Thermal Shirts. This Powder River Outfitters one from Sierra Trading Post is pretty awesome and relatively cheap. Someone should probably buy it.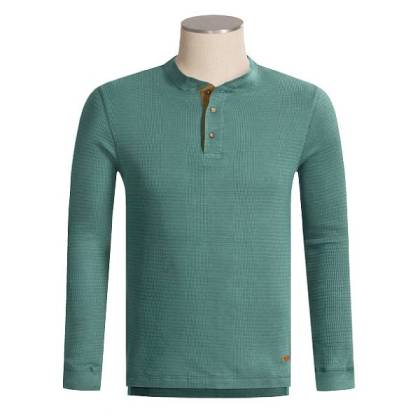 Once upon a time, Ericka's mom took her to a Dinosaur museum and bought her a blue dinosaur sweatshirt (that glows in the dark). You can get your very own ridiculous dinosaur sweatshirt at CafePress.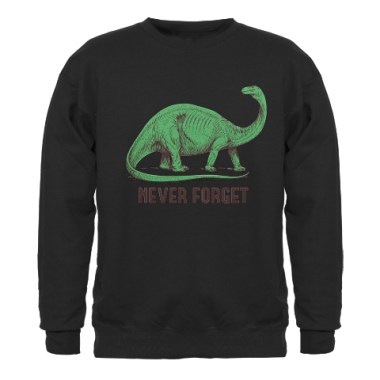 And of course, some fresh kicks. These here are Grey Nike High Tops, fancy name: Nike Terminator High Grey Jersey. There are tons of different Nike SB/High Top/Dunks waiting for you out there. You just need to find somewhere you can buy them! For online shopping try FightClub.com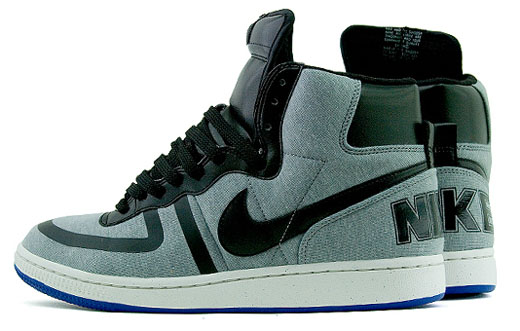 That's all folks! Come back next week to see Intern Hot Laura's interview pick! See you there.