Back when only elite universities (i.e. schools with sufficiently steep tuition) were invited, I was a Facebook apostle. In its social Stone Age, Facebook was a very young, very weird ecosystem that probably had more in common with OKCupid' s system of drive-by virtual encounters than it does with the Facebook we know now. That network of morning-after-pokes and tentative friend requests sustained itself for a little while. Then that crazy Zuckerberg nerd got the big idea to start letting all the riff-raff in, which I guess is Justin Timberlake's fault — I saw the movie, after all.
Fast forward to 2011. Facebook is a universal phenomenon with 750 million users worldwide, 15 million of which are your prying relatives, 35 million of which are your potential employers skimming through your Topless Kegstand Championship photo series. The company is still helmed by the same Harvard dropout turned millionaire who still doesn't know the right way to rock a hoodie. Everyone, absolutely everyone,  is on Facebook — and while that could be a blessing, it's a curse.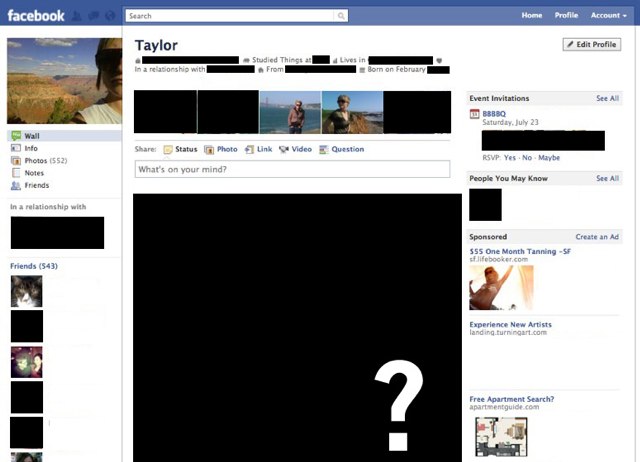 Don't want someone to see the pics from that one party where you only wore electrical tape over your boobs? Don't worry, just make a limited profile, the single most conspicuous way to suggest to your semifriends and estranged family members that you are a) gay b) a boozehound or speedfreak, as the case may be, or c) a proprietor of a BDSM dungeon. Not that any of these things are problematic on their own (they are perhaps best in combination!) but there's nothing like a gaping hole where your wall should be to get Aunt Whatever's imagination running wild or your ex totally pissed at your new secret life that obviously you've cut her out of, like the cancer that she is.
I haven't been a regular Facebook user since late 2007 or so. After Zuck so democratically loosed the floodgates on the lowborn masses and added status updates — the ultimate text-based indiscretion this side of sexting — I started feeling skittish about doing much of anything on Facebook. I systematically ignored friend requests as they piled up in my inbox. People accosted me to 'friend them' and that seemed like a hollow empty shell of the already hollow, empty shell that we'd only just formed that night over Irish carbombs.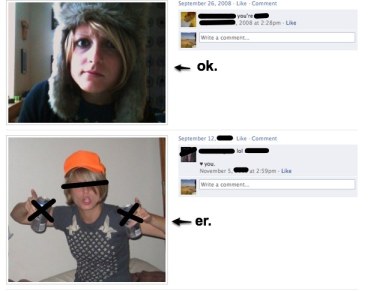 When the tipping point, well, tipped, I began self-editing at first, untagging photos and essentially erasing my memories off the face of the planet…because really who remembers anything these days without pathologically cataloguing their regrettably offline living experience on the web? Once I grew tired of concealing my own digital footprint, I became a Facebook recluse — only hopping on the world's most convoluted social network to RSVP to events and untag assorted indiscretions captured by (happily) low-resolution cameraphones.
Eventually Twitter happened. I threw my weight the other way, made an account, and started consolidating my thoughts into 140-character-or-less parcels. I didn't associate it with my given name, and collected my web friends as the microblogging attention-span-havoc-wreaking phenom began in earnest.
Now I neglect two Facebook accounts: the original one from 2004 and one with my new taken name that feels much more "me" now. It drives me crazy that I can't just merge them or customize my original profile's privacy settings in a nuanced way. (It probably drives all 42 of my Facebook friends crazy too — sorry, guys.) I essentially ignore both of them.
The thing is, whether it's Twitter or Facebook or Friendster circa 2002, having a unified personal identity is a particular kind of bullshit that has no real correlate in reality. When profile pages are the cornerstone of a social network, we're encouraged to prune our weedy online identities, lest they grow over into an unruly, inappropriate, or otherwise incoherent tangle.
This is the heart of my beef with Facebook, and the reason that I'm so excited about Google+. Yes, there are the intentionally obfuscated privacy settings to fumble through, but at the end of the day, you are your Facebook profile — whether your buttoned-up Auntie Someone can see it or not. And the absence of key personal details speaks just as loudly as their presence, if not more so.
Things may have settled out a bit (or I'm just older and boringer)…I don't know if the omission of your sexual predelictions is still failproof evidence of eminent homo-osity, but the fact of the matter is you've got all your carefully-curated social interminglings there in one place for anyone to see — or conspicuously not see. Walls become the focus; the social part fades into the background as we find ourselves scanning eachother's personal data like maniacs instead of actually, you know, interacting.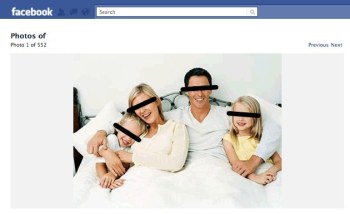 I think Facebook is a particularly poor reflection of real life. Then again, I've always been compelled by contextual identities and how seldom we acknowledge the untruth of a coherent, unified self. I'm not saying you should be ashamed of who you are or that you should make every effort to hide your "true self" from prying, professional, or parental eyes — but rather that the idea of a true self is a fiction to begin with.
Identity is a moving target, a pesky, amorphous thing defined by both our conception of who were are, others' perception of who we are, and the interplay of those expectations and projections in any given moment.
Here's a real life example that I'm sure we can all relate to: In bed, you bring a Legendary A Game. On the Fourth of July, you were seen shamelessly eating pasta salad with your hands while sitting cross-legged on a linoleum floor. How do you reconcile these two versions of yourself —  the one, a confident sex panther; the other a drunk, ravenous weirdo? Maybe you are a sex panther and maybe you did that thing with the pasta salad — but that doesn't mean you'd combine those activities. If you did, you'd probably see a wasteland of profile holes where so many Facebook walls once were.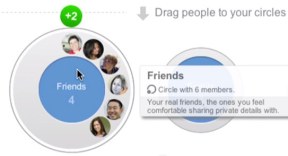 That or you'd get unfriended — the ultimate slap in the face doled out via wi-fi. On Google+ you'd never run into this dilemma: just make a custom Circle for People You Sleep With and one for People Who Also Have Strong Feelings About Pasta Salad.
Sure, we can pretend social media isn't a big deal, and that the boundaries between the internet and real life aren't permeable — but they totally are. From "tweetups" to Facebook pokes blossoming into nervous, wine-guzzling first dates, social media undeniably sculpts our interactions in the realm beyond the hyper-social web. And I for one would rather keep my online world as dynamic, fluid, and complex as the other one I sometimes have to put pants on to go into.
If we're being at all honest, life is queer: The borders of our compartmentalized selves bleed together, but don't necessarily overlap. Imagine an infinitely interlocking Venn Diagram, Escher-esque circles upon circles — it's just like that. Good thing Google just made a solution to this social impasse that's as literal as can be.
What do you think about Google+? Have you taken to it like a fish to social water or do you remain a true-blue Facebook devotee? Tell us in the comments, because sharing is caring!