I hope everyone's recovered from our last review of Bar Girls. Not since Better Than Chocolate – a mere four movies ago – have we experienced such a cinematic display of violence and co-dependency. I was worried I might have lost you.
Before starting these reviews I like to do a quick scan of what I'm getting myself into so I know whether or not I can watch it with a friend or if I need to do it by myself because I've factored in the amount of time I'll spend pausing the movie to take desperation jogs around the house. I knew based on your preliminary movie suggestions and cautions that this was not an activity I needed to do for Claire of the Moon. Nicole Conn's 1992 debut would be a solo experience.
Still, I wanted to know what it was about. In doing so I discovered that Claire of the Moon had more pre-viewing red flags than any movie I'd done in this series. The poster for the movie looked like if a romance novel was a person going through a divorce and engaging in a "me" period. One summary plainly stated, "Female authors gather at a small northern coastal retreat to work on their writing skills." The most promising viewing option available seemed to be watching the movie on youtube in minute and a half increments. More than one video link titled the movie "Claire the Moon." Things were not looking great.
Then this is the image that greeted me once the page loaded: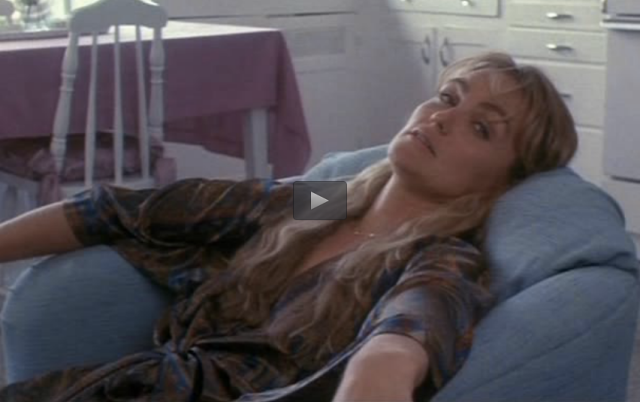 After watching this film, same.
---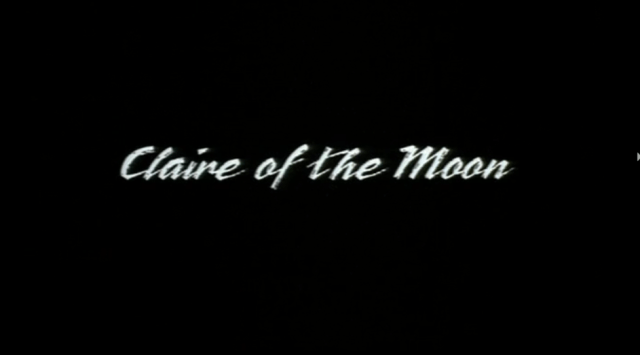 This is a difficult start. We've got shots of early 90s interior design fading in and out of a man and a woman having sex on the carpeted floor. Also, the only thing you can hear is very dramatic and very loud piano music. We're talking soap opera opening credits, "Alexa, volume 11," kind of stuff.
This is Claire. She looks troubled by the fact that she's just had sex with someone who wanted to bring the comforter out into the living room to do so. Fair. She looks over her writing retreat acceptance letter once last time before heading out on the road.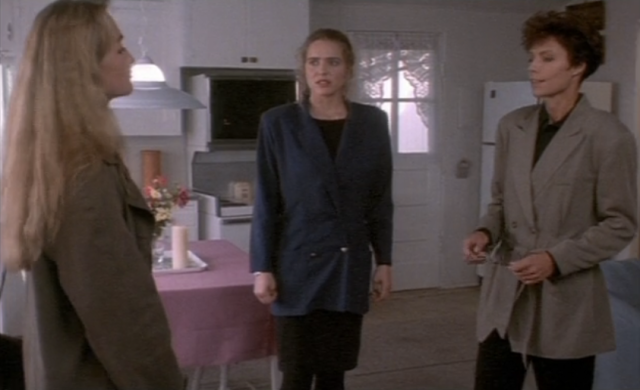 Upon arriving at the retreat and entering her assigned cabin, she's greeted by two women fully in pantsuits in the middle of the day at, again, a cabin. One of them is Noel, or Dr. Benedict. She'll be Claire's roommate. For no reason, the screen goes black in the middle of a conversation. Oh, okay, that scene's over? Got it.
Now we're at what I think is the writer's retreat opening night social and everyone is for sure serving in this scene. Two women look as though they're in the throes of a religious cult gone awry and are trying their best to signal for help through their eyes. There's a woman bold in blue: Tara O'Hara from the writah's con-ven-shun in Atlantuh, Georgia. Do you get it. Tara's accent is high concept. (The concept is "be very off the mark but overcommit.") Everyone loves Claire's work and people are throwing around the word "celebrity." When Noel walks past the group, because she has no intention of being social, Tara calls her, "Benedict, Dr. of Love," and also, confusingly, a eunuch. Claire's like, "…I don't think you're using that properly," and Tara's like, "Aren't I?" One thing is clear about what we're supposed to be knowing about Noel: she gay.
Also gay? The retreat director, Maggie. Look at this magnificent homosexual. Her orientation meeting is 95% telling people where the after-hours parties are (her place). After the meeting Claire goes back to her room to rock out to some tunes.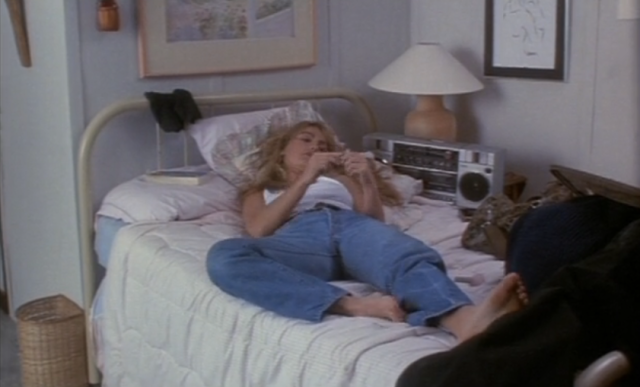 Noel comes in and is like, "Hey, I'm uptight and still in my pantsuit, can you keep it down?" and Claire's like, "No problem, I'm the relaxed one here." The next two scenes go the same way, which is Claire is doing something (grinding coffee in the morning, smoking two cigarettes at the same time inside) that bothers Noel. Look at this unlikely duo who keep finding themselves literally in the same position: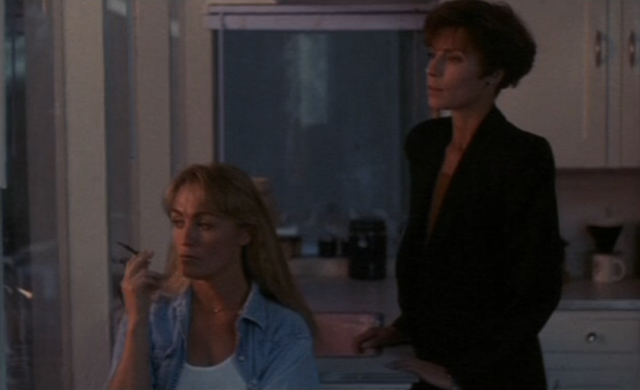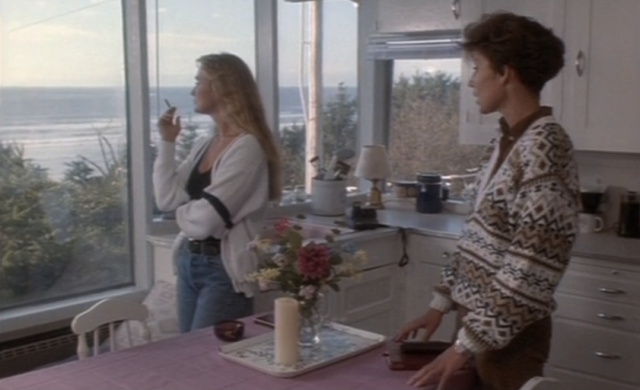 It's not just Claire's routines that get to Noel – it seems to annoy Noel that Claire is straight. And if I'm reading this movie correctly, it's because Noel is a professor who's written books on lesbian theory and also critiquing the concepts of heterosexuality is her life's greatest… I wouldn't say joy, because it doesn't seem Noel is capable of that sort of emotion, but passion. It's Noel's greatest passion.
When Noel isn't silently judging Claire and Claire isn't intentionally provoking Noel, they spend their time in agonizing silent theater. Not once has one of them entered a room and casually said "hi" to the other. Instead, it's things like Claire staring out the window with her back to Noel saying things like, "It's difficult isn't it? Sharing paradise with a stranger."
While Claire goes on a date with a man who's like, "Ah, yes, astrology," everyone else is back at the retreat talking about what they're writing. One woman who claims to be "just a housewife" shares her idea for a book about a planet where men have to give birth in order to be eligible for an alpha society. I'm giving it the green light!!! And now, just as I'd hoped, Tara begins to read her straight erotica in a Southern accent that sounds like it's gone through Borat's "my wife" filter.
There's another run-in between Noel and Claire the next morning when Claire returns from her sexcapade. They agree that they need to figure this whole cohabitation thing out. You do you and I'll do me, they decide, except what a wacky time they have attempting it! They keep bumping into each other, reaching for the same thing at the same time, and finding each other's personal items where they shouldn't be! During this goof-em-up montage there's one rogue scene where – as we all do standing in the kitchen with our roommate – Claire takes off her shirt. As a dare? It's unclear.
Later, Claire goes into Noel's room to "look out the window" where the curtains are drawn. Naturally. Next to her hangs a stunning painting of a naked woman marching. Then, slowly – so slowly that I have time to anticipate what she might be going to do and say "DON'T" out loud – she does this: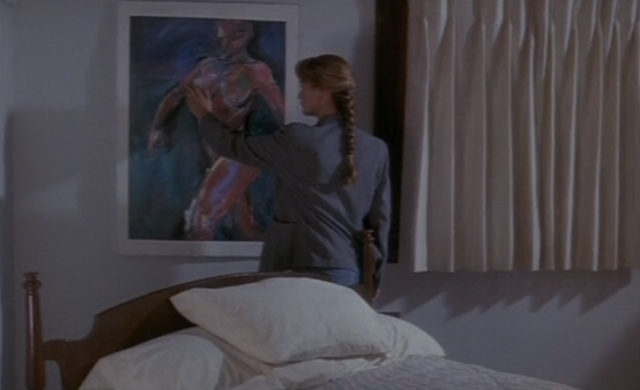 Hahahaha, y'all, she didn't even start by run her fingers along the side of the painting to create the illusion that she was admiring the brushstrokes, she went IMMEDIATELY there. Noel catches her mid-act and says off screen, "She was a client." Rather than scream, exit via the nearest window, and peel out of the driveway as you would think someone might do after someone else catches them at the exact moment of them HOLDING A PAINTING'S BOOB, Claire turns around to face Noel. This opens up a direct line of communication between the two. Finally! "Why didn't you just say all I had to do was go in your room and inappropriately touch your painting (that you brought with you to a retreat??)?"
Here's the brass tacks of it: Claire's a free spirit who's looking for a good time wherever she can find it. She's not homophobic and doesn't care that Noel's a lesbian. And Noel? Noel's gotta be herself no matter what. She's for sure projecting some of her insecurities onto Claire but doesn't use those words outright! Success!
To celebrate, they go to the local bar. There, Claire points out Noel's guarded exterior and usurps the role of love doctor. "All I'm saying is that no one is worth losing your joie de vivre over."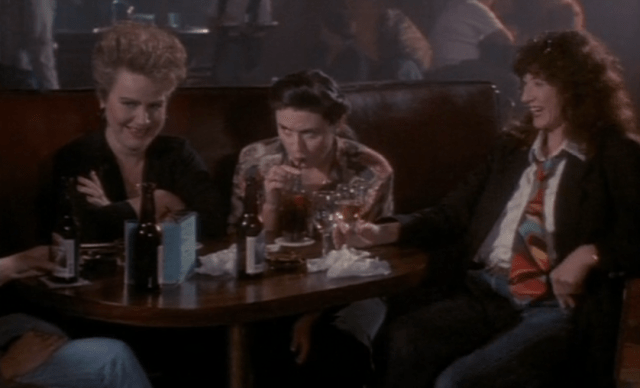 Now the rest of the girls are here and they start talking dick sizes. Noel's face is my face when this happens: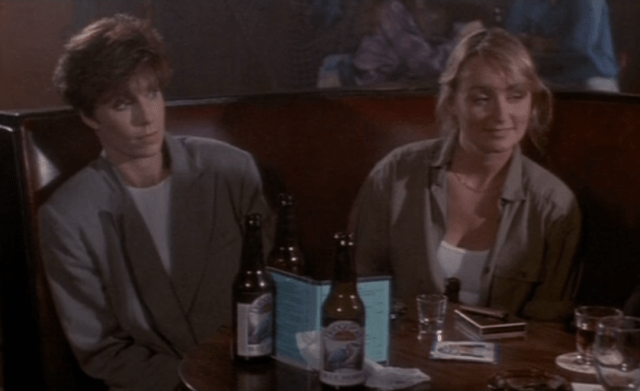 The next morning Claire gets another read on Noel. "You hate men." Noel doesn't deny this and explains that's it's probably a combination of past relationships, genetics, and conditioning. This develops into a conversation about how Noel knew she was gay. Noel tells a very dramatic story about falling in love with a woman who was a client of hers (Noel is also a therapist?) who eventually got married to a man. Now it's Claire's turn to get to the source of all her pain – her abusive father.
Then we cut to a wide shot of me on a rock in the middle of the ocean thinking about all of my life's choices that've lead me to watching this movie that is so full of processing and theory that it feels like you're watching an online female sexuality course for a test.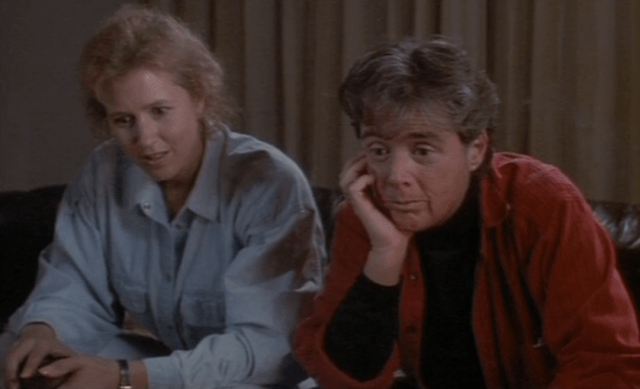 Now we're having a conversation about intimacy versus sex. What is this thing where lesbian filmmakers insert a sort of oral history of known conversations into all of their films? "Yes, my friends and I have had that same discussion and seeing that reflected back to me on screen was worth the price of admission alone." This general conversation becomes a coded one meant to represent Claire and Noel's reservations about each other. Noel says women who sleep with men will never know real intimacy because they don't speak the same language. Claire says, "Oh, so real intimacy is only reserved for dykes?" and Noel's like, "…Mmmyeah." This prompts Claire to hastily exit the room.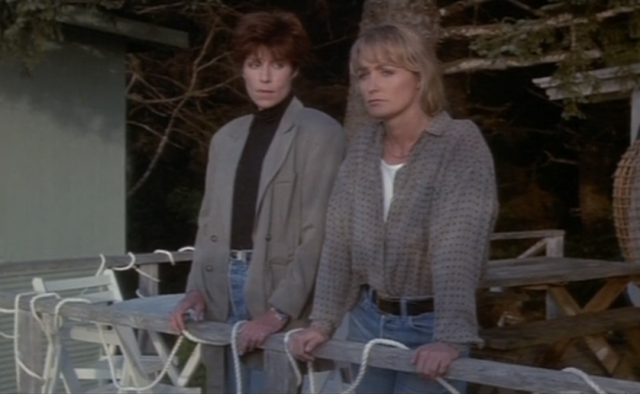 The next morning Noel's like, "Heyyyy sorry about sort of erasing you as a real person with their own thoughts, feelings, and experiences last night." Claire accepts Noel's apology and suggests continuing this never-ending conversation at the bar.
There they dive back in by talking about the "butch/femme thing," as Claire puts it. Then it's a discussion about how lesbians really have sex and if lesbians don't have penis envy why are they so attached to their dildos? HELP ME. For a movie that uses the phrase "joie de vivre", it sure does a great job at whack-a-mole-ing every peak of sunlight that might attempt to shine through.
Now in a daydream, a distraught Claire enters Noel's room. They exchange looks and move towards/away from each other like they're doing the imaginary rope exercise between dancers. Then Claire bows into Noel, which I hope inspired a whole generation of curious "straight" women into thinking that that's what you have to do before having sex with a lesbian.
Now it's a group discussion about the rigid boundaries straight women place on themselves. Maggie demonstrates this with a hugging exercise. She has two straight women in the room hug, and when they prove her point by doing so with the chemistry of a child being made to hug their grandmother after being given a disappointing gift, Maggie becomes the "move, I'm gay" meme to show them how you really do it. Look at that thing. That's a full body embrace if I've ever seen one. Everyone in the room starts to argue, but I have no idea about what, and Maggie ends the conversation by saying, "When you eat pussy, you eat pussy." You have to admit she has a point.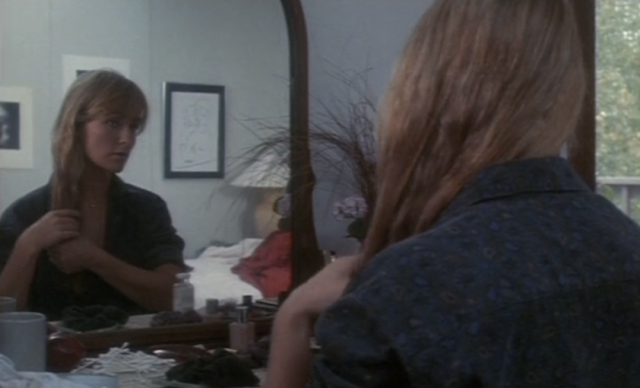 The next day Claire sits in front of the mirror staring at herself for a good two minutes, probably contemplating how exhausting every conversation she's had in the past 24 hours has been. Then I think she gets turned on by her own reflection because she starts to undo her blouse? About four buttons down, Noel walks in. Once again, instead of bailing on this incredibly embarrassing situation, Claire engages in conversation. Then they have a weird moment where Noel takes Claire's seat and Clair begins to tousle Noel's hair while they both watch along in the mirror. Who are they.
Mid hair play it's revealed that they're both bored. They decide on an activity that consists of tequila, backgammon, and revealing each other's fantasies to each other. Honestly? Hot.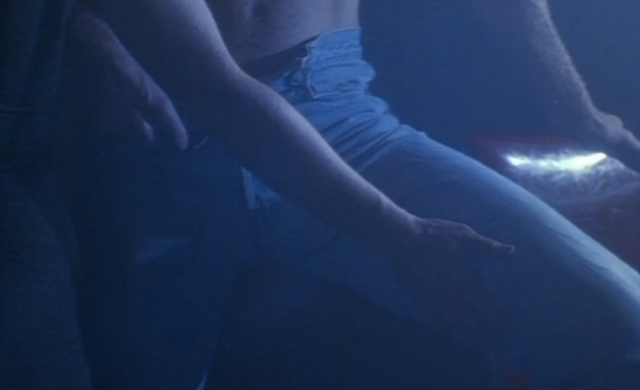 We're first treated to Claire's fantasy in slow-mo. Her fantasy seems to be to resting her hand on a man's thigh for a minute and a half in the middle of a empty laser tag room. Now it's Noel's turn. "It's a restaurant. It starts with the eyes. Always the eyes." Then sex in the bathroom.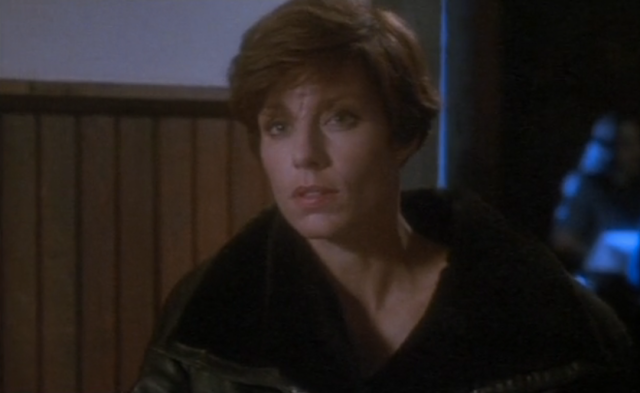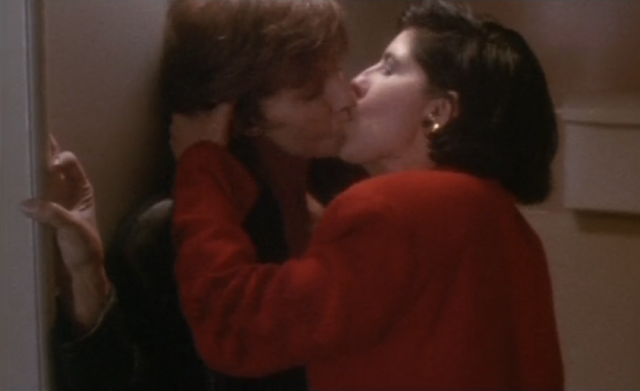 It's a look, I'll give Noel that.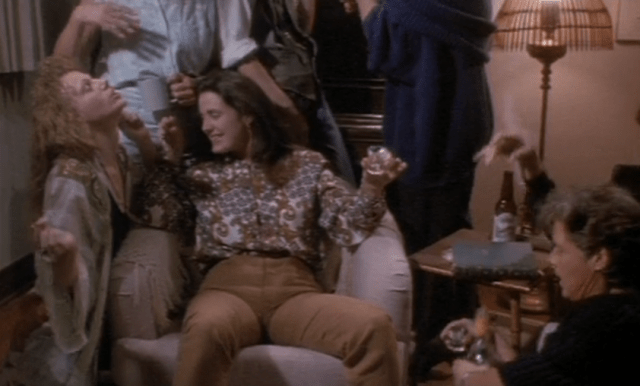 Okay, one of the straight women at the retreat finds out that her husband is leaving her and so they all decide to get tequila drunk. Finally, a break. Oh, but of course the one scene that might give us some relief has gone on entirely too long and has now doubled back as something you have to force yourself to get through. I've watched an entire Celine Dion video in the background and it's still going.
Now Claire and Noel are back at their place talking about the lesbian vampire allegory. OH MY GOD JUST MAKE OUT AND BE DONE WITH IT.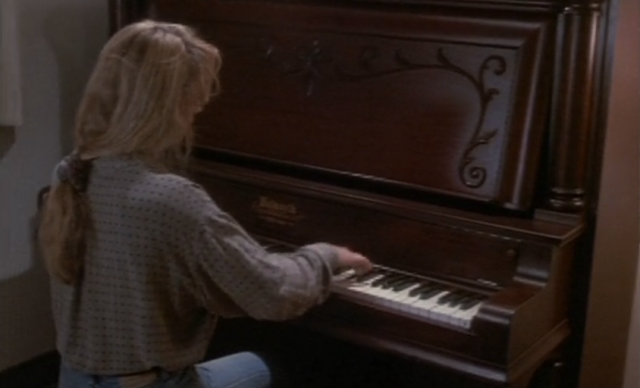 Now Claire is playing the piano – something that's transitioned most of the scenes in this movie for some reason, by the way –  to burn off some sexual frustration. Claire is reminded of her piano teacher when Noel insists that her playing is "so her," because Claire's teacher used to say, "You must connect keys, Claire. Make the music 'you'. The notes are your blood. The music is your heart." Would Claire's teacher also agree that if god is a DJ and life is the dance floor, love is the rhythm and we are the music?
Then Noel says, "Play 'Claire de la Lune,'" in the same way that Rose asks Jack to paint her like one of his French girls. This causes Claire to run away and now she's in the ocean crying?
Then Claire runs around on the beach contemplating bisexuality. Who among us.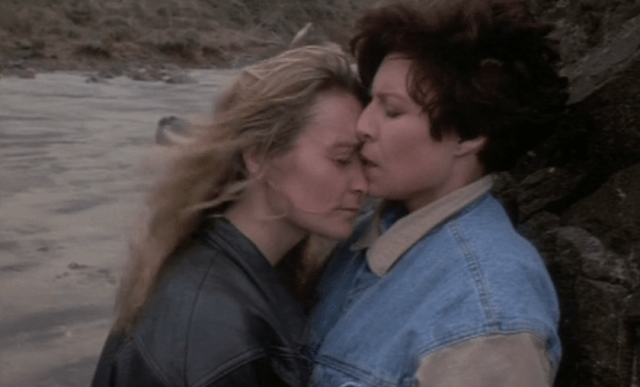 Suddenly, Noel appears behind a rock on the beach. They start to sort of cry on each other's faces before – finally – making out. This was all so worth it.
Now they're having slow-mo sex back at their place.
I'd like to point out that this sex scene is five minutes before the movie ends, and I think I figured out why. This movie has been so thoroughly committed to showcasing a textbook lesbian experience in addition to every single conversation people have ever had surrounding it, and so of course it had to end this way. Their climax is our climax. We came together.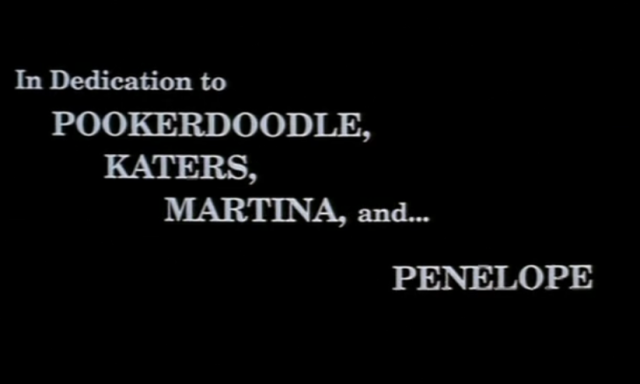 Goodnight, Pookerdoodle, Katers, Martina, and… Penelope. Now can somebody please come help me up.
SaveSave
SaveSave