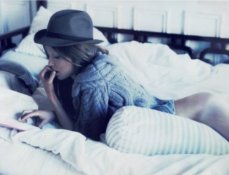 READ A BOOK, YOU LAZY B*TCH:
Hey are you stupid? Can you spell? Chances are your answer is "no" to the first question and "yes" to the second question, which means you're a liar! You should turn off The Millionaire Matchmaker 'cause hell you can't get married anyhow (unless you live in a Nice Country or Iowa), and start reading books. JK, we think you're really smart, we were just being emotionally abusive to manipulate you into becoming the woman we always wanted you to be.
So yesterday, AfterEllen's Heather Aimee O'Neill of "Across the Page" looks at new books of interest for all ye queer ladies. "Across the Page" is actually my favorite part of AfterEllen, so this is very exciting.
First up is a biography of legendary lesbian novelist Patricia Highsmith, The Talented Miss Highsmith: The Secret Life and Serious Art of Patricia Highsmith, by Joan Schenkar. You might remember Highsmith's biography got a pretty bad review in The Globe & Mail a few weeks back (we linked to it in a daily fix) but Heather O'Neill really liked it. So you'll just have to read it and decide for yourself! Heather says it was "so engaging that I was sad when I got to the end of the 600-plus-page book."
Next up is Amy Bloom's new collection of short stories, Where the God of Love Hangs Out. Amy Bloom is an amazing writer (and, I think, bisexual — check out her awesome collection Come to Me). O'Neill enjoyed this new collection and you should too:
The stories in Where the God of Love Hangs Out capture how the mundane and the unexpected, the domestic and the bizarre, often co-exist in life. Brilliant storytelling.
The last book mentioned is a new collection by queer poet and 2007 Poet Laureate of the Blogosphere, Amy King, Slaves to Do These Things, described as "a fascinating and highly thought-provoking collection of poems." Also, while you are picking up King's new anthology, you should also check out Eileen Myles, because I think you would also like her. Just a hunch.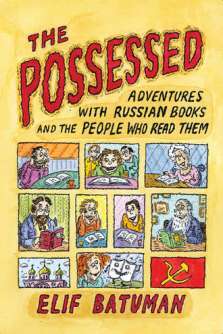 So, once you read those books, here's some more:
Autostraddle recommends Elif Bautman's new book The Possessed: Adventures With Russian Books and the People Who Read Them. Bautman, a lady and a literature professor at Stanford, blogs at my life and thoughts. From the review of her book by my number one male person (tied with Adam Lambert) Sam Anderson in New York Magazine:
Elif Batuman… writes about the daily realities of academic entanglement with a[n]… addictive mix of humor, confession, and intellectual energy. Her new book chronicles her experiences as "a six-foot-tall first-generation Turkish woman" on the worldwide academic circuit. She's obsessed, above all, with the strange angles at which classic literature intersects with the world.
Good, right? Also; if you're super-academic and want to outsmart everyone in the comments, try From Disgust to Humanity: Sexual Orientation and Constitutional Law (Inalienable Rights). From Amazon.com:

"A meticulous consideration of the legal issues surrounding same-sex relations grounded in a far-reaching investigation of how the notion of disgust has determined both civil legislation and public opinion…as the recent public discourse about empathy among Supreme Court judges indicates, Nussbaum's passionate advocacy of the power of imagination is profound and timely."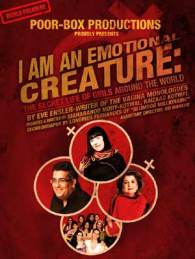 What does BUST Magazine want to read this month? Lots of things! Here's some of the best:
Sapphistries: A Global History of Love between Women (Intersections: Transdisciplinary Perspectives on Genders and Sexualities Series), which "explores the evidence of sexual and romantic relationships between women throughout history, concluding with a look at some of the many ways that same-sex desire among women is expressed and perceived in various cultures and communities around the world today."
I Am an Emotional Creature: The Secret Life of Girls Around the World: "Leave it to Eve Ensler to get it right. Her new book, I Am an Emotional Creature, made me want to vomit from its emotional power. Ensler does not coddle the reader; instead she forces us to realize that teenage girls possess the largest untapped energy source in the world."

And what does number-one lesbian magazine Curve recommmend?:
Drenched: Stories of Love and Other Deliriums: "Picture Hunter S. Thompson as a hot, young woman on the path to sexual exploration and that is the essence of Matarazzo, who writes as if there is no destination, just the journey itself."
The Nearest Exit May Be Behind You: "Bergman, whose transmasculine gender identity is best described as "post"… writes unabashedly about everything from gay men's bathhouses to lesbian potlucks. This is gender theory at its most accessible."
Okay that's a lot of books! But as it has been and as it always will be there are also heaps o'lovely books written by ladies who do not sleep with other ladies, but are still our wimmin sisters and deserve your eyes, ears & other organs —
Laneia is going to be talking to Marissa Meltzer about her new book, Girl Power: The Nineties Revolution in Music, for Autostraddle very soon so you should probably prepare for that!
Also it doesn't come out 'til May, but you are now totally able to pre-order Emily Gould's And the Heart Says Whatever, which Riese has already read twice, loved, and is going to talk about a lot in May, perhaps constantly, so you should probably prepare for that as well, lest you feel "left out."
OH AND PS, I'm Here, I'm Queer, What Do I Read? is a great blog set up "for teens (queer or not), for librarians, for teachers, for booksellers, for people with teens in their lives and for anyone interested in YA books with GLBTQ characters and themes."
SAMANTHA RONSON:
Samantha Ronson will be deejaying a party at Girl Bar Dinah Shore Week, which we believe is the first gay thing she's ever done besides, of course, girls. The celebrity music mixer will spin at the Pure White Party on April 2 at Hotel Zoso.
CAPRICA: Caprica star Alessandra Torresani on THE SOUP:
GHOSTWRITER:
Guess what you can now pre-order Ghostwriter: Season One on DVD! (@amazon)
DREW BARRYMORE:
Does Drew Barrymore deserve the GLAAD Vanguard Award? "I do not doubt that Drew Barrymore ever had feelings for women, or that she is now exclusively dating men. I am not criticizing bisexual women, nor am I calling into question Barrymore's ability to identify however she'd like. I am concerned, however, with the effects her visibility (or lack thereof) might have when it comes to the perception of bisexual women in the media. I find that she's been somewhat disarming in her advocacy and, possibly, her own identity."
Although I hate to sound like one of the commenters on the Taylor Swift post yelling at me about how The Grammys don't mean anything to anyone anymore, last year Tyra Banks got the Vanguard Award. I don't know, I feel like they just throw that shit out in the air and see what pretty girl happens to catch it. (@bitchmag)
LESBIAN MOVIE:
According to SheWired, the overall awesome Nicole Pacent, star of Anyone But Me will be featured in the cast of a new feature film/episodic series, Queens of the World. She'll be starring alongside Nikki Caster (Cherry Bomb), Elizabeth Keener (The L Word), and Meghan Hall. (@shewired)
GLEE:
Everyone wants to be on GLEE, everyone wants to record with Lady Gaga, everybody wants to rule the world. Neil Patrick Harris — his guest spot on GLEE is defo happening, and he will maybe possibly be playing a character who is 'really funny and really mean.' (@e!)