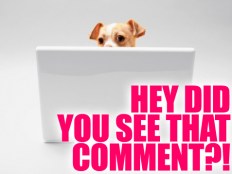 What a wonderful week we've had! We're sorry about last week, we're going to try to include a few from last week to compensate!
So, this week! Laneia talked to trans photographer, Amos Mac, and Taylor took a field trip to her friendly neighborhood comic store. Becky brought you, not one but TWO style articles and Lady Gaga took her fashion to the next level. So many LOLs were had in the shape of Julie and Brandy's very first episode of "In Your Box Office" and we brought you a little teaser of Miss Autonatic bopping around L.A. Speaking of California, you're going to Dinah Shore, right? In other news, Katie F*cking Fitch punched a girl in the face, Emily and Riese will punch the Olympics in the face if they get rid of Women's Hockey, and we've got lots of pretty girls who you would never want to punch because that would break their glasses!
Let's Get Started!
On Lady Gaga's Q Magazine Cover:
The Show Us Your Teeth Award to Barbara : "(PS: I wonder if Taylor Swift is gonna show us her dick anytime soon? Or maybe her hymen encased in a shrine of gold.)"
On "Homosexuals" Less Popular Than Gays:
The Boyfriend Award to Ziggy Hreins: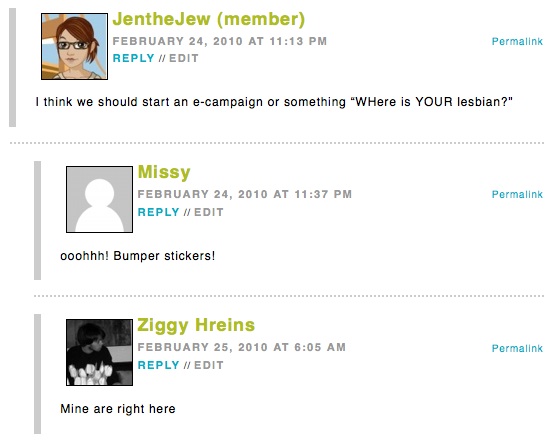 On Queer Style: All The Small Things:
The Bibliosexual Award to Liz: "I can't wait for book hats. It will be so easy to prejudge people based on what book they choose to wear. Like, you can judge a person by the cover of her book hat. Genius."
On Autonatic Extended Tralier:
The London Calling [America Out] Award to Sally and Sohpie T:
On Join Tammy Baldwin & Nat Garcia at the Fenway Women's Dinner:
The BCW Award for BCW to Carmen: "I miss BCW commenting. In her absence, I would like to nominate AutoNatic for the Scissor Sister comment award (if they're still going on)."
The Losing It Award to Everybody: We're not talking about the first time you had sex, we're talking about hymens again. Just head on over there and read it.
On Skins Recap 404: Katie F*cking Fitch:
The Ladysmith Black Mambazo Award to Sally: "Also, I love the fact that some of the purple caption thingies are song lyrics and some of them aren't, which makes me think for a second that there might be a song out there with the line "I Will Strangle You With One of These Hoop Earrings Seriously Don't Push Me" and then I get a bit disappointed when I realise there can't be, then I get INSPIRED to get out my glockenspiel and pen my own, then I procrastinate and make a cup of tea instead."
On Girls Make Passes at Girls Who Wear Glasses:
The Adorable Neuroses Award to dot: "Haha, this has happened to me before, too. When I was living with three dudes last year, our place was pretty grungy. I got in the shower one day with my glasses on and was like "JESUS! how did the shower get this dirty since yesterday?" and then I realized I was wearing my glasses and it was always that disgusting. Gross. I cleaned it that afternoon. With my glasses on."
The Justin Beiber Award to TSwizzle: "Over the past week, I've developed a very intense crush on Joe Jonas. Fangirling to that video right now, not gonna lie.
*waves goodbye to internet cool points*"
The 500 Ways to Please Your Man's Butt Tonight Award goes to Molly: I always think, upon seeing a Cosmo cover online, that I'm looking at a parody.
But no. That's the actual set of articles they're selling. How just fucking fantabulous for women, feminism, and the human race.
Free Association Award to Lez-b-Honest:
"can't even begin to express how annoying nicki minaj is but we must write about her because apparently people do love her
she goes from being a lesbian to bi to straight, i don't even care about her sexuality
its her music that really makes me want to crazy glue my ears shut
Jesus was a gay black woman!
anyway good post
On Johnny Weir Be Good, Johnny Be Robbed:
The Vashti Award for CAPS LOCKS to Lucia: "Things autostrad commenters get all caps lock about: Tswift, ice skating. I'm sure some wider analysis of humanity could be drawn from this."
On Sexy Movie Scenes for NSFW Sunday:
Fact-Checker Award to Ale: just want to make clear that there are NOT two lesbians in Big Brother Italy 2009/10.
just crap.
On HDYSTC "Swift Edition" Saturday
The Lexicon Award to Alice: 'Feeding the wild possum' sounds like an awesome euphemism. If it isn't it should be.
On Sunday Funday – Sing the Body Electric:
Half-Baked Award to JentheJew:
I think people are forgetting an all-important fact about John Mayer. HE'S STONED ALL THE TIME. If you think of him as that stoner from your high school, you realize he's basically harmless.
On "Lily's College Lesbianage #6:
When You're a Jet Award to Grace: Yeah it was pretty bad when I went to college. I'd go Asian clubbing with my friends, and when one group of dressed-in-black Asian girls would cross paths with another group, it would be like West Side Story.
Conversation DONE AND DONE Award to drew on the Taylor Swift post:
sounds like taylor swift just needs a good pokin'