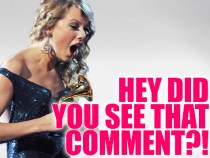 If HDYSTC Friday left you wanting more, then you are in luck. That's right, MORE comment awards! This week, commenters rallied around one specific article: "Why Taylor Swift Offends Little Monsters, Feminists, and Weirdos" (which I assume every single Autostraddler has read by now!) Apparently, a whole lot of people had a whole lot of feelings on this topic. (Taylor Swift? Really? Who'da thunk it?) In fact, it received more comments than anything else on Autostraddle. EVER. Thank you viral internet strength!
Rockets: "Woah! I don't know when this party started, but I don't have time to go back and read 334 comments…"
We love comments as though they're our own children, but even we were having trouble keeping track of each precious one. Luckily, JentheJew had the answer:

So, we're letting Riese's T-Swift article have this HDYSTC all to itself! No need for you to scroll through pages upon pages of comments… because I already did that for you. Did I read all 516 comments? Why yes, indeed I did. How did I accomplish such a feat? One day at a time, my friends. Sure, there were some comments left by grouchy, grammatically-incorrect h8ters, but Autostraddle is all about the LOVE! (So, I've also included a few of the "more lovable" hate quotes.) Here's the hand-picked, free-range, gluten-free cream of the comment crop:
---
Shoo-In for 'Best Album' in 2011 Award to ciderlover: "I think 'Britney Spears' psychotic vagina' is possibly the best string of words ever put together! It sounds like the name of a progressive jazz album."
Right Answer Award to RachelwasHere:
"A good friend of mine recently gave me a hard time by asking, 'What do you think it says, that all the girls you've been with are vision-impaired?' 'It says specs=sex, asshole.'"
Nobel Peace Prize Nominee Award to MarthaLikesOwls?:
"I think the world would be a happier place if it had an hour of every day designated to crazy booty shaking freaks. People would be required to set an alarm that played Booty booty booty booty rockin everywhere."
Mutually Exclusive Award to teapot: "Taylor Swift forever!! Long live horses and sunsets!!"
You Were Romeo, You Were Throwin' Pebbles Award to TSwizzle: "But… but… but I learned all the words to 'Love Story' so I could serenade you all with it. Did I toil in vain? SAY IT ISN'T SO!!!"
More Pressing Engagements Award to Shanay:
"All of this just makes me want to scream feminism and pop in The L Word, watch Bette and Tina have the world's hottest sex, and perhaps contact Jennifer Beals and Laurel Holloman to see if we can arrange a threesome."
Sarcasm Award to wasteunit: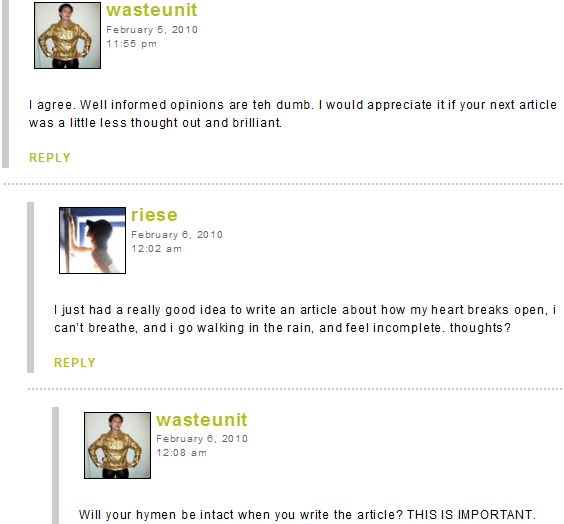 Surprisingly NOT Sarcasm Award to redhighheels: "You compare lyrics. Um, who does that?"
Girl Power! Award to Alex!:
"I'm glad I grew up with songs that told me when I'm feeling sad and low, spice girls will take me where I gotta go, smiling dancing everything is free, all I need is positivity. Spice up your life."
Pick-Up Artist Award to JentheJew:
"Loose ladies in short skirts and high heels: When you are rejected by Tay Swift's man-child boyfriend, please know that someone with an actual sex drive is waiting in the wings to appreciate your legs. Namely me."
Adjective Awesomeness Award to mere84:
"Elvis (with his snarl and gyrating hips) and the Beatles (with their rakish looks, drug-induced lyrics and 'noise') were the sound of the REVOLUTION. Taylor Swift is not."
It's OK, It Happens to Lots of Girls Award to Megan:
"My head is so full of everyone else's comments that I don't even know what to say… All I will add is that I read this article and the comment feed while I was in the library on campus. I didn't realize how many stares I was receiving from all the laughing and 'yes!'s I was doing. I actually clapped at one point. I mean I didn't stand up and clap (that would have been better) but it was like a laugh/clap thing. Does anyone else do that? Oh, I'm also alone."
I Don't Wanna Wait/Be Anyone Other Than Me Award to Sally:

China Shop Award to Jamie: "Expecting the world to treat someone (namely that Swift girl) fairly because she is good/innocent, is like expecting a bull not to charge because she's a vegetarian."
IRL Award to Angela:
"I went to high school with TSwift, who was herself popular, mildly talented, and heinously cutthroat… and I don't know where the farm was, as she lived in a mansion for 10 years.
Humorous that the same girl who called the day of my sister's birthday party to say she couldn't come because she was going to a more popular girl's party can write such self-pitying, empty lyrics. Middle school, and my sister was the one crying."
Mindfuck Award to Tiara the Merch Girl:
"Perhaps Taylor Swift is really a performance artist mocking the vapidity of such messages and pointing out how prevalent they are in society – hence the near-exact matches.
One of These Things Is Not Like the Others Award to Kristina: "Lady Gaga, Beyoncé, and Kanye West will all be just fine in life… they're all confident, independent women."
Run On You Crazy Diamond Award to kaydee:
"Is she really 20? I can't believe that. I felt so bad for her because Kanye was mean to her, and she can't sing live and so many things because I thought she was just a little girl. WTF?! That 'Fifteen' song makes me feel like the most jaded person in the world. Can anyone relate to that? Is this a giant run on sentence?"
EMPHATIC Award to Christine: "I knew that Taylor Swift portrays innocence, but now I JUST GET IT."
I Think I Agree (aka Way Deeper than This Discussion) Award to Blonde Limbo:
"… what's left of the complexity of human interaction is a couple Ayn Rand-esque extreme EITHER/OR statements with Aristotle standing next to them holding a sign that says 'WHAT THE FUCK?'"
Fine Print Award to Bri:
"We need some cortisone for this Taylor Swift rash.*
*and that cortisone is… Lady Gaga."
OMG HOW DID YOU KNOW Award to FUCKYOU:

Hurts So Good Award to nine: "FOR THE RECORD: i love taylor swift. but in the way that i enjoy eating ice cream even though i'm vegan and it makes my stomach hurt."
Ear Infection Award to okayauco:
"Taylor Swift's songs are super contagious but so are STDs. Like, you enjoyed having unprotected sex, A LOT, but then, afterwards, you realize you now have syphilis. … What I obviously mean is that for the young, unprotected minds, her songs are awesome but they don't realize that they're also filled with so many retrograde and infectious ideas (STDs). So next time you have sex with an unknown song, consider using dental dams. Or something like that."
Fast Payment!!! Perfect eBay Buyer!!! Award to itemforty: "A++ will buy again."
You Should See Your Doctor About That Award to bobby: "But sometimes, […] I want to listen to a cutsie song that doesnt make my eyes bleed. You fail to recognize that Taylor provides that relief."
Point Proven award goes to sarahhh:
"My pique with Taylor Swift began much earlier than this earlier than last year's VMAs, but it's relevant to this dialogue about how her songs are the slap in the face of anyone who happens to deviate from the norm she's cramming down our throats. When I was a high school in '07, a gay friend and I were in a journalism class together. We were in the process of coming out at the time, and essentially sought refuge in the course because it was a hell of a better option than gym class where homophobia was a given. This was around the time that Taylor's first album dropped, and consequently was played beginning to end in that class every day. This didn't really phase me, but each time that her song "Picture to Burn" came on, the other students in that class would sing the "That I'm obsessive and crazy/That's fine/I'll tell mine/You're gay" bit in our direction. The shocking thing was, these weren't vapid athletes that were mocking us – these were the best and brightest females in our graduating class. Minorities who should've known better, but bought into the bullshit that this semi-talented teenage girl was (and still is) marketing."
Wunderkin in Your Midst Award to geneva.:
"The only song that gets my best friend's 17-month-old son more excited than the Baby Beluga song is Bad Romance. As soon as he hears it, he starts bobbing his head up and down (it's how he dances) and laughing. But when Taylor Swift comes on, he looks at anyone big enough to change the music and says 'baaabeeee bawuga pweas [please] pweas,' which rough translation means 'I cannot groove to this at all.'"
Obscure Off-Topic Reference Award to Miss Kitty Fantastico: "I've been hiding from Dawn since the crossbow incident. Please send tuna."
---
Hello children this is Riese! DO YOU HATE ME DO YOU HAVE FEELINGS ABOUT IT.
I wanted to share my favorite comment exchange of all time from the very early moments of this post's life on the web. After it had been up for about ten minutes, I received about ten comments in a row from people with different names all defending Taylor empathetically. I feared we had been linked by a Taylor fansite and feared for my future; though I'm all about constructive conversations, these comments did not address anything covered in the article, and obvs you're not going to start a constructive debate by calling me "the biggest idiot of a writer I have ever read" — you lose all credibility by starting out with random insults!
Here's a few:
There were several more along these lines. It's hard to find them now as threaded convos have pushed many of these farther down, so you don't witness the glory of all of them happening in a row.
Meanwhile Laneia & I were chatting.
Riese: oh man! so many haters already
Laneia: really? hahahaa
Riese: eh, i think what's weird to me is people who are like "why did you write about something that doesn't mean much to you?"
i'm like, why do you read words?
writers write about things.
that's what writers do!
Laneia: anything that's said to them is going to sound like mashed potatoes
Riese: oh man! the "pathetic" comment is so irritating
Laneia: ha "um, you compare lyrics. who does that?"
um EVERYONE
Riese: ummm, that's weird
Laneia: like, tons of ppl
Riese: these things don't make sense
Laneia: hahaha
[I actually begin looking through the comments in wordpress, make a discovery]
Riese: OMG
LANEIA
IT'S THE SAME PERSON
all of these comments
Laneia: wow it even made emchoo say 'go fuck yourself'
Riese: are coming from the same IP address
Laneia: what!
hahahaaa
oh that's precious
Riese: ALL OF THEM!!!
oh, they're in [Washington] DC.
she's probs snowed in.
Laneia: also i think maybe it's a crazy dude
who's alternating btwn commenting on the post, and jacking off to her videos
Riese: i know right
Laneia: and refreshing a fan forum
eating a pot pie
Yup. Every single one of these comments was coming from the same IP address.
Anyhoo. This was certainly a lot of conversation! I've been writing online for a long time and I'm consistently fascinated by the evolution (or devolution) of online discourse, particularly as we attempt to cultivate it here; balancing our intent to be uncensored and host a variety of POVs with our frustration when people commit commenting sins including clearly not reading the article [75% of negative commenters fall into this category], using hate speech, and violating Moff's Law.
I remain faithful to the idea that online conversations can in fact be worthwhile, which is one of our biggest challenges here. We're sort of using trial & error right now in terms of how to ensure we can keep the conversation progressive without censoring people or making people register, which's annoying.
So I thought I'd share some of my favorite things I've read online about the nature of online conversations, for anyone who is interested in geeking out with me today! Some are also just things I found interesting, regardless of my level of agreement:
1. MUST READ from Racialicious – Moff's Law, which we added to our comment policy last week* : "When you go out of your way to suggest that people should be thinking less — that not using one's capacity for reason is an admirable position to take, and one that should be actively advocated — you are not saying anything particularly intelligent." (@racialicious)
2. Top 10 Most Ridiculous Comments Left: "I don't even think of emotional response as a continuum, but like a stew of all sorts of feelings (embarrassment, endearment, derision, adoration and fustration can intermingle as a response to a certain reality show, for example). That emotional complexity is the root of the fun that pop culture provides to me. And you get that, and I know that, but YouTube, which is home to the most base thinking of any "community" that I frequent, does not." (@fourfour)
3. Jezebel Bans Nasty Remarks On Its Site: "Some readers, in comments on the site, have accused editors of political bias and misogyny. Readers have called one another, by turns, immature, boring and cliquish. This spring the editors responded by banishing certain commenters and putting others "on notice" for being nasty or, worse, not funny." (@nytimes)
4. Emily Gould responds to Readers: "It is hard for me to dismiss the opinions of hundreds of N.Y.T. readers, not to mention the thousands of people who have posted negative comments elsewhere. Let me take this opportunity to try to figure out exactly what it is about me and what I've written here that's inspiring such virulent hatred." (@nytimes)
5. How to Disagree: "If we're all going to be disagreeing more, we should be careful to do it well."(@paulgraham)
6. College Humor: Internet Commenter Business Meeting. It's a classic, if you haven't seen this, you oughtta.
7. From former AfterEllen people: Limiting Online Anonymity – And Why That's a Good Thing (@sarahwarn.com) and Muffled (@scribegrrl).
8. Dooce Monetizes the Hate: "I've been a fairly regular reader of her blog for a few years now, and I'm constantly amazed at how someone who primarily writes amusing stories about her family and dogs, who rarely makes a political statement — and when she does, always couches it in like 20 paragraphs on how she respects differing viewpoints and loves her conservative, religious family members — has become such a lightning rod. What the hell did Heather Armstrong do to you people?" (@jezebel)
9. How the Web Became a Sexist's Paradise: "Everyone receives abuse online but the sheer hatred thrown at women bloggers has left some in fear for their lives. Jessica Valenti, editor of Feministing.com, reports." (@the guardian uk)