It's hard to know how to introduce something like Chatroulette, the newest and perhaps the creepiest web phenomenon I've encountered within recent memory. At its core, Chatroulette is a bare-bones social media experiment. But unlike the more benign social media hubs in our lives — like Twitter, Facebook, even Myspace — Chatroulette rips open a Pandora's Box of raw, completely anonymous weirdness.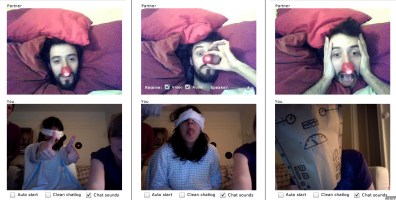 If you haven't checked out the site, listen up: Chat Roulette is NSFW. Like, really NSFW. Was it always thus? Sam Anderson at New York Magazine describes its humble beginnings:
"300 users in December [2010] had grown to 10,000 by the beginning of February. Although big media outlets had yet to cover it, smallish blogs were full of huzzahs. The blog Asylum called ChatRoulette its favorite site since YouTube; another, The Frisky, called it "the Holy Grail of all Internet fun." Everyone seemed to agree that it was intensely addictive—one of those gloriously simple ideas that manages to harness the crazy power of the Internet in a potentially revolutionary way."
Safe to say; The Frisky might want to take that back now. Chat Roulette can be pretty terrifying, to be honest. But that's not to say it isn't worth visiting. Chatroulette offers a roiling, unstable social media experience that's brilliant at its best and deeply disturbing at its worst. Anderson puts this strikingly huge range of potential well:
"It's the Wild West: a stupid, profound, thrilling, disgusting, totally lawless boom. If ChatRoulette catches on, it might even swing our collective online pendulum back toward chaos."
So you don't have to suffer through the Chatroulette experience yourself, reading through these steps a few times should give you a pretty good idea of what goes down:
1. Pull up Chatroulette.com
2. Press "Play"
3. Be instantaneously met, via webcam, with the face (ideally) of a total stranger.
4. Any number of visceral emotional reactions follow Step 3. Possibilities include a) Horror b) Relief c) Amusement
5. If a) Press the "Next" button hastily; repeat Steps 2-4.
If b) The stranger in front of you is probably seemingly clothed or the screen is black (their webcam is disabled).
If c) Savor this fortuitous moment- it may never come again. Bask here, in the dim glow of your Macbook. Linger on in weird glory. That is until the inevitable moment arrives when you or the stranger feels 4a or their experience of 4b deteriorates into boredom.
6. Repeat from Step 2.
---
Chatroulette is fleetingly brilliant, by design. It's also fleetingly emetic, alarming and unsettling. The latter experiences can overwhelm its occasional brilliance, but perhaps the site is onto something? The world of Chatroulette boasts absolutely no accountability at the moment. That means no usernames, no logins, no signing up. Not only that, but there's no way whatsoever to shape your experience toward the predictable. You can't specify an age-range, a set of interests, or anything else–your next stranger will be a stranger in the truest sense of the word. The Chatroulette experience is totally unfiltered, and at the moment, that's part of the brilliance, intentional or not.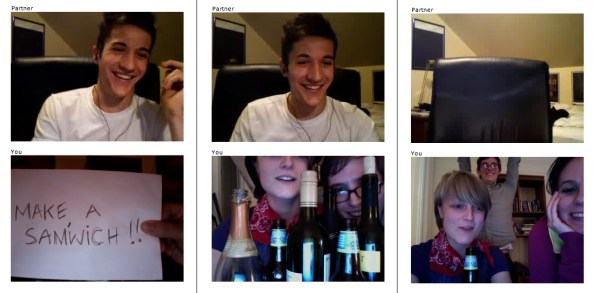 Many Chatroulette interactions have the eagerness of a pilot episode. Users scramble to connect to or amuse one another before the webcam box flashes back to black. A certain kind of random ingenious humor and frenetic energy emerges from this dynamic, while you and the stranger offer up whatever is at your disposal to the webcam, like a sacrifice at some kind of weirdo social media altar. The results can be hilarious, unsettling or engaging- and if you don't like what you see just click "next." You'll never see it again, for better or worse.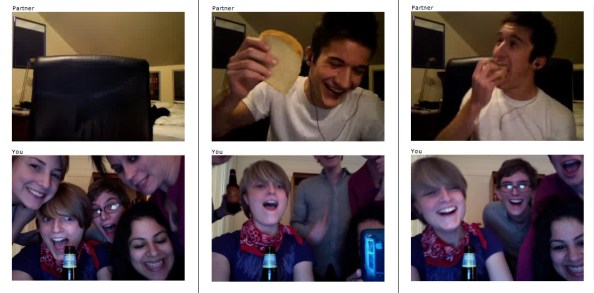 Chatroulette the website, much like Chatroulette the experience, can't last long. The legal implications of a providing a lens into a random online world peppered with potential crimes looms pretty large on the horizon. Not to mention the ethical implications. The seemingly anonymous eye of the webcam can't be underestimated. There's certainly no dearth of listless pre-teens and lustful post-teens searching for each other, flipping through Chatroulette users like they're probably flipping channels in the eerily blue-lit background.
Beyond that kind of unfortunate star-crossed interaction, your average non-predatory user can instantly transform into a passive bystander or a victim with a click of the mouse. It's a wonder that these kind of stories haven't bubbled up to the surface yet.
If Chatroulette does soon meet its inevitable demise, I'd bet that its random, exhilarating spirit will live on in new, likely far more sophisticated, incarnations. But the raw power of something so intoxicatingly unpredictable won't. All I can say is that nothing's ever been so aptly named.
---
Check out Chatroulette and you'll tune into a massive array of unsavory things including (and not limited to) extremely frequent and  extremely zoomed-in anatomical unspeakables. Happily, you don't have to keep said unspeakables on your screen any longer than it takes you to click a button.
But if you don't feel like honing your reflexes, never fear. After readying ourselves with a small arsenal of props and disguises, we went on Chatroulette, so you don't have to! Check out the gallery below! Many thanks to my brave weirdo friends, who made this glorious display of uncontrived oddness possible.