I'm officially declaring 2018 the year of breakups. It seems like everyone I know recently went through some sort of separation, and now that the holidays are approaching our newly-single selves are a little less than cheerful. Celebrating the season while nursing heartbreak can be excruciating if you're not prepared. It's easy to spend the entire holiday thinking about who's missing from the photos and gift exchanges, comparing everything to last year and wishing you could turn back time. Add in the potential for being asked about your relationship status way too many times and it's enough to make you to hit cancel and sleep till the new year. Fortunately for you I've found myself back on the market just before the holidays a few times before and I have learned some useful tricks for at worst just getting through it, and at best maybe even enjoying the process. This doesn't have to be a time shrouded in loss, loneliness and guilt. Of course it will be different, but different can be nice. So if you're on team single for the season and not sure how to be okay, read on, make a game plan, and know that the warm fuzzy happy holiday feelings are there for you if you want them.
Go Anywhere But Home
Sometimes sitting out family holidays after a heartbreak can be the best decision to make. Trying to do what you've always done without a partner can feel forced if you're not ready, like singing a duet alone. So spending these days that are usually centered around family alone, traveling to a new place, and/or with other friends can be the perfect reset. You're occupying a new, unsettled space for the time being so breaking from the usual script and letting everything be new and different might be just what you need. You'll likely learn more about yourself and what it is that you love most about the holidays since you'll be in charge of how you celebrate. It wasn't until my first solo Christmas that I realized decorating is what brings me the most joy because I missed it more than anything. You may also find it's a huge stress relief. You'll save money on gifts and travel, no fighting through crowded airports and highways, and you get to do whatever you want! If heading home or wherever you usually spend the holidays feels like too big of a step this year, consider shaking things up.
Plan Ahead for Family Conversations
If you're heading home, and the thought of fielding nosy questions and shady comments from relatives about your newly single status is already sending your anxiety through the roof, take some time to make a plan of attack! Having a prepared and rehearsed response to turn to in anticipation of these moments just may save you from a world of discomfort and annoyance. The fact is you don't have to engage in any conversation that you don't want to have about your personal life at the holidays! Seems so logical and yet family often needs a reminder of that boundary. I tend to make my responses short, sweet and easy to repeat – especially for the hard-headed ones in the family that you know will bring it up more than once – and say something like "I'm not ready to talk about that, but would love to know how you're doing." People tend to take rejection better when it's paired with an opportunity to talk about themselves. Then you can just sip your cocoa while aunt whoever goes off about her no-good husband and maybe even be glad it isn't you. Alternatively, if in-person confrontation isn't your thing, try calling or writing home before you arrive and clearly expressing that you/your ex/your breakup/your current emotional state are not on the table as topics of conversation and you want that kept in mind.
Make Your Own Traditions
Traditions are one of the hardest parts of being single at the holidays for me. I'm a person who has dreamed of starting my own traditions with my future boo since childhood. I adore having a special "just us" activity and when the realization sets in that I won't get that, it causes a knot in my throat so big a gallon of eggnog couldn't release it. It's by and large the most glaring A PERSON THAT USED TO BE HERE IS NOT HERE ANYMORE factor of the holidays for me, and as a result I've adopted the practice of making new, solo traditions for the single years. Sometimes I can get my family on board, but generally it's something I do for me. If traditions are similarly important to you, I highly suggest giving this a try. It's a wonderful reminder that you make your holiday special, not just whoever you're attached to. This year I decided I wanted my own Christmas tree and I wanted to decorate it with friends, so I invited them over for dinner, board games, and tree trimming. It was absolutely perfect. We laughed and threw tinsel everywhere and took WAY too many tree selfies at the end. Now when I look at the tree I think of them and the collective effort that made it happen and am so filled with joy and thanks for the amazing people in my life and the warmth they brought to my home.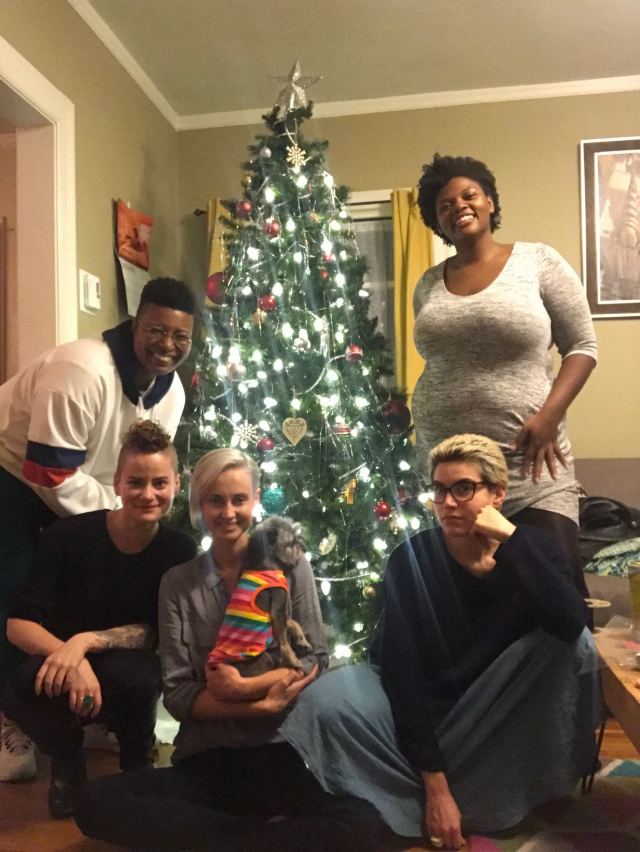 Treat Yourself
You know that money that you would've spent on amazing, thoughtful gifts for your ex? This holiday season that's all for you. Seriously! You've gone through so much and you absolutely deserve to spoil (see: take care of) yourself. Almost everyone has something that they want but wouldn't justify buying for themselves. If you can afford it, go for it! Get that luxurious robe you've always wanted, go on a shopping spree at the comic book store; if you're a foodie maybe spring for a standing rib roast and make the most delicious holiday dinner ever like I did. It's harder to miss someone at dinner when the food is so good you can't think about anything else! It doesn't have to be a splurge, just something that will help you feel good and taken care of, and hopefully serve as a reminder that kindness doesn't have to come solely from external sources at the holidays.
Remember Everything is Temporary
Of all the items on this list, here's the one that might be most important. It's possible that none of the above suggestions will help. Maybe your heart and mind are just not in a place to grasp onto the good things or focus on nurturing yourself long enough to make it through the season. I've been there. I understand, and it is absolutely okay. You are where you are. In that case – and no matter where you are in your healing journey – when things feel bleak and all you wanna do is go Grinch mode, tear down all the decorations and eradicate joy from the planet, take a step back and remember that This. Will. End. The day will come when the urge to scroll through your old photos and weep into gingerbread will pass. You will be happy again, you will stand on your own two feet and move forward. More memories will be made, more laughter and hugs shared, it will happen in its own time. Hold onto that knowledge, and just let yourself be. Being present with ourselves and our feelings can be a full time job, so if you do nothing other than this you are still doing so well. Not every holiday has to be a happy one. Most likely you'll look back and see that this one was still just as special as the others because you will have survived it, and grown, and that's a gift no one else can give.