I watched the screener for next week's The Bold Type and all I want to do is lie down on the floor and stare at the ceiling for twenty years in such a daze. I wish it had a full first season! I wish Freeform would go ahead and announce a season two! For now, Kayla is keeping up with her recaps and Valerie Anne is going strong on Wynonna Earp and have you heard that the new season of American Horror Story centers on a Michigan lesbian who loses her marbles when Trump gets elected? I hope Riese gets some royalties!
Natalie's gonna get you all caught up with Claws next week, Valerie Anne's gonna catch up up with Killjoys and Dark Matter in two weeks, and Riese and I are working on a fall TV preview for you.
---
Younger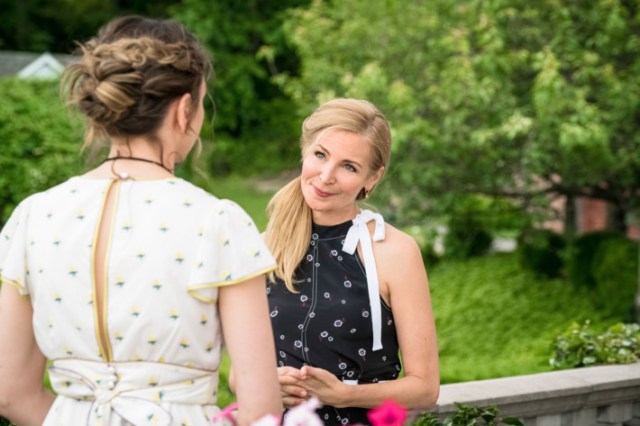 There was no Maggie on this week's Younger but Jessica Stein is really getting grabby with Liza's boyfriend (slash Jessica Stein's ex-husband). She comes to the office party at her former mansion and gives Liza a tour and pulls her tongue out of her mouth and wraps it around her neck every time she sees Charles talking to another woman, which is all the time because women are half the population. While Jessica Stein is doing that and Liza's trying to convince her there's no hot yoga instructor to worry about, Josh is potato-sack-racing with Charles and punching him in his head. (Josh is at the company picnic because Kelsey hires him to draw an adult coloring book for $10K.) The potato brawl forces Liza to tell Kelsey she kissed Charles and Josh saw her, and prompts Kelsey to beg Liza not to sleep with him. Liza doesn't … for now.
Maggie's back next week!
---
The Fosters
The Fosters really does feel like it's back on track this season, for the most part. Family drama over whatever police shenanigans Callie keeps getting caught up in any day, in my opinion. It's a rough weekend at the Adams Foster household, though, because Lena's parents come to visit and it turns out that her dad has slipped into the early stages of dementia. He rushes out to buy a fancy car for the family, which is Lena's first sign something's wrong. Dana has to explain that they can't keep Stuart's gift and then she has to explain why he bought it in the first place. She is so deeply heartbroken and angry and so is Lena. Sherri Saum and Lorraine Toussaint are such a glorious tag-team. But Stuart does some beautiful things, too. He tells Stef he's proud of her, that he thinks of her like a daughter. And he tells Lena he's sorry he said, "I still love you" when she came out. He realizes now he didn't need the "still."
It's hard as heck for Lena to have this conversation and wonder how many more of these moments with her dad she'll be gifted, and it's hard for Stef, too. But it's also freeing for her. Remember how her dad was a Christian homophobe who wouldn't even come to his own daughter's wedding? Well, he's always been that way. He caught Stef and Tess cuddling a little when they were teens and he sent her right to church so Jesus could wash her gayness away. It obviously did not work. And Stef never told Tess that's the reason she pulled away from her in high school. Because she was in love with her. When Tess hears it from Stef, she's like, "Ha ha. Cool, it's whatever. I definitely never, ever felt that way about you" in a way that proves she felt exactly that way about Stef. No way that's gonna blow up before the summer finale!
And then there's Callie and Aaron, who finally have sex and it's just really, really wonderful. It's wonderful on one hand because they're a couple of teenagers who went at their own pace and had sex when they felt like the time was right for them, with no pressure from each other and no shame from the patriarchy. And it's wonderful on the other hand because I don't think we've ever seen a positive sexual experience with a trans teen on television before. He's great and Callie's great, and the whole thing is sweet and empowering and romantic from every angle. The music, the candles, the playlist. It's like something from a teenage dream. I'm so glad this storyline exists in the world for trans kids out there who are living through the terror of the Trump presidency.
Elliot Fletcher, the trans actor who plays Aaron, did an interview with TV Guide after the episode and said, "I hope that people watching this show can see how it's not only normal, but how loving and sweet and romantic it can be. In a lot of ways trans people are fetishized or thought of in a weird sexual deviant kind of way. That's kind of weird and not the case. This episode does [a really good job] of showing just how normal and loving this relationship is and it doesn't matter that Callie is cisgender and Aaron is transgender."
Grey's Anatomy's Chandra Wilson always directs some of the best episodes of The Fosters, so it's no surprise that "Chasing Waterfalls" was all hers.