I'm officially running away from home. I'm three weeks into my east coast trip and was due to fly back to the land of sun and palm trees in a few days, but I am not getting on that plane. No way, I've joked about "missing my flight" almost every time I've come back east for a visit, and this time I finally meant it! For one thing I'm having too much fun to leave. Following that dream retreat in Vermont that inspired last week's apple bread I spent time lazing on a dock looking out onto a gorgeous lake in upstate New York's clear and blue as the sky surrounded by the Adirondack mountains, driving windy back roads, and eating my weight in maple flavored everything. I went from there to New York City for bagels and pizza till I dropped, the incredible Dapper Q New York Fashion Week show, and quality time with friends and the beautiful NYC Autostraddle crew.
This post however comes to you from Philadelphia where I've posted up the last few days for more relaxing, eating, and catching up with loved ones. This trip has been the ultimate comfort for my heart and soul. I guess that's because I'm not so much running away from home as back to it. Back to the people and places that formed me, and I had no idea how thirsty I was for this connection until I got here. I've had a smile plastered on my face so permanently people side-eyed me in New York, I've spent enough time with friends to make new memories rather than just reminisce on old ones, and am sleeping so soundly at night that I'm starting to wonder if that new mattress I bought was really necessary, or if I just needed a change of pace. By far one of the biggest perks of freelancing is I can do my job from anywhere, so for now and possibly as long as it takes, that place is here.
This trip is also doing wonders for my kitchen creativity. I was in a bit of a dry spell before I left LA and now I have so many juicy, decadent recipe ideas floating through my head that I can't wait to share with you, starting of course with this glorious flourless chocolate cake and its source of inspiration. I'm fortunate to have incredible friends lending me space in their apartments all up and down the east coast for this trip, and this week I'm staying with my friend Arden who is also an incredible cook. She's one of the first people who taught me it was okay to love and enjoy food unapologetically, and that life is short so you might as well spring for the good stuff whenever possible! We also have a deep love of chocolate in common so when I asked what she'd like me to make while staying with her, chocolate was the only guideline she gave me. I took it and ran right into this luscious, irresistibly fudge-y cake.
With both melted bittersweet chocolate in bar form, and deeply aromatic almost coffee like cocoa powder in the mix, this is about as chocolate forward as you can get. The actual coffee added to the batter amplifies the mocha flavor and elevates this cake from "good" to exceptional, so please for the love of cocoa do not skip it. Plus the lack of flour but ample use of butter lends a melt in your mouth experience with every bite that just might make your little heart flutter.
Like all flourless chocolate cakes, this is dense and succulent but in only the best ways, and just as comforting to eat as my trip has been to experience. I've always found that I like flourless chocolate cake on it's own, but LOVE it with sauce that I can drizzle and dip to my heart's content, so I've paired this with a simple, sweet cherry sauce lightly spiced with cloves and brightened with a hint of lemon. I use canned cherries for ease, but you're welcome to try it with fresh! Apart, the cake and sauce are wonderful. Together, they're what chocolate dessert cravings are made for. I would order this in a pre-menstrual heartbeat at any restaurant but fortunately, none of us have to! You can make it at home, preferably with some slow jams playing in the background so you can sway to the beat while you stir the silky batter and get ready to fall so, so in love with this cake.
Ingredients:
For the cake:
½ cup (113g) unsalted butter
1/4 cup (2oz) strong brewed coffee
4oz bittersweet chocolate
¾ cup (150g) granulated sugar
3/4 cup(95g) cocoa powder
3 eggs
1 teaspoon vanilla extract
1/2 teaspoon salt
For the cherry sauce:
One 15oz can sweet cherries (NOT maraschino, just regular canned cherries in syrup)
1/4 cup (2oz) juice reserved from can
1 Tablespoon lemon juice
1/2 teaspoon vanilla extract
1/4 tsp lemon zest
1 tbs maple syrup
2 whole cloves
Pinch of salt
Powdered sugar for garnish (optional):
Preheat oven to 350° F. Butter a 9 inch baking pan and line with parchment paper. Butter the paper as well, then set aside.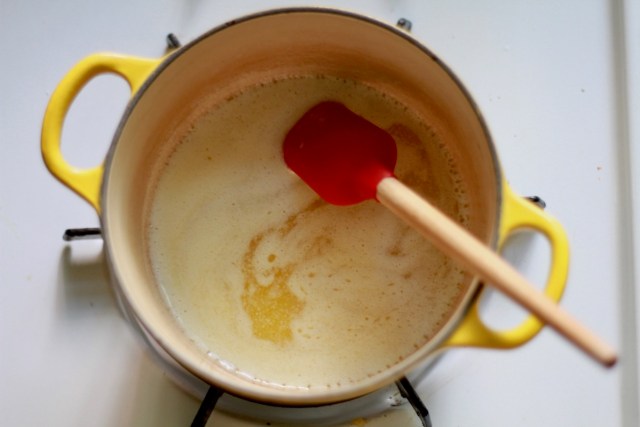 Melt the butter in a small saucepan over low heat. Honestly I just really liked this picture and that's the only reason this is getting its own step.
Remove from the heat and add the coffee and bittersweet chocolate, and stir until the chocolate is fully melted.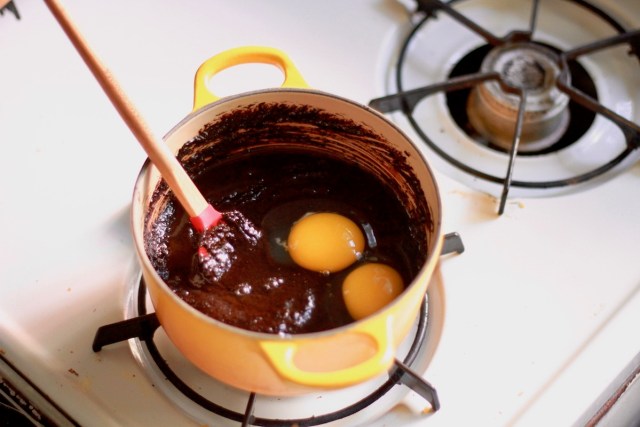 Now add the sugar and cocoa powder, eggs, vanilla, and salt, and mix until incorporated.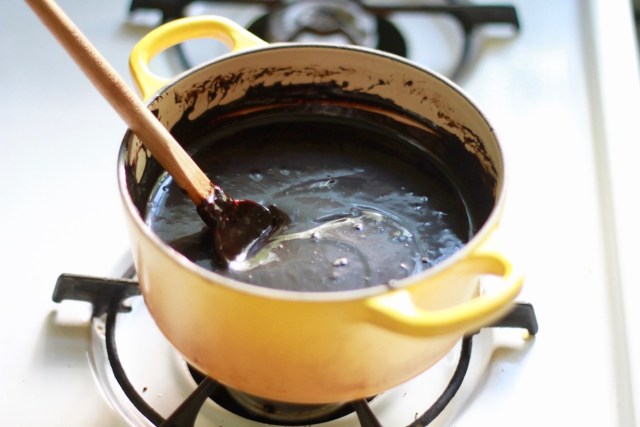 You should have a smooth, glossy batter that thoroughly coats the back of a spoon when its done.
Pour into your prepared baking dish, and bake 25 to 30 minutes.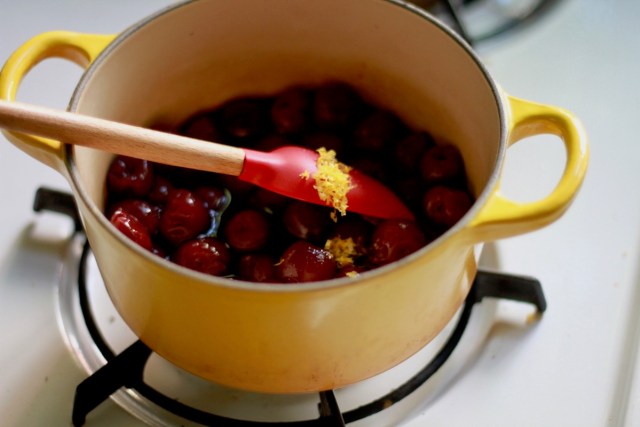 While the cake bakes, make the cherry sauce! Take the same small sauce pan and add in the cherries, reserved juice, lemon juice and zest, maple syrup, cloves, and salt. Stir to combine.
Bring the mixture to a boil over medium high heat, then simmer over medium-low heat until the liquid reduces by half, stirring and breaking the cherries into small pieces along the way. This should take about 5 minutes.
Once the mixture is thick and reminiscent of chunky applesauce, it's done! Fish out the cloves, then set aside.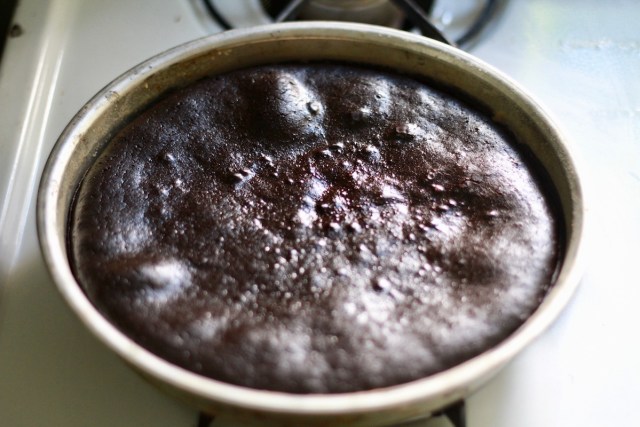 Once the cake is done, remove from the oven and allow to cool in the pan for 10 minutes.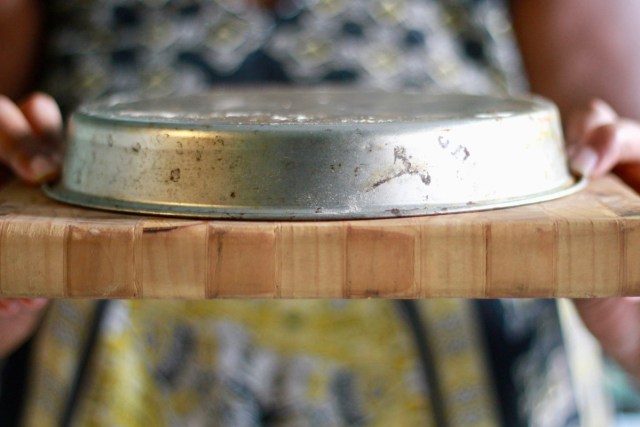 Next, invert the cake onto a plate or cutting board, and allow to cool at least 10 more minutes before flipping back over. It's very soft and prone to breaking (like mine did) if you move it too soon without cooling!
Post flip!
Now that the cake is sufficiently cooled, slice into that fudgy goodness and serve.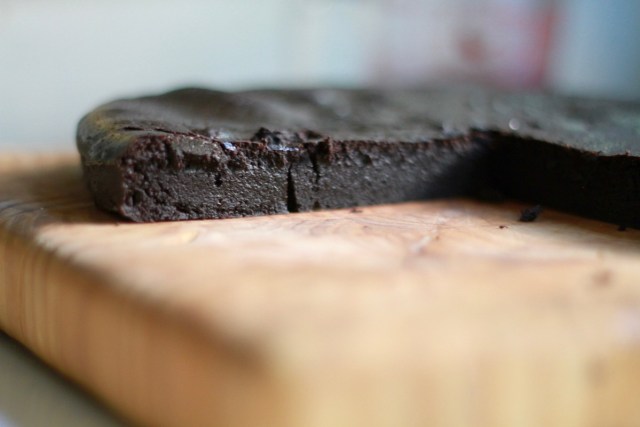 I like to put a swoosh of the cherry sauce directly onto the plate, then place a slice of cake on top so I can drag each bite through the sauce.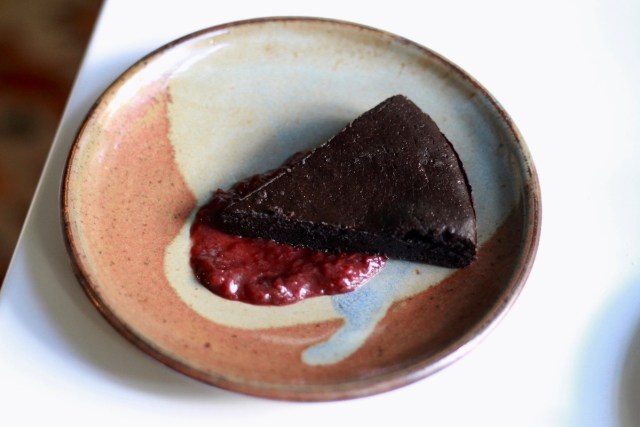 I mean…come on, can you even handle this?
Finally, garnish with a little dusting of powdered sugar, and you're good to go!