This week is the most important week of the TV year, the week we open voting in our GAY EMMYS! (Get those votes in before this weekend is up, friends!) Also this week, every queers favorite summer pastime of came to an end as Are You The One? aired its finale. Riese went to a party with the cast in Los Angeles. Stef interviewed Paige! A whole new episode of To L and Back made its way to the podcasting app of your choice. Valerie let you in on some seestra secrets in the new seralized novel of Orphan Black. And Natalie ran down the top ten sketches from this summers brilliant A Black Lady Sketch Show.
Notes from the TV Team:
+ Ryan Murphy's latest entry in his American Horror Story anthology series, 1984, debuts on Sept. 18th. — Natalie
+ Pose and AHS: 1984 star, Angelica Ross, held court on the latest episode of "Black Women OWN the Conversation." She was fabulous, as usual, and this segment with her mother left me in tears. — Natalie
---
Grand Hotel 113: "A Perfect Storm"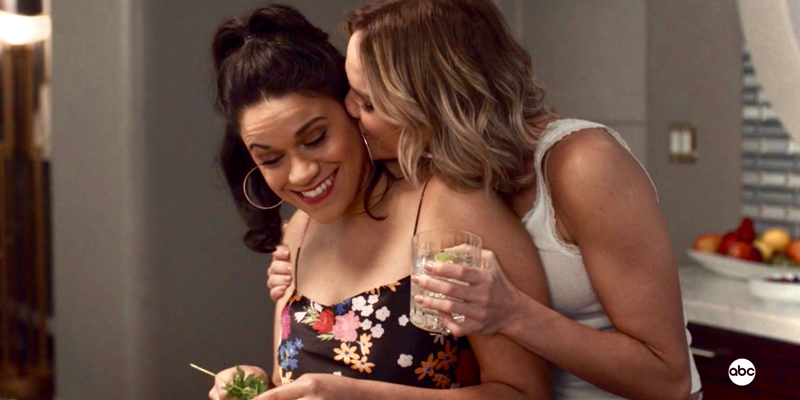 Grand Hotel took it's likely final bow this week, a fact that I am personally mourning even though I think I was one of only five people that actually watched this soapy pot of goal. It's fine. Just mix me another mojito and point me towards the beach.
The finale solves the mystery of what happened to Sky the night of the hurricane (spoiler: she died; but I think everyone knew that already). To answer the Whodunit, the show takes us through a variety of flashbacks highlighting Sky and Yoli's young love. Most important? Shortly before the hurricane, Yoli snuck Sky up to her parents penthouse where they cooked dinner, made out, and told stories about their childhood.
Sky always wondered what it would have been like to grow up rich like Yoli instead of in foster care, which gives Yoli a brilliant idea – they can play dress up in her mother's closet the same way she used to with her sister as a little girl. Watching them try on and make fun of Gigi's clothes is PEAK CUTE, that is until Yoli opens up Gigi's safe.
Inside the safe are the kind of diamonds that could be pawned for the equivalent of a small private island, but Sky notices something else instead. Behind the jewels in a secret compartment is a letter – the suicide note left behind by Beatriz, the OG matriarch of the Mendoza family.
PAUSE. We learned a few weeks ago that Sky and Yoli used to fool around in a secret room in the hotel where, years earlier, Beatriz died by suicide. Gigi, Beatriz's best friend, discovered her and that note. It details that Beatriz found out that Santiago was unknowingly the father of an employee at the hotel. Gigi hid the note – supposedly to protect Santiago from the truth, but also I think to protect her own daughters' (Santiago's step daughters) future stake in the hotel. UNPAUSE.
Sky steals the letter and wants to blackmail Gigi. Gigi's not having that so she tells everyone that Sky stole diamonds and must be fired. Yoli freaks out of course, because she thought that she and Sky were true love but now thinks her girlfriend is a thief (to be fair, Sky is a thief. Just know in the way Yoli assumes).
Gigi confronts Sky the fateful night of the hurricane and corners her outside. Earlier in the season we already saw security camera footage of Gigi soaking wet from the storm, sobbing and covered in blood – so clearly some bad shit is about to go down.
However, it turns out that Gigi didn't kill Sky after all! Another hotel employee hit her in the back of a head to protect the family secret.
As much as I loved Grand Hotel, it is a bummer that it went off into the Miami sunset on a Dead Lesbian note. Even if we knew she was dead from the start of the series. Rest in Peace Sky Garibaldi. We barely knew you.
---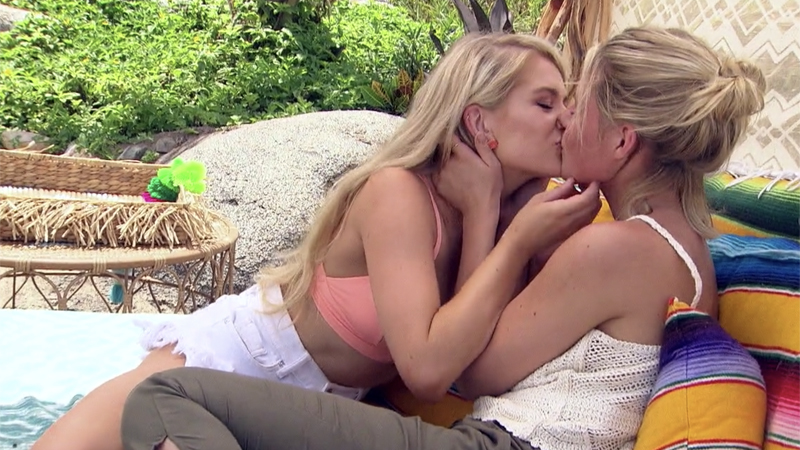 On Monday, Demi explained to both friends and the cameras that Kristian's easy physical affection with other female cast members made her uncomfortable. And while the initial interviews come across as simple jealousy, Demi's eventual conversation with Kristian revealed that she's actually wrestling with both deep-seated insecurities and internalized homophobia, so worried about what everyone around her thinks that she's afraid to be outwardly demonstrative in her relationship. Kristian is supportive, encouraging, and a goddamn dream, reminding Demi that coming out, establishing a relationship with a woman, and being filmed the entire time is a particularly stressful (and deeply abnormal) situation. Kristian says over and over, "You are enough," and it clearly means the world to Demi. It's one of the most open and honest conversations on this topic I've ever seen on television, and it's frankly mind-blowing to see it on Bachelor in Paradise.
Tuesday brought the final rose ceremony of the season, and afterwards Chris Harrison told the cast members to shit or get off the pot. Each couple had to decide if they want to break up or give their relationship a shot in the real world, with couples that choose to stay together getting an overnight date and everybody else going home. We got a bit more of Kristian's perspective, where she explained that she's used to being "the rock" in her relationships but it ends up making her feel unsupported and unsure of where she stands with her partners. When it's time for the women to have their conversation, they were each open and honest about their fears, Demi worried that if she shares too much of herself Kristian won't like what she sees, and Kristian concerned that Demi isn't ready to be in a fully committed relationship with her – but the women both listen and communicate clearly, reassuring each other and ultimately deciding to stay. "You're the only person I've ever felt this strongly about and wanted to be with this badly," Demi said through tears. Kristian looked deeply relieved, Demi looked thrilled, and they both said "I love you" a bunch more times and the whole thing was very sweet.
The finale airs Tuesday September 17th, and will include fantasy suites, proposals, a reunion show, and the reveal of the next Bachelor. Demi and Kristian have easily been the best part of an otherwise tedious season, and here's hoping they'll get the happy ending we all deserve.
---
Why Women Kill 105: "There's No Crying in Murder"
Despite Eli's urging and the fallout from Duke's assault last week, Taylor's intent on taking a trip to Fresno. It's partly a work trip — she's been slated to attend a legal conference for months — but, really, she's going to share the news of her throupling with her sisters. She wants them to know about her new living situation before they show up at their house. While Jade helps Taylor pack, Eli is recruited to take the door out, only to run into his agent, Lamar, as he makes his way outside. Turns out, Eli promised Lamar a new script — one that his agent had been hyping to Paramount — a month ago and has been ducking Lamar's calls ever since. Lamar gives Eli an ultimatum: either he turns in a script in 24 hours or he's dropping him as a client.
Instead of getting to work, Eli throws a pity party for himself on the living room floor. While gorging himself on cheese, Eli laments that his one successful movie was a fluke: he's only written 50 pages and they're all terrible. Jade volunteers to read those 50 pages and offer the man-child some constructive criticism. She advises him to make changes to his main character — make her less of a damsel in distress — and suggests an alternative plot. Unless Jade just got done binging The Wire, her suggestions seem a little ominous to me, but, of course, Eli thinks nothing of it.
Meanwhile, Taylor tentatively wades into a discussion with her sisters about her new living situation over lunch. They're elated about the prospect that she left Eli — I like the sisters already — but Taylor corrects them: she's moved her lover into their home and they are officially a throuple. Her sisters are shocked but there's far less yelling about it than I would've imagined; instead, the question all the things Taylor hadn't yet considered, namely how she'll feel if and when love sprouts between Eli and Jade. The sisters refuse to judge Jade but they are more than ready to judge the fuck out of Eli for all he's put their sister through. Taylor assures them that Eli's change but the sisters are not having it.
"Men never change," one sister warns, while the other adds, "they just get better at keeping secrets."
Later, Jade finds Eli collapsed against his laptop and offers him an Adderall to help him stay awake and focus. Though he's reluctant, he eventually takes the pill and rushes to complete his work. He doesn't finish but he delivers to Lamar what he has and his agent calls it the best thing Eli's ever written. Eli thanks Jade for her help and then, predictably, they fall into bed together. After they've done the deed, Taylor calls and Eli tells a transparent lie about what's going on at home…and suddenly the worst case scenario comes into focus for Taylor: maybe her sisters were right.
---
BH90210 106: "The Long Wait"
By Riese
My friends, during my six-week mental health sabbatical there were many moments when I missed you, but perhaps no moment more intense than the moment in which Betty from Bomb Girls kissed ANDREA ZUCKERMAN.
At the pilot wrap party, Gabrielle tells Jenny and Tori she's working things out with Chris 'cause she's not ready to throw away ten years of marriage with that guy to pursue self-discovery, and also finally spills regarding her lip-lock and subsequent consent form signing experience with Christine Elise, who later in the episode wore this outfit, which ruined my life.
Tori goes behind Chris' back to get the test audience feedback reports, which the cast responds to as if these relatively tame tidbits from humans paid to provide brutally honest feedback on a television program is the first negative feedback they have ever received in their lives. Gabrielle, going on a jog with her lesbian haircut and probably listening to her Upbeat Tegan & Sara playlist, learns that audiences find her "gay or bi" storyline to be "funny," which she finds upsetting.
At the Peach Pit pop-up (this actually exists and is very close to my apartment and the interior looks great in this episode but IRL the exterior bears MINIMAL resemblance to the actual Peach Pit!!! JUST SAYING) party, Chris shows up in another illegal outfit that is throwing its very own party in the back. She reveals to the cast that Fox has only one slot left on their schedule and it's between them and an O.C. reboot. For the latter, Mischa Barton has allegedly been grilling tilapia for 24 hours at The O.C.'s pop-up seaside cafe, almost as if her character did not already die in a fire!!  Also Shannen Doherty saved a possum who'd been hit by a car and thus she showed up covered in possum blood, and my full entirety of a reaction to this can be summed up thusly and following: SHAVEN'T. SHANNON YOU SHAVEN'T HAVE.
The following day the cast gathers at Brian's place for a fully catered barbecue, which Gabrielle shows up to in a white Escalade, blasting hip-hop. Great news: the show got picked up!!!!! I hope they have a Christmukkah episode though.
Next up is a laborious cross-country journey to New York City for a kick-off party mostly focused on all the cast kinda still wanting to do the horizontal mambo with each other. Gabrielle brings her husband, which leads to a not at all awkward encounter with Christine in the hotel lobby. When Gabrielle reveals to her husband later that Christine was indeed the lady with whom she fingerbanged, he says he figured but also isn't sure how much longer the "I don't know" stage of her journey is gonna work for him. Then she says he's her best friend and kisses him, so, eek.
Just before the cast is due onstage to discuss the reboot, Chris tells them the show will be shooting in Canada, they're replacing the guest cast and reshooting the pilot but also cannot afford to bring all seven of them back, which doesn't really make any sense! In addition to existing for six mere episodes, BH90210's yet to get a Season Two pick-up. You cannot dangle a queer Andrea Zuckerman in front of my face and then snatch it back, fox. You cannot! Also, remember when we wrote about the 90210 characters we wanted to fingerbang on 90210 day? What a time THAT was to be alive.