Today is 09/02/10, a date which only comes once in a lifetime and which holds deep personal meaning for those of us who spent significant chunks of our adolescence on the couch watching 90210 marathons/reruns/new-episode-Wednesdays and imagining the day when we, too, would be the subject of hallway gossip and have nice cleavage to pack into our prom dresses.  That day never came, because we are queer weirdos. Regardless, in honor of 90210 day, we thought we'd make you a nice Top Seven 90210 characters we'd like to spend some time with. Naked.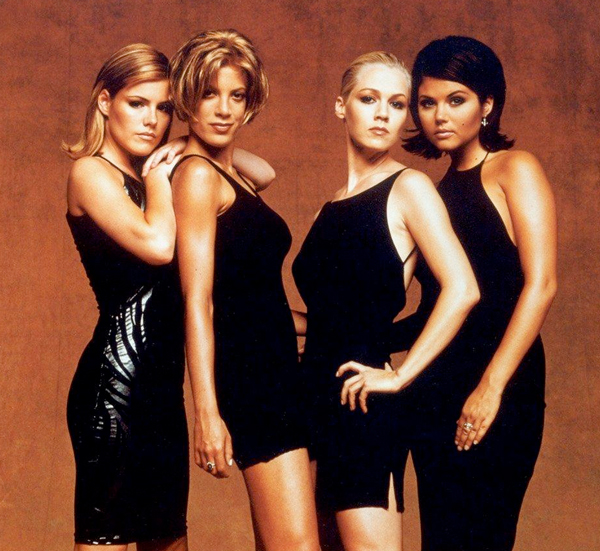 Before we begin, I'd like to let you know that it was my Mother who informed me that today was 90210 Day. She also reminded me of other, equally important holidays:
I should add that she never watched 90210 on the couch with me, she just periodically entered the room to tell me I was rotting my brain. I didn't care, I had Cheez-Its to eat.
+
The

Top Eight Beverly Hills 90210 Characters We Would Like to Have Sex With
+
8. Brenda Walsh (Shannen Doherty)
Laneia: BRENDA. Jesus.
Riese: You know she would be really good at sex, Brenda.
Laneia: She'd fuck you up. In a good way, but still. Wait, I think i just equated sex to relationships. Based on sex alone, yes. Brenda.
Riese: It would be intense to have sex with Brenda. Good intense.
+
7. Brandon Walsh (Jason Priestly)
Riese: I'm going to put Brandon on the list too.
Laneia: Fuck yes.
Riese: He would probably be very nice as a lover. make breakfast afterwards, etc.
Laneia: He'd cuddle. Yes, breakfast.
Riese: For sure, he's got critter tendencies.
+
6. Dylan McKay (Luke Perry)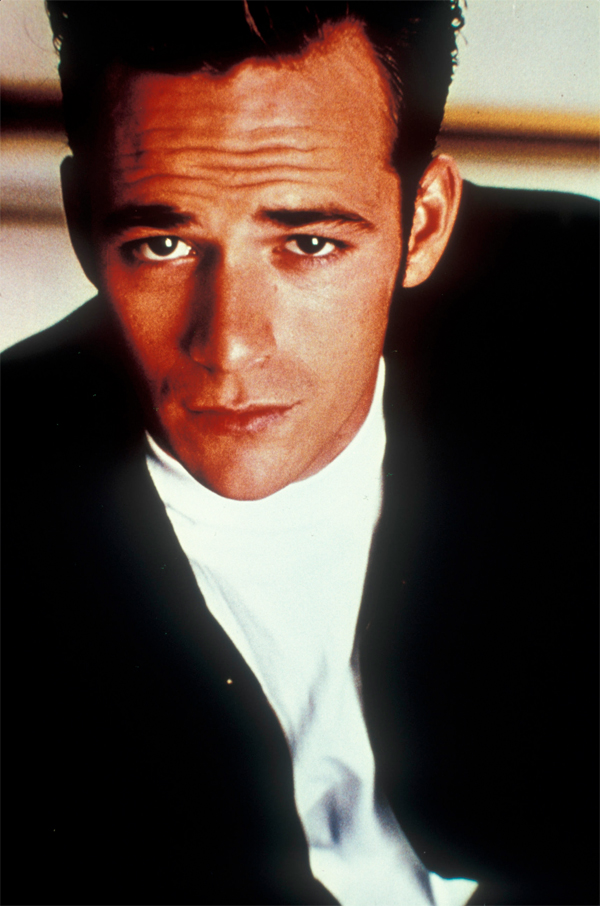 Riese: What about Dylan?
Laneia: Dylan is hands down the only boy I wanted for years. Every boy I 'dated' was compared to Dylan McKay.
Riese: You'd only have to undo one strap of his overalls and the whole thing would come down, since the other strap was already undone.
Laneia: !!! I laughed a lot!
Riese: So you were a Dylan girl, not a Brandon girl?
Laneia: Right. Always. Still? I mean, look at me! I need you to be brooding against a wall.
Riese: True, he had that Jordan Catalano/Shane thing going on but was way too cheesy to resonate like they did. Although his voice was really sexy.
Laneia: Well, you had to view him within the confines of the show, which was inherently cheesy. Didn't Brandon have a bad boy period? I feel like he did. I paid very little attention to Brandon.
Riese: Yes, Brandon had a bad boy period. He crashed that car, remember?
Laneia: Yes!
Riese: I feel like he also had a drug problem for ~1-2 episodes.
Laneia: NOW I WANT A BRANDON!
+
5. Emily Valentine (Christine Elise)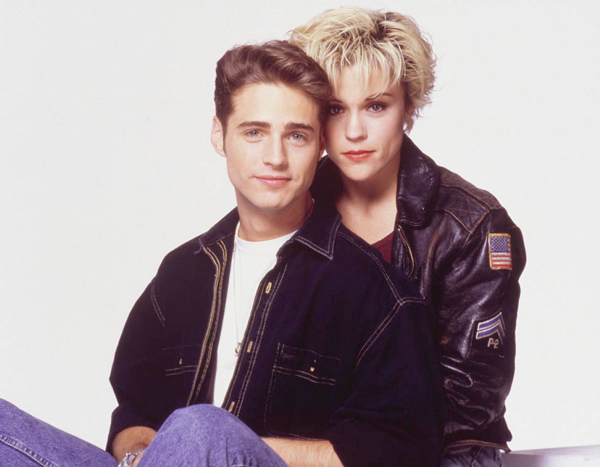 Was it the dyke haircut, or the perfect jaw, or the resolute knowledge that crazy girls are always fun for a pantsless romp? If she could promise not to set your house on fire or crank call your parents or drug you at a rave afterward… Emily Valentine FTW.
+
4. Clare Arnold (Kathleen Robertson)
Riese: Did you like Clare? I really liked Clare.
Laneia: Yes, I think so. Was she fucked? I feel like she was fucked.
Riese: She dated Steve for some reason. She was fucked. She was "the Chancellor's Daughter." One time she handcuffed herself to the bed.
+
3. Kelly Taylor (Jenny Garth)
Remember Tara, one of the worst most offensive psycho-lesbian characters of all time? Tara, cut from the same trope that birthed The L Word's Adele, moved in with Kelly Taylor after rehab and wanted to BE her. Tara dyed & cut her hair like Kelly's and would stand trance-like in front of the mirror, intoning "I am Kelly Taylor" over & over like a Beverly Hills Beach Club Poltergeist.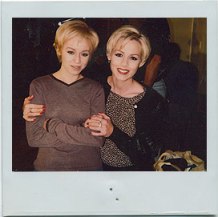 It was easy to make fun of Tara, but in a way, we all wanted to be Kelly Taylor too. Maybe Kelly was too wrapped up in herself to notice that this fan was more dangerous than all the others, maybe even more dangerous than Colin.
"You don't want your life to be like mine," said Kelly, Kelly the rape survivor with the alcoholic mother, housefire problem, coke addiction and other assorted tumults. Did we really want to be Kelly Taylor?
No. Ultimately, we just wanted Kelly Taylor to sleep over, if only for the manic butterflies burning brightly in your handsy gut when you think to yourself, "Oh my god, I'm going down on Kelly Taylor."
+
2. Valerie Malone (Tiffani Thiessen)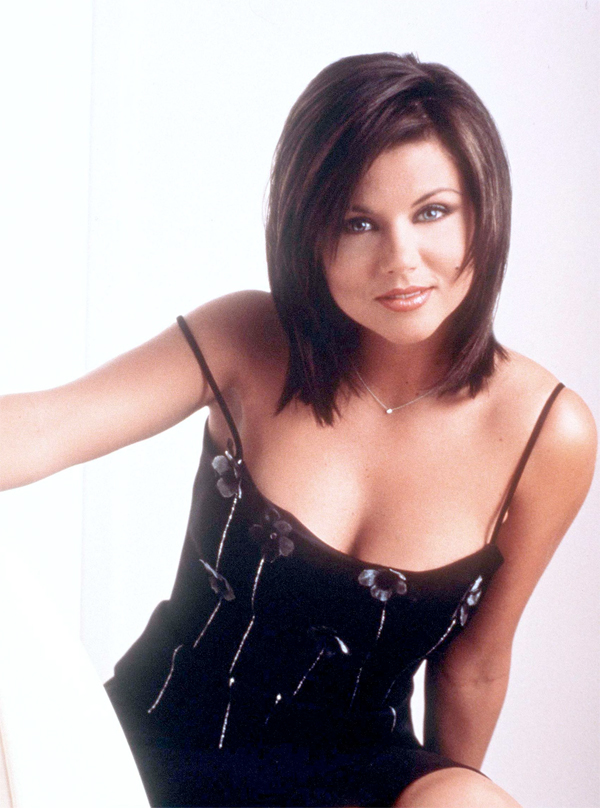 Riese: What do you think about Valerie? I thought she was 10x sexier than Kelly Kapowski and had bisexual vibes.
Laneia: Yes. Kelly Kapowski was a douche.
Riese: Also Valerie looked better all grown up with breasts and everything.
Laneia: I was a Lisa Turtle girl.
Riese: Awww
Laneia: Lisa Turtle knew what she wanted. She was not going to fuck around w/ those stupid boys, etc. And then she did and I felt pretty betrayed ANYWAY. YES! Valerie would've been a good fuck for sure!
Riese: Valerie took risks. Actually, Valerie knew what she wanted to. She'd be really transparent in bed, and then you'd be shocked the next day when she answered the phone in a voice you didn't recognize.
Laneia: As a person to connect with? Probably not so much.
Riese: She had a lot of walls up. Which I would like to penetrate. Or be penetrated by. I guess you can't be penetrated by a wall. I think I just wanna do it at the Peach Pit After Dark.
1. Andrea Zuckerman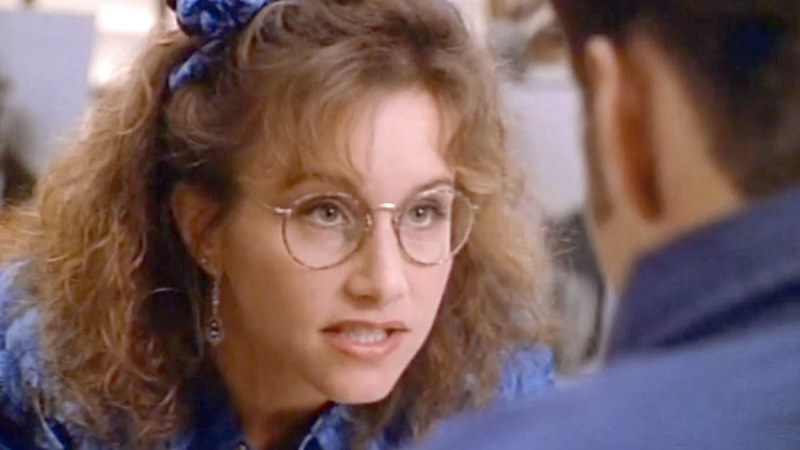 Because she's gay
So what are you doing to celebrate? Which 90210 character did you want to fingerbang?