Over the last few years, sex toy companies and stores have asked us to review their toys in exchange for, you know, their toys.
Today we're reviewing the BumpHer Silicone Base.
Material: Silicone
Color: Pink or Purple
Length: 4 inches
Diameter: 3.75 inches
The popular Mustang Royale is a fan favorite for many reasons, but maybe most of all its "soft squishy saddle base." Designed for people with vulvas wearing the Mustang with a harness to feel more stimulation when using it to fuck (as well as preventing the potentially-bruising impact from the firm base of a dildo), the soft molded base is a game-changer. If you love it on the Mustang Royale, you might find yourself wishing every dick you use has one — which is where the BumpHer comes in.
Although the name is less than ideal, the concept behind the BumpHer is pretty ingenious – a standalone molded silicone base that can be put on or removed from any flat-based dildo you want to use it with to make wearing it for sex more pleasurable and comfortable. The smooth curved silicone is pretty firm, albeit squishy, with curves designed to cushion a vulva from impact and also stimulate your clit, with an upper contoured bump and a little curved nubbin at the top. It's a cool idea, and in execution actually works — mostly.
The thing about a silicone base you can put on any dildo you want is that you do actually have to get it on, and squeezing one silicone object into another is a little bit of a project. In order to stay firmly attached to the dildo base without moving around a bunch during sex, the opening the dildo base goes into is very small, maybe the size of a nickel, and requires you to stretch it out and around the base, pulling silicone over silicone. Although the BumpHer's specs say that it works on dildos with bases up to 3.25 inches, I found this to be… not quite the case. Even if I could technically get it on, it was so stretched that the shape of it wasn't quite as functional anymore; personally, I found it to be a better fit with dildos whose base was in the 2 or 2 ½ inch range. (The plus side of this is that the BumpHer can be a good solution for dildos whose bases feel annoyingly small and make it harder to get stability or control in a harness.) It's not a big deal to put the BumpHer on a dick once you're used to it, but does take a minute — although you probably shouldn't leave it attached to your dildos all the time because silicone on silicone isn't great longterm, it's not a bad idea to put it on earlier in the day if you know you're going to be using it later and cut down on fumbling-around time during sex.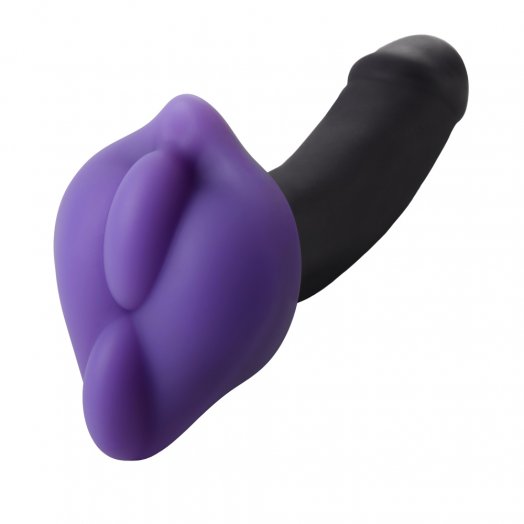 Once it is on, though, the sensation is pretty great. Obviously everyone's body is different; the shape may or may not work for you, and the level of sensation will differ from person to person, but for me it felt really, truly noticeably better than sex without it, and made blowjobs or handjobs feel great in addition to just being hot. It probably would have been even better with a tiny bit of lube on the surface of the BumpHer inside the harness. The sensation isn't intense enough for me personally to come from using it this way, necessarily, but is definitely more than worth the few minutes of forethought it takes to involve it in using a dildo in the future. My main point of comparison previous to this was the Sili Saddle, which has the perk of being smaller and less work to attach to a base, so it can be slipped inside a harness when it's already on. But while it's a little more of a whole thing, the BumpHer feels WAY better, and is actually cheaper? Conveniently, it can be boiled along with the dildo you used it with to sanitize it.
While the toy copy mentions using a bullet vibrator with the BumpHer, I was a little disappointed to find that it isn't possible to do this while also using it with a dick; I had thought one of the contours might be hollowed out allowing for a bullet vibe to fit between the base of a dildo and the BumpHer, but this is not the case. You could definitely pack a bullet vibe inside the empty BumpHer to use as a vibrator, which I think is what the copy suggests, although I think you would probably be better served by a dedicated vibrator in that capacity. Even so, for the cost and versatility, the BumpHer is more than worth the money, and I think I'll be using it for a long time!