Hey, remember your freshman year in college? If it was anything like mine, you were assigned an arbitrary roommate (or two, or three) and spent eight months giving yourself whiplash from turning away anytime they even took their sweater off, because even though you weren't at all attracted to them your crazy, panicked guilt about your homogayness made you overcompensate by staring at the floor every time they came back from the gym in just a sports bra and shorts.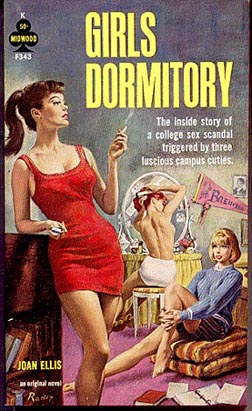 You went back and forth constantly on the issue of whether or not to pointedly come out to them, but your fear that they would refuse to sleep in the room or insist on disinfecting all their belongings was too strong, so instead you just tried to be in the library when you knew she usually took showers.
Does any of this sound familiar? Then you will also be familiar with the story of the anonymous "Perry Fan," who wrote in to the Everyday Ethicist of her college to ask: "I have recently been struggling with my sexuality. I think I'm a lesbian, but I'm not ready to come out. However, I live in a sorority house where a lot of the girls walk around in skimpy clothes, bathingsuits, etc. Is it ethical for me to pretend to be straight? I don't want to make anyone uncomfortable, but I feel bad living a lie, especially because if the other girls knew, their opinions of me would undoubtedly change."
Jezebel has reprinted the advice columnist's answer, which is "That is not ethical, come out right now," and their own right-fucking-on response, which is WHAT IS WRONG WITH YOU, WOMAN. Did you get high and watch too much Pretty Little Liars? Here's an excerpt of her response from the Cornell Daily Sun:
Everyone has secrets. Your roommate might not know how to put in a tampon, or the skinniest girl on campus might have secret Twinkie binges every night. But these secrets don't affect anyone else, while yours does. Some girls might have chosen to live in the sorority house because they don't want to live with guys who could be checking them out, and even if you don't have a crush on any specific girl, you're right that your sexual orientation would make them uncomfortable. It would be just as unethical for you to "pretend to be straight" to avoid discomfort as it would be for a guy to get breast implants in order to land a sweet single in Balch. No matter what the motivation, placing your roommates in a situation that could potentially make them very uncomfortable if they knew the truth is just not ethical.
There are so many parts of this that are not okay! For instance, the equation of homosexuality with disordered eating! First, the point Jezebel makes very well:
"…what Rosen's basically saying is that Perry Fan is morally obliged to come out before she's ready just because the news might make some people uncomfortable. Translation: their comfort — or rather, their ability to register disapproval and possibly move to get her kicked out of the house — is more important than Perry Fan's right to privacy."
I'm sorry, but since when is making someone uncomfortable unethical? Glenn Beck makes me uncomfortable every time he opens his f*cking mouth, and no one f*cking cares about that. What if she does come out, and the writer's roommates are uncomfortable? Is she then obligated to leave the sorority and move out? Be chemically castrated so she won't care if anyone's naked? Undergo conversion therapy?
"You do not have the right to a hetero-only space; no one has to warn you if they used to make out with their best friend at sleepovers but they want to stand next to you in line at the cafeteria."
Second, the columnist's assumption about the student's intentions here is just wildly out of line. I mean, let's read this again: "It would be just as unethical for you to pretend to be straight… as it would be for a guy to get breast implants in order to get a sweet single in Balch." Really? Not openly disclosing your sexual orientation to every single person you interact with is the same thing as UNDERGOING SURGERY and taking on a FALSE IDENTITY in order to infiltrate a space that's specifically delineated as a safe zone for a marginalized group? (I'm assuming from the context that Balch is a women's dorm.) Someone has a really OOC case of heterosexual privilege; I'm sorry, but no matter how uncomfortable gay college students make you, you do not have the right to a hetero-only space; no one has to warn you if they used to make out with their best friend at sleepovers but they want to stand next to you in line at the cafeteria.
And lastly, and most awful and insidious and damaging, is the underlying assumption here about the student's "secrets affecting someone else." I'm just completely shocked and disgusted that someone who bills themselves as an "ethicist" really believes the tired, malicious story about gay people being predatory.
This girl is gay, not a sex addict; she's worried about lying to her friends, not about how to physically restrain herself from tearing their clothes off. Comparing her to a straight male and reminding her that these girls don't want to be "checked out" assumes that this student is naturally wired to do just that. By the time you've gotten to college, you've probably seen every single female you know half-naked; you've been living in close quarters with other women for likely your entire life. By doing this, you haven't been preying on them or violating their trust in some way. They are your friends and your family and your community, and you're a woman too; you aren't sexually harassing them by sharing space, and you're not a sexual deviant who's incapable of having platonic relationships with someone who even identifies as a gender that you're attracted to.
This is actually literally insane, and for someone who claims to be an expert on morals to purport that it's true is, in my opinion, VERY UNETHICAL. One of the worst and most insidious ways that homophobia manifests itself in our culture is isolating GLBT people from the rest of the world and attempting to regulate when and how they're allowed to interact with straight people, because their weird, unnatural attractions make it unsafe and uncomfortable for the majority group. It's a fallacy of hetero privilege that straight people should be allowed to choose exactly how much time, if any, they ever have to spend around a gay person. We aren't dangerous, and no one needs to be protected from us. This is, in essence, what this poor student is asking – "Am I a threat to the people around me? Do I need to warn them?" and this columnist should be ashamed for answering "Yes, you are, and you do."
In short, "Perry Fan," you have shitty taste in music, but you sound like a great girl, and I'm sorry about that "ethicist lady." Have a cup of tea, and don't listen to anything she says, and I'm sorry sometimes college sucks, and do you need a care package? We can do that for you.