The Five Love Languages is a 20-year-old book written for straight Christian couples by a dude named Gary Chapman, but like all the actually good lessons I learned from my Baptist upbringing, I decided to steal those ideas and apply them to my super lesbian life. I know lots of other queer people who have chosen to do that, too!
According to Chapman there are five love languages — quality time, physical touch, words of affirmation, receiving gifts, acts of service — and most people prefer to be shown love in one or two of those ways. Most people, by default, also give love in the languages they prefer to receive it. Here are five gift ideas for each of the five love languages.
---
Quality Time

1 / A board game ($15-$300)
2 / Meal delivery kit subscription ($69 per week)
3 / Picnic basket ($120)
4 / Beloved lesbian movie ($10-$25)
5 / Romantic getaway (Whatever your budget allows)
Quality time is all about giving someone your undivided attention. A board game is a great way to do that, especially a board game where you get to work together as a team. Plus you can buy board games in the we-just-met to 50th-wedding-anniversary price range. Another great idea is to cook with your partner; subscribing to a meal kit service means three built-in nights a week you can connect while preparing a healthy dinner without anyone having to do the emotional labor of choosing recipes and going grocery shopping. Or why not pack a meal into your new picnic basket and frolic out to a place where there's no teevee? If you're really feeling it, go all in and plan a full romantic getaway. For all of these activities, I suggest turning off your notifications and putting your phone somewhere that's not in front of your eyeballs.
---
Physical Touch

1 / Massage Oil ($20)
2 / Smittens ($60)
3 / SleepPhones ($39)
4 / Cozy Blanket ($39)
5 / Lelo Ora2 ($189)
Physical touch is, simply, touching your partner's body with your body! One great way to do that is with a massage. Or the ol' classic: holding hands. These smittens will keep their one hand warm and your one hand warm and your clasped hands warm, together. SleepPhones are magical; everyone should have some. You can wear yours in bed and your partner can wear theirs in bed and you can be doing your own thing — playing Nintendo, reading a book, watching Netflix — while lying close enough to touch each other. You could also cozy up under a new blanket to watch teevee (people whose love language is physical touch are often sensitive to textures, so go for something super soft). The love language of physical touch is not always sexual, but it can be sexual, in which case how about one of Lelo's best-selling vibrators?
---
Words of Affirmation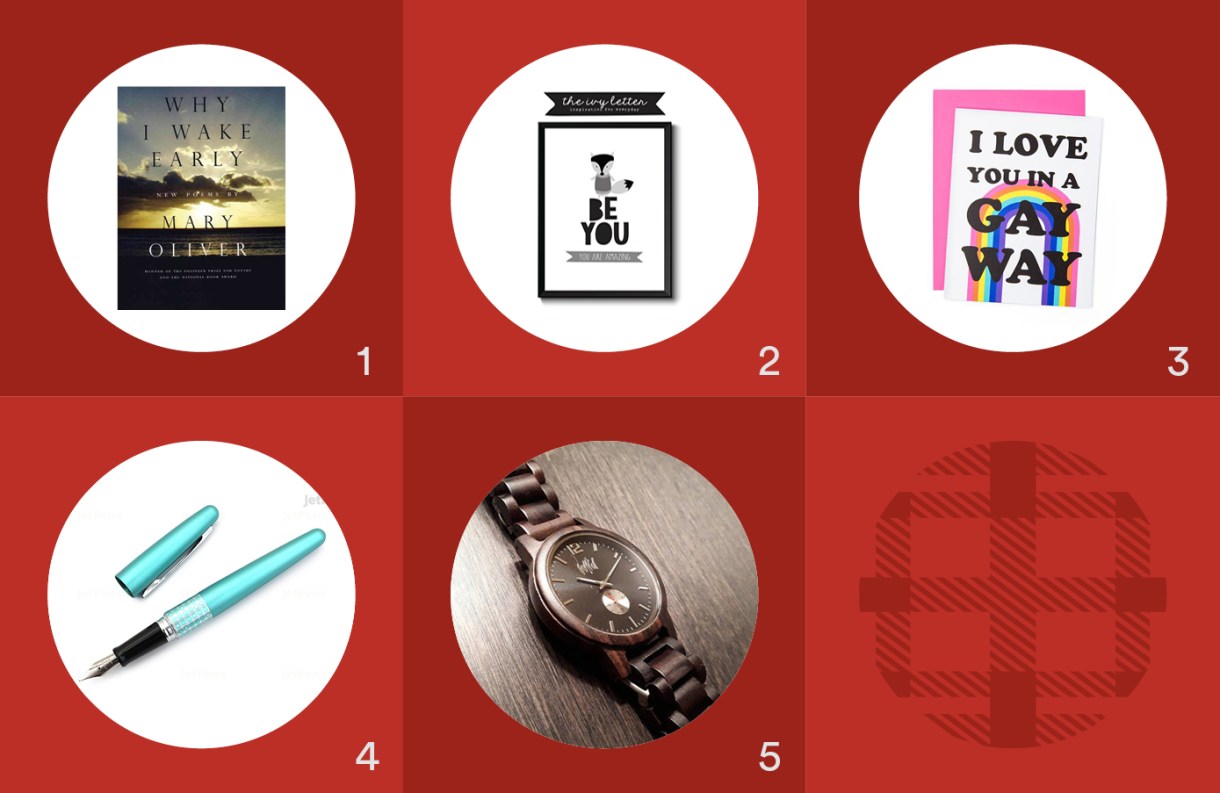 1 / Book of poems ($11)
2 / Encouraging framed print ($6)
3 / Love letter inside a beautiful card ($3)
4 / The fountain pen you wrote the card with ($18)
5 / Engraved Watch ($75)
People who thrive on words of affirmation like to be uplifted and reminded of your love with verbal or with written words. You can't go wrong with a book of poetry you picked out for them personally, especially if you write a note inside about why the book makes you think of them. A sweet and encouraging print they can put on their desk is a lovely idea; they'll see it almost every day. Or how about writing them a gay love letter inside a gay card, and then giving them the fancy pen you used to write it? (Words of affirmation people tend to like words in general, including crafting their own!) A watch with a personalized inscription means they can wear your words right next to their pulse every waking minute of the day.
---
Receiving Gifts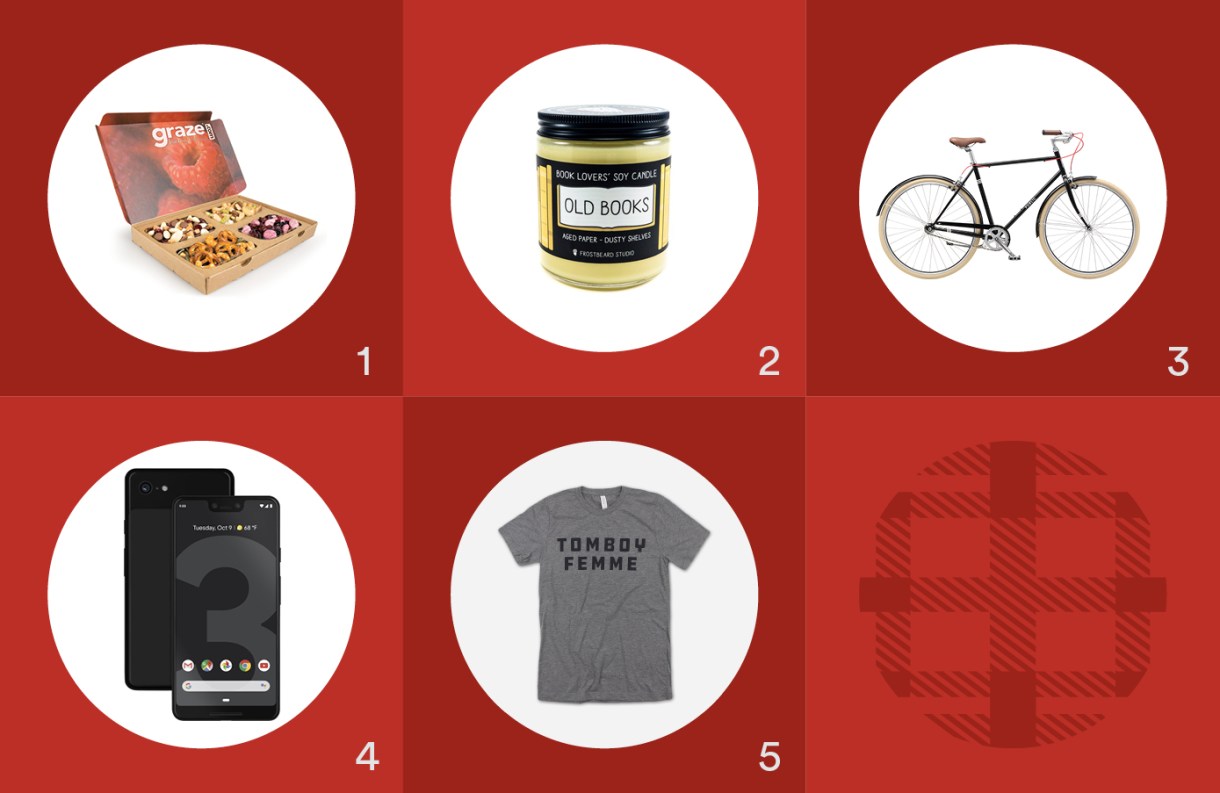 1 / Subscription Box ($14 per box)
2 / Magical Candle ($18)
3 / Bicycle ($700)
4 / New Phone ($800)
5 / Autostraddle Tee ($20)
People whose love language is receiving gifts usually like either gifts they can tell you took a lot of time to pick out and that show you really know them, or they tend to like big ticket items they can show off (because they are, in effect, showing off your love!). A subscription snack box is a gift that keeps on giving, literally. It's especially good for a busy partner who, say, works a whole lot from home and sometimes forgets to eat. Candles are excellent gifts for lots of people, and the perfectly selected scent — for relaxing, or mood-boosting, or setting a sultry scene — is an inexpensive way to show your person you get them and what they need right now. A bike is, in my opinion, the greatest gift you can give someone; it's like giving them back the most magical parts of childhood. A new phone is a gift and a way a person can utilize social media to showcase their entire holiday of gifts. Or why not choose one of the many, many, many tees we have in our Autostraddle store to show you know what identity your tomboy femme or soft butch or non-binary babe wants to present to the world.
---
Acts of Service

1 / Spa Day ($80-$200)
2 / Home improvement project (The Limit Does Not Exist)
3 / Breakfast in bed ($43)
4 / Roomba ($230)
5 / Bath salts ($8)
Acts of service people believe actions speak louder than words (and also louder than gifts), so most of these gifts will set you up to do the service. Send your bae away on a spa day, and while they're out, do that thing you know they've really been wanting you to do. If a spa day is out of your price range, give them the chance to check-out at home, like with some bath salts — and go ahead and fold and put away the laundry while they're soaking. Bring them breakfast in bed! You could go all out and give them that home improvement project they've been dreaming of, or even hire a robot to do the act of service for you.
---
Design by Mika Albornoz