The finale watch party, as it had been announced on the thirst trapping Instagram feeds of Are You The One?'s Los Angeles-based cast, would begin at 7:30, but by 7:30, the narrow two-story Beaches WeHo bar, awash in pink neon and staffed by muscled gay men in tank tops probably serving more women that night than they had in weeks, was already at capacity, with a line snaking down Santa Monica. Across the country at a simultaneous finale watch party at The Deep End in Brooklyn, hosted by Basit's alter ego Dionne Slay as well as Kari, Paige, Remy, Nour and Justin, fans lined up around the block spotted Nour trying to drive the wrong way down a one-way street.
Kai and Max were the first cast members to arrive at Beaches. Kai, wearing black deconstructed pants, a gold chain, and leather suspenders, took copious selfies with beaming queers who, judging by their general enthusiasm around Kai's existence, have yet to be demonized by a Kai of their very own. Although onscreen, Max has consistently looked one Boom-Boom away from lighting a house on fire, in person he was confident and honestly quite handsome, swishing through the bar in a flowy cape, skinny jeans and black sequined slippers. Up by the DJ booth, entirely perfect in a tank top and ripped jeans, certified hottie Amber danced with a gaggle of similarly attractive girls. Kai and Jenna (whose character arc was one of AYTO's most emotionally satisfying), spent the evening surrounded by friends who all looked a little bit like Jenna or a little bit like Kai. Danny showed up just in time, wearing a full suit and toting a full messenger bag. By which I mean: Danny definitely came straight from work. Danny OBVIOUSLY came straight from work.
Like most fans of Are You The One?'s eighth season, I'd never seen or heard of the show until its eighth season — and like many fans of Are You The One?'s eighth season, I don't watch reality TV at all except for this one season of this one show, right now. A few weeks before it premiered, MTV e-mailed me a screener, which I almost ignored, assuming it'd be another exploitative Tila Tequila-ish situation. A few minutes in — including every minute of  Basit explaining their gender identity — I was like, wait a second. This is… good? Our team agreed. Are You The One? never felt like the next step after A Shot at Love. It felt lightyears beyond it.
The scene at Beaches wasn't, I imagine, unlike the scene surrounding the cast of The Real L Word during its brief heyday (Kai = Whitney, think about it). But whereas the real-life lesbians of the '09-'11 Showtime series let us into their messy and often tedious actual lives, replete with cocky cliques and high drama screaming matches on public streets, AYTO captured characters usually brimming with earnestness, eager to find love, discover themselves, build community and make new friends. Nobody attending this party was trying to be cool. We had all gone out on a Monday night, for the love of G-d, to be here, queer and aggressively uncool, like Danny.
Never before on television, reality or scripted, have we seen bisexual community like this. Never before on television have we seen bisexual community, period. Thus, Season Eight has garnered highbrow press its seven heterosexual seasons never quite managed, praised by The New York Times for its "frank, nonjudgmental portrayal of queer relationships," by Variety for its "unexpected step forward for queer representation on TV" and by Rolling Stone as "a show that transcends not just the series but the entire genre, portraying queer mores and dating culture with more compassion, maturity, honesty and complexity than anywhere else on TV."
As the finale approached, many of my friends weren't entirely sure what we'd have left to live for afterwards, or why all shows weren't entirely populated by, in MTV terms, "the sexually fluid community." The fans who turned up last night — a throng of gender-diverse queers crowding out the homogenous, muscled white cis gay men usually occupying these specific streets — seemed similarly frenzied. We'd snagged seats in the slim outdoor portion of the bar, where a flat-screen TV was angled just far enough to be visible to both us and to the crowd who hadn't gotten in, but weren't about to give up and go home. I've really only been aware of this kind of thing happening — people so eager to watch a thing that they'll stand OUTSIDE a bar ON THE STREET to watch it on the TVs playing inside the bar — for sportsball games and presidential elections. More than one attendee called it the Gay Super Bowl. (I was one of them.)
We all had our picks going into the finale — I would've bet money on Remy/Kylie, Justin/Amber and Kari/Max but, well, I'm glad I didn't. "I say SEASON EIGHT and you say WE AIN'T STRAIGHT!" Amber yelled from the second floor. We did as we were told.
The episode opened post-beam-ceremony where, surrounded by unlabeled plastic bottles of probably poison, the show began with everybody stressing out post-beam-ceremony. Danny, pontificating with salad tongs, announced that six beams was the worst case scenario, which we already knew because of the math blog.
It was now up to Justin, Amber, Kylie, Max and Kari to figure out who was their alleged perfect match, through a lot of processing, some high-level canoodling, and curling up together on a couch talking about their favorite colors. "My favorite color is red, because it symbolizes love," said Amber on the teevee. We all screamed. Jonathan drank rum out straight out of the bottle. At the "Speaking my Language" challenge, probably the stupidest game we've played thus far, everybody smashed pies into each other's faces, which made exactly as much sense as everything else. I began considering that maybe Max got a sunburn at some point and wondering what Kylie was up to in Salt Lake City.
Thus Max and Kari, Kylie and Amber and Basit and Jonathan went on a date that involved driving Jeeps through actual human civilization. Basit, wearing cut-out leopard-print pants, twerked in Jonathan's face while Jonathan slapped their ass, and we screamed. Amber thanked Kylie for making out with Nour, thus slaughtering Amber's feelings for her, and we screamed. Later that night or week, Amber and Justin slid under the duvet in the Boom-Boom Room, and we screamed. Kylie and Amber were declared NOT A MATCH by The Truth Booth, which I'm vaguely concerned could be exposing its inhabitants to excessive radioactivity. During commercial breaks, we estimated how much 1/16th of $750,000 would be after taxes while Amber, Danny and Max took turns on the mike.
Amber on teevee suggested, "Let's go skinny dipping, it's our last night," eventually adding, "I don't want no regrets, just love, as Katy Perry said," and we screamed. Basit and Jonathan, already elder queers in their robes and sleep masks, looked on with trepidation. "This doesn't look sanitary at all," Basit observed, and we screamed louder.
The episode's final moments were as tense and thrilling as the Super Bowl, I'm pretty sure. Amber picked Remy at the beam ceremony, a match we felt very nervous about — Amber has trust issues, Remy is sexually freewheeling, wouldn't it have made more sense to pair Amber with Justin and Kylie with Remy?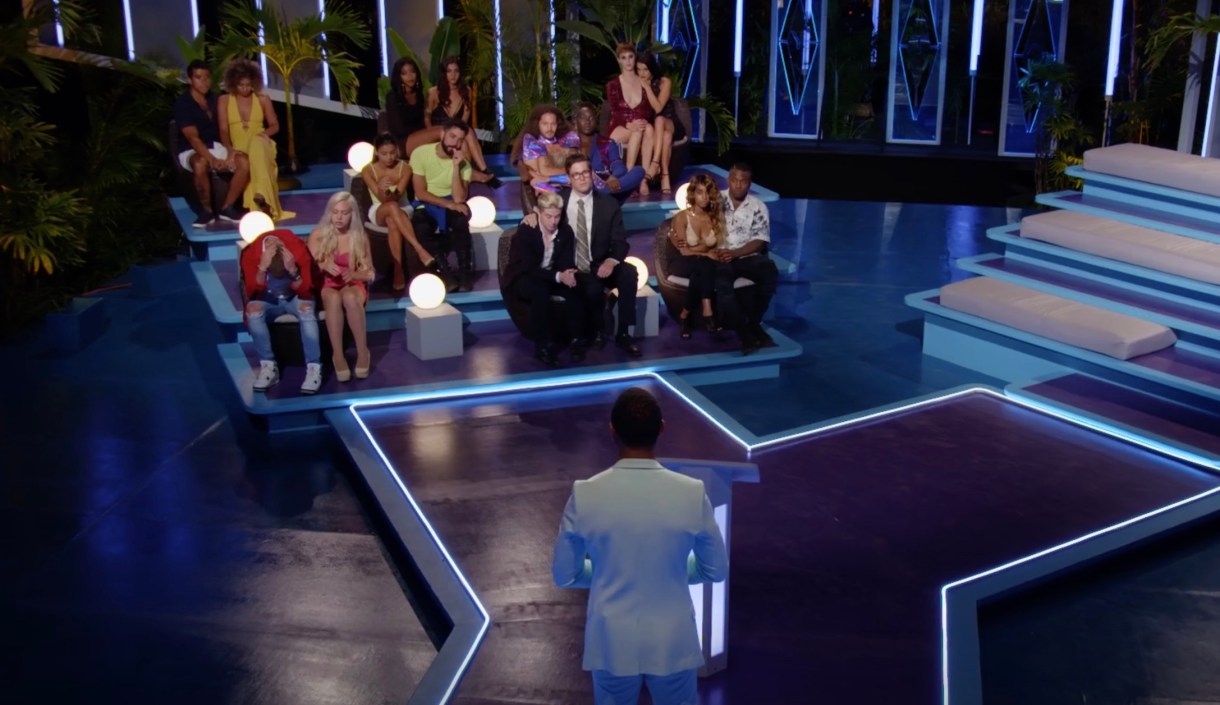 The final beam ceremony started a mere 33 minutes into the episode. Basit got the night's most enthusiastic reaction thus far when they looked straight at the camera, hands clasped together, and intoned, "We have to get this right. Not only for love, not only for money but for the queer community."
The show didn't end with broken hearts and messy crying or whatever it is that happens at the end of The Bachelor. It ended with redemption, even for its most frustrating personalities: Max cried about accepting his own sexuality and meeting somebody he loved. Kai's affection for Danny somehow neutralized the chaotic energy that'd been his calling card thus far. Nour had replaced "yelling at Jasmine" with "making out with Jasmine."  Jonathan, the alleged bank manager who I will never forgive for how dismissive he initially was of Basit and who definitely owes everybody 1/16th of $250k, arrived hand-in-hand with Basit, wearing Dionne Slay's space-age shoulderpads, and told Terrence J that the first time he saw Basit he knew he was gonna "learn some stuff."
After a homophobic number of gratuitous commercial breaks, all eight beams lit up the sky, igniting the light and letting it shine, as Katy Perry said. When I wrote "we screamed" before I meant it, but when I say "we screamed" now I mean something more than that. It was wild but ironic queer screaming at a Women's-World-Cup-level pitch. A couple on the street started making out for the Kiss Cam in our minds. Everybody had their phones out. At Beaches, Kai took the mike and yelled: "Queer people are also allowed to be messy on reality TV just like fucking straight people too!"
On the show, Jasmine sat next to Nour and said: "As the queer community, the odds are always stacked against us. And we have overcome the odds, we represent for the queer people in the world, we're here baby!"
"Don't be afraid 'cause you're not alone!" Nour yelled. "You're fucking loved!"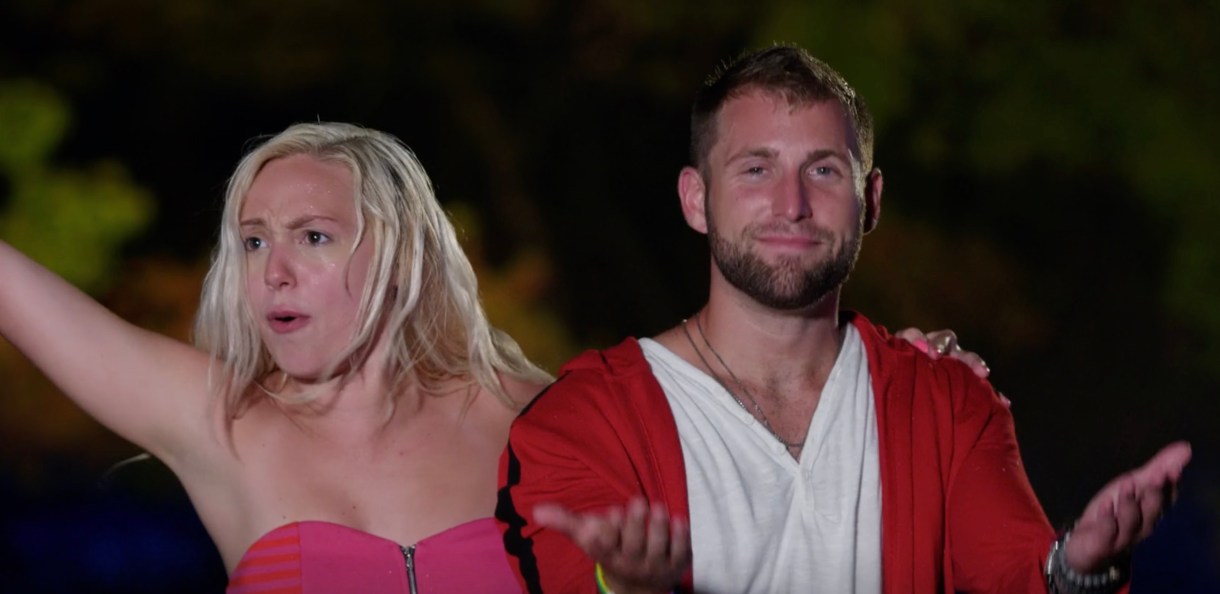 Kari, sitting with Max, who she reportedly talked to no more than three times after the show ended: "We have showed the world that despite the odds, the queer community rises up ONCE AGAIN!"
In the end, it went like this: Aasha and Brandon, Danny and Kai, Amber and Remy, Basit and Jonathan, Kari and Max, Jenna and Paige, Jasmine and Nour, Justin and Kylie. It seems most of these couples didn't last post-show, but at least one emerged from it: after the airing, fan favorites Paige and Remy both posted on instagram that they'd been dating ever since and had already moved in together. I FOUND THE LOVE OF MY LIFE ON REALITY TV!!! Paige wrote in her caption. I went for a girlfriend but I left w a boyfriend mind yall's business. 
No regrets, just love.