+


0. 2/20/2012 – Here/Queer Call for Submissions, by Riese
1. 3/02/2012 – Queer Girl City Guide: Montreal, Canada, by Sid
2. 3/05/2012 – Playlist: Here/Queer, by Riese
3. 3/05/2012 – Queer Girl City Guide: Portland, Oregon, by Lesbians in PDX
4. 3/07/2012 – Queer Girl City Guide: Brighton, United Kingdom, by Sarah Magdalena
5. 3/07/2012 – Oh But To Be A Queer in Sicily, by Jenn
6. 3/08/2012 – City Guide: Seattle, by Marley
7. 3/11/2012 – City Guide: Washington DC, by Keena
So you're coming to Washington, DC? That is so exciting, you are going to have an amazing time here! DC is full of History, Politics, and you probably came here once on a school trip with one billion of your classmates if you live anywhere on the East Coast. But what you probably missed between the bus tours, duck tours, Capitol tours, museum tours, Segway tours, monument tours and Japanese tours, is that DC is also full of lesbians. We're everywhere!
Autostraddle says that DC is the #4 most lesbianish city in the U.S. when it comes to population numbers and #11 in per capita numbers – so HEY everyone! Check us out! (Also Emily on the Real World: DC kinda liked making out with girls too, so there's that).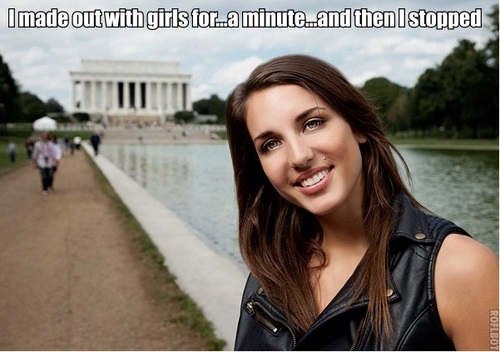 But DC is big and it can be overwhelming if you don't know your way around. It is the capital, after all. There's so much going on and you probably have a powerful job or important social cause of some kind that brought you here, so in between your business lunches and office happy hours, where are you going to find your fellow ladies?
FEAR NOT. I'm here to help! My name is Keena and I've been living in DC for four years, before, during and after graduate school. I've lived and worked on the Hill and now I do other things and live in Logan Circle, which I think is the most awesome area of DC to live, especially if you're gay. DC is actually a great place to be gay: it's full of politically liberal people and tons of other gay people. It's also the headquarters of the Human Rights Campaign and all kinds of other socially progressive groups that bring together intelligent, thoughtful people who work hard to promote happy, fuzzy-feeling-inducing causes like protecting your civil rights and letting you marry your adorable girlfriend.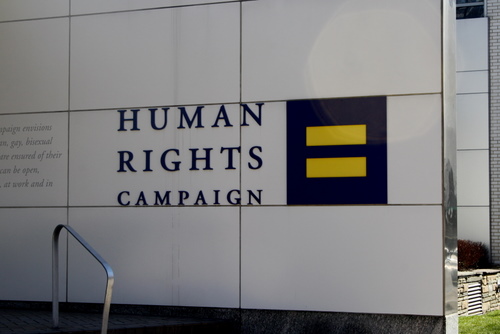 You probably want to meet these fuzzy-feeling people. Of course you do! And you probably need a place to live and want to know where to go to work on your laptop and read novels with a delicious beverage. So! Let me take you on a virtual tour of DC and we'll go to all the fun places and do all the fun things that I think you will like to do, too.
I know it's scary to go to a new place, so I've enlisted the help of my friend Pixie the Unicorn to come along, 'cause you'll probably need a friendly face to make all these new places a little less foreign. And I think Tinkerbell will need a partner in crime if Riese ever comes to visit.
Meet Pixie: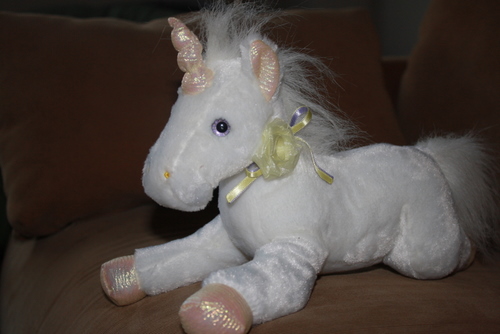 Name: Pixie the Unicorn
Favorite Food: Fruit Loops, because they are really just gay Cheerios
Aspires To Be: Britney S. Pierce
Occupation: DC Tour Guide Accomplice
Often Found: Posing with bottles of liquor
All ready? Let's go!
Lesbian Bars/Nights
The first thing you should know is that there's heaps of gay bars for men and not so much for women. Our lack-of-dedicated-barspace is a sore subject/point of contention amongst DC lesbians. But I go out a lot, luckily for you, and therefore I've been to all those gay boy bars! Pixie told me there were too many bars to list them all, and because she's right, I've narrowed my list down to my top five bars and my top five lesbian events.
+
Top 5 Bars
1. Phase One and Phase One, Dupont
The original Phase One (or, "the Phase") is the one all-lesbian bar in DC. It is the oldest LGBT bar in Washington, DC and the first lesbian bar in the entire US (!!). Phase is a sponsor of Capital Pride, works with local LGBT clinics and has a fun annual music festival called Phase Fest. So, you know, it's a Big Deal.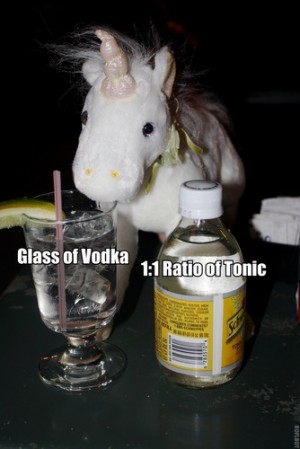 The only downside of going to Phase is that Capitol Hill is far away from all the other gay places so it's difficult to club-hop (I recommend taking a cab to/from Phase if you're planning on club-hopping anyhow). Also it's small and can get very crowded, and can be intense if you're not into indie music or alternative girl bands. Some of the commenters on Carmen's post said it's not a great place to be if you don't appear obviously gay. Basically, Phase is great, especially because of its history and Jell-O wrestling, but not an ideal locale for fans of pop music and a clubby atmosphere.
But in February Phase One Dupont opened and changed everything with its promises to be a bar, a club, a place for girls to dance, a place where we can say to our gay boy friends, "come join me at MY club, instead of me joining you at yours."
Of the opening, Carmen said it was "amazing and bewildering." Also: "I stood in the center of a place where I used to be a visitor — a woman in a place for men — and suddenly it was my place, for people like me, for people who liked people like me… 600 women in the same room is more than a dream come true and potentially the fodder of your next late-night dream. 600 women in the same room in the same place, suddenly all together instead of all spread apart, suddenly waiting in line to even fit inside of a space, suddenly in a formidable group, suddenly so big and invincible – that's power."
I foresee the new Phase starting a positive feedback cycle of girl-on-girl events attended by girls who want more events, who get more events, until all of a sudden it's like a giant glitterbomb went off over Dupont Circle and we're all happier than kittens in a field of flowers. And I feel like we're ready for that. Right?
But Phase One, Dupont will also have boys' nights, meaning that while it will be the new spot for girls, it won't be exclusively so. Or, as a friend said over Gchat:
friend: God there is a total lack of lezzie bars in this city
me: yes there are
friend: and even the new phase is going to have boys nights
It's boys night every night in dc
NOT FAIR!!
stomps feet
However, I'll say that the boy bars recognize that girls lack their own ladies nights and have made changes to make us more welcome — there are now girl bartenders at some of the Gayborhood bars, and most of the time (though not all the time), lesbians feel totally welcome at the boy bars.
Since the Phases are the only girl bars in DC, the rest of my list is made up of gay boy bars I consider lesbian-friendly, based on the highly specific algorithm of "I've been there on a date" or "I've been involved in lesbian PDA there without feeling uncomfortable." Seems as good a rubric as any to use, right?
2. Cobalt/30 Degrees (17th Street NW, corner of 17th and R)
I'm at Cobalt all the time. Like, all the time. And despite many stupid things I have done there, they always welcome me back with open doors. Cobalt is located in the heart of the Gayborhood and is one of the most iconic gay bars in DC and is considered "a place to be seen" with "eclectic DJs" and "electric parties."
The first floor is a restaurant called, inventively, Level One. The second and third floors are made up of a nice bar (30°) and dance floor (third floor). Though Cobalt is mostly for boys, you can usually find a bunch of girls there too.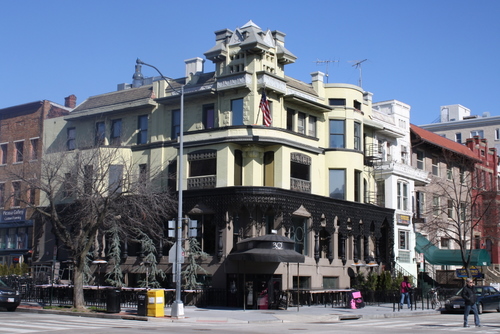 There are many reasons why I love Cobalt, despite the general dearth of girls. In the last six months I have:
+ Attempted to smuggle a Bernese mountain dog puppy into Cobalt in my coat (bouncer: "honey…no.")
+ Played in an LGBT flip cup league.
+ Been to a wedding.
+ Irish goodbye-d out of ladies' night leaving behind my phone, credit card, wallet and keys and had them all returned to me the next morning with my tab paid off.
+ Had a most amazing New Year's Day Disco Brunch at Level One at which the waiter used the phrase "dick licker" before 11am and during which I drank approximately fourteen billion bottom-less mimosas.
Also, little-known-fact: From 11pm-midnight every Friday, it's "free vodka hour" at Cobalt. FREE vodka hour! Vodka drinks are free. For an HOUR! It's unbelievable. But be warned, free vodka hour comes with a danger factor of 9/10 since if you're like me (i.e. competitive and poor) you'll spend the entire hour yelling, "we have only 'X' number of minutes left to drink free vodka drinks!" and wake up the next morning feeling like you were assaulted with a frying pan.
Anyways, go to Cobalt. I'll probably be there and then we can hang out.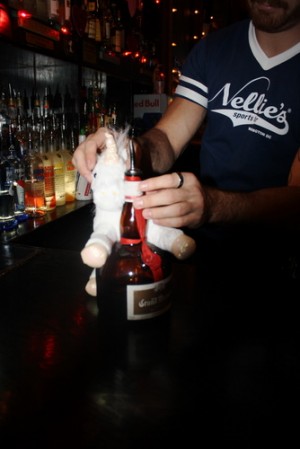 3. Nellie's Sports Bar (U Street NW/Corner of 9th street)
Nellie's is a hop/skip/jump away from Cobalt on U Street NW on the corner of 9th Street. It's a great place to go if you like to watch sports with other girls who like watching sports, and you can often watch Glee there as well, if you're so inclined. It's more low-key, especially in the early evening when you can even play board games or bring your laptop.
Later in the night Nellie's hosts fun events like Drag Bingo, Smart Ass Trivia, Poker nights and Sunday Drag Brunch. The Nellie's crew sponsors various teams in the DC leagues (kickball, women's rugby, crew, running, baseball, skiing, basketball, and so many others). If you're a sporty girl that wants to get involved in LGBT sporty events in DC, Nellie's is your first stop for all these things.
The bartenders are all very nice at Nellie's and sometimes they'll put a napkin folded into a swan around the neck of your beer for no reason at all! I was also there for Halloween this year and will ask you this: where else can you go to see guys dressed as 50 Cent and a storm trooper start making out? Nellie's, that's where.
+
4. Town Danceboutique (8th and V St NW)
Town is the largest gay dance club in DC and is catty-corner from Nellie's, which is often used as a staging ground before heading to dance at Town. Town charges a cover but it's a great place to dance, if you don't mind being surrounded by bachelorette parties and a bunch of gay boys with their shirts off. I think the club "Babylon" in Queer as Folk might have been inspired by Town. Town's got yummy drinks with crushed ice and some good drag shows, too.
+
5. No. 9 (P Street between 14th and 15th Streets NW)
No. 9 — located on my favoritest block in DC — is new on the scene, and is a great option if you're looking to get some slightly classier drinks in a more low-key setting (like maybe a first date?) If you're lucky enough to snag the front window seats there's great people watching. No. 9 has no dress code, no cover and happy hour every day, including Saturday and Sunday. Yippee!
Bonus: No. 9 is next door to Stoney's Lounge, a truly excellent dive bar with good food and a very chill atmosphere. If No. 9 is full of boys, as it often is, or you feel the need for cheap beer, try Stoney's.
A last word about these bars: I say they're lesbian-friendly, but it's worth pointing out that my experiences can't speak for everyone's. I'm a bold person and relatively unbothered to be in a bar that's mostly or only boys, but that's not for everyone.
Top 5 Lesbian Events/Nights/Etc
It can be hard to rally the troops to go out in DC but when there's a lesbian event, everybody goes and it's so packed with girls you don't know what to do with yourself. It's like New Year's Eve: you get your friends together, you pre-game, you get yourself all dolled up and think, "This is it! I have been so excited for this!" and then it ends up being a chaotic mess in which everyone gets covered in glitter, feels kind of overwhelmed, and may or may not make out with someone. But, unlike New Year's Eve, the ladies' nights in DC are NEVER a letdown and you should really go.
1. The Ladies of LURe Present Ladies' Night at Cobalt
On the third Saturday of every month, the ladies of LURe host a girls' night called BARE at Cobalt. It's packed with cute girls (they had The Real L Word girls there for their third anniversary). It's intense: girls wall-to-wall, strippers dancing on poles, etc. But if you wanna meet a girl, you can't ask for a better venue. I always go, since to me ladies' night at Cobalt is one of the Lesbian High Holidays that should always be observed by faithful devotees.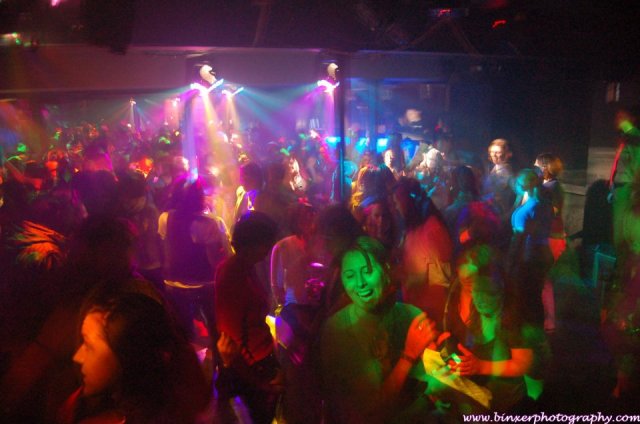 +
2. SHE.REX at Chief Ike's Mambo Room
Every second Friday of the month is a rock n' roll ladies' dance party at Chief Ike's Mambo Room at Columbia and Ontario Streets NW sponsored by SHE.REX. SHE.REX features badass female DJs (they wear dinosaur masks!), bartenders and cheap beer specials, and there is a pool room in the back of the bar if you don't feel like dancing. Just like Cobalt ladies' night, though, it can get crazy crowded, so it may not be the choice for you if you don't like crowds. SHE.REX is guaranteed to be filled with lovely queer ladies, though, so I highly recommend it.
Lez is a Washington, DC-based organization that aims to foster a sense of community among lesbians and queer-identified lovers of women in "the DMV" (the District, Maryland and Virginia – justsoyaknow the lingo). It's not a regular event or a bar, basically the "Lez Invade" team sponsors girls-only happy hours around DC which are like more relaxed versions of Girls Night and SHE.REX. They're fun! You can get more info on their website or Facebook. I'd recommend you go with friends – like all lesbian events, girls show up with their posse and don't seem to talk to people they don't know, just engage in intense, overly-long periods of eye contact with girls they kind of recognize from other events or OkCupid stalking but don't feel like breaking away from their group to go talk to. Huge surprise, I know. I'm sure you have nooo idea what I'm talking about.
4. Wherethegirlsgo
"Like" them on Facebook, or go to their website. The WTGG team has the scoop on the DC queer girl scene and also sponsors awesome one-off events like Valentine's Day parties, Superbowl parties and bike rides around the city, which might interest you as a recent DC transplant and lover of bicycles, which hopefully you are because bicycles are just neat.
5. Twilight Tuesdays at Donovan House
It's a summer-only thing, but the Pool Parties on the Donovan Hotel rooftop are sweet with great views. Every Tuesday is gay night, and again it's mostly boys but I've been with lesbians and really enjoyed it. You can see my house from there!
5.25 BY Gays
The DC blog Brightest Young Things is awesome in general, but deserves special note for its coverage of gay events in the city through the feature Brightest Young Gays, or BYGays. In addition to coverage of pop culture, media and LGBT happenings in DC, they also provide "best weekend bets" to let you know what's going on in LGBT life every weekend in DC. It's worth taking a look at their Ponies Choice Awards coverage of the "best of" for gays in the city.
This is the answer to "where are the girls at?" Pretty Girl Swag DC is basically a calendar of all the girl-on-girl events happening in the DC / MD / VA region every single day of every single week of every single – you get the drift. It's one click to the ultimate guide to getting laid, finding the girl of your dreams, or really just wearing a lot of plaid socially.
So yes, there are very many choices for gay-friendly outings in DC, only a few of which I've described here. This does not mean that you can't have a fabulous and wonderful lesbian experience at any of the other bars. You can!

Pages: 1 2See entire article on one page