Carmen's Team Pick:
If you live in Washington, DC and you're 21+ I've probably seen you Jello wrestling your girlfriend at Phase 1 downtown. I may have been grinning. Jello wrestling is my favorite sport.
It didn't take much to get me to Phase 1 for the first time: "oldest lesbian bar in the United States" was a persuasive argument:
Since 1970 [Phase 1 has] had our doors at 525 8th St. SE, Washington D.C.open to women. We are the oldest continually operating lesbian bar in the country. At Phase 1 we have something for everyone whether you want to come and dance the night away to the latest hip-hop, see a drag king show, listen to queer indie/punk, see some Jello wrestling, or just shoot pool, we have your fix.
I put on my lace-up boots and marched in as a mere 21-and-10-days-old person would and ordered a Dirty Shirley, and then when I turned around there were a couple of lesbos wrestling while covered entirely in gelatin in a pool while making out, all the while risking impending toplessness.
So I went back, and back, and back. Once for karaoke, when I got too drunk and forgot my censor and totally sang Cher's "Life After Love." Once for Jello wrestling. Once more to drink. Once more for Jello wrestling.
Did I mention the Jello wrestling?
Anyway, the only thing better than one Phase 1 is two Phase 1's, and it's finally here. Phase 1 Dupont is opening this Friday with a kickoff for the ages – a party described on Facebook as having "the hottest girls, the hottest jams, the hottest DJ's and a plethora of events to keep you coming back for more."  (And don't fret — the original Phase 1, in Eastern Market, will also remain open.)
The event, a "lesbian playground" of sorts lasting through Saturday night, begins at 9 PM Friday, February 10. The bar is strictly 21+ and will offer $3 Absolute and Red Bull and $6 Absolut Red Bull Cocktails (see what they did there) all weekend — after your $10 cover.
This is a cause for celebration – and platform pumps with denim, heavy drinking in the company of coupled lesbians / old bike dykes / my gay boyfriends, and maybe even having fun.
The new Phase 1 in Dupont Circle stands where the gay club Apex stood until it reached an end in June.  For fans of Apex, which was full of drag queens / slender gay men / mirrors, this is going to be quite a change. The new Phase 1 is going to be "similar" to its predecessor, which I remember as full of pool tables, PBR, an area for dancing, karaoke, and — you know it — Jello wrestling. (Since this new location is on the only bus line serving my neighborhood, I am banking on that last part.)
This can only mean one thing: twice the fun and twice the PhaseFest come next year. Oh, and twice the ladies, too.
The best part, though, is that the male-dominated gay scene in Dupont, one of the biggest and most well-known gay hotspots in DC, will finally have a place for the girl-on-girl, too (ironically, thanks to a gay dude):
Allen Carroll, the gay man who owns Phase 1 as well as Ziegfeld's/Secrets, will convert the space at 1415 22nd Street NW into a lesbian nightclub. "I think it's time for [women] to have their own club in Dupont," Carroll told Metro Weekly in an exclusive interview. […]
Carroll is convinced there's enough of a demand for two Phases — and the man certainly has some expertise in lesbian nightlife.
"I've always worked with women," says Carroll, who opened Phase 1 in 1970 with his late partner Chris Jansen. Carroll even worked at the lesbian bar, Jo-Anna's, which predated Phase 1 in Southeast's Barracks Row neighborhood. For over a decade, from the mid-1970s to the late-1980s, Carroll owned The Other Side, a lesbian club in the original Ziegfeld's space in Southeast D.C. where Nationals Park now sits. "I've dedicated my career to the women," he says. "They've been very good [to me]."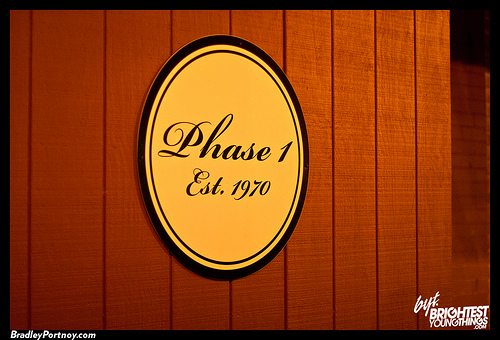 So you're totally coming, right? See you there. Get there early.