Before I started going to girl bars and dyke nights I thought they would basically be the best thing ever. I sort of imagined it would be like the fairy scenes on True Blood. Like we'd be dancing around in clean linen and falling in love with each other. Except with more Lady Gaga and more booze and I'd be wearing a hot Nicole Miller dress. Sort of like The Sims meets Gossip Girl meets Brittana.
And at first, it seemed like I was having fun. For a while. The girls night I went to is the largest in New England so it was always packed, had a great DJ and usually promised a night of awesome dancing. At some point, between the night where my friend walked to her ex's house with my keys, phone and money in her boot, the night where I sobbed to strangers about losing my credit card in the bathroom and the one where I held my friend's hair as she vomited onto the street, I realized "Oh shit, this sucks."
Somehow what worked for going out normally wasn't working when I went to girls nights. So I made a plan. A plan to have fun at gay bars. A plan which I absolutely promise totally totally works (most of the time).
+
Low Expectations
Have really low expectations leading up the going out. I don't mean right before you leave, I mean all week. All month if you don't go out too much. Really really really low.
Sometimes going out can seem like an overpriced and overdressed game of Hide-and-Go-Seek — you arrive at the bar with your friends, wrestle crowds to get a drink, lose track of your friends, find your friends, and then go to Pancheros. I'm often tempted to suggest that we fast forward past the part where we "go out" to the part where we go get pizza afterwards.
Real talk: it's highly unlikely that you will meet the girl of your dreams at a girl bar. To be honest, it's unlikely you'll meet any girls at a girl bar, but it's definitely possible that you'll see every ex you've ever had dancing with their hot new girlfriends. Your expectations should be similar to those you might have in anticipation of your mother's 65th birthday party: a lot of couples will be there, you probably won't get hit on and there's a good chance you might see your cousin. With this mindset, anything even marginally okay that happens, even if it's just drinks being $6.50 instead of $7, will make your entire night!
But be excited! I mean, you've already decided you're going to have fun. Remember how much fun your mom's 65th was? You drank all those Shirley Temples and danced to The Black Eyed Peas with your cousin!
+
Start Early
Starting early doesn't mean you should start pre-gaming at lunch, it's about having a plan and getting somewhere on time. If you're gonna drop $9 on a beer and spend significant time fixing your eyeliner, make your outing worth it!
Coordinating with lots of lesbians to get from point A to Point Q, especially if you live in different places all around your town/city, is a disaster waiting to happen. Really you should just plan on going with one or two other friends and tell the rest you'll see them there — but be fully prepared for that couple who always ditches at the last minute to ditch at the last minute because they aren't "feeling well" or because they "heard about a better party."
Ideally coordinate for everyone to meet up and pre-game at one person's apartment/dorm/house before heading out. Meet up early like at 5 pm. That seems early when you're not aiming to arrive 'til 11 pm, but believe me, by the time you all get completely ready to go, eat some pizza and drink a little booze it'll be 11. Also figure out all the minutes it'll take you to get to the bar — 10 minutes in your car? 15 to catch a cab? 45 waiting for the subway?
Aim for 10pm so you can avoid the epic line that dampens everybody's spirits. You might be some of the first few people in the bar but that's okay. Besides, realistically you won't end up there on time anyways.
+
Look Hot, Wear Pants
Make sure ahead of time you've got clean socks, the right bra, and the top you wanna wear. You'll feel epically uncomfortable if your favorite shirt is dirty and you have to wear your second-favorite shirt, and you'll have more fun if you look hot. The key to looking hot is comfort. If you feel good, you'll look good, and generally have a better time. If you need your friends' help to pick something, get that taken care of between one week to five hours pre-party. Oh, and wear pants.
Wearing pants isn't really about gender presentation, it's about convenience. Wearing a dress/skirt and therefore having to bring a purse is a terrible idea. You'll put it down at the bar/in the bathroom/in a corner and either worry about it incessantly, forget it, or have it get stolen, which is heartbreaking because then you know that one of your fellow lesbian sisters stole your purse. Also, dancing with a purse is annoying.
Giving your cash/keys/cellphone to a pants-wearing friend/girlfriend/acquaintance is an equally terrible idea. If that someone meets another someone and they go off somewhere to do something, you can't even access your cash to buy another drink while you wait for them to, erm, finish up. If you and that someone have a fight, and they have your stuff, you're stuck having that fight until they decide to let you leave. Wear pants and put your cash, cards and cellphone in your pocket and attach your keys to your belt loop with a carabiner.
I went through a phase where I was always wearing dresses to girls night and sticking my cars and cash in my bra and my cell phone and keys in my boots. I learned the boot trick from Alex on Wizards of Waverly Place (that's where she keeps her wand). This worked really well except my cell phone would drop to the bottom of my boot causing me to repeatedly step on it. Also it meant I had to always wear boots with dresses which was a bummer because it gets hot and sweaty on the dance floor. But if you must wear a skirt, stick it in the boot.
Finally, and this is a touchy subject, I think wearing pants can really calm some of those "Everyone here thinks I'm someone else's straight friend" feelings. I think having possession of your own stuff is a much more important factor in terms of having fun and being safe, but I know for some femme queers (i.e. me) just wearing pants can ease a lot of anxiety. Plus then you'll be warmer waiting in line and know you won't accidentally flash anyone!
+
Don't Drink Too Much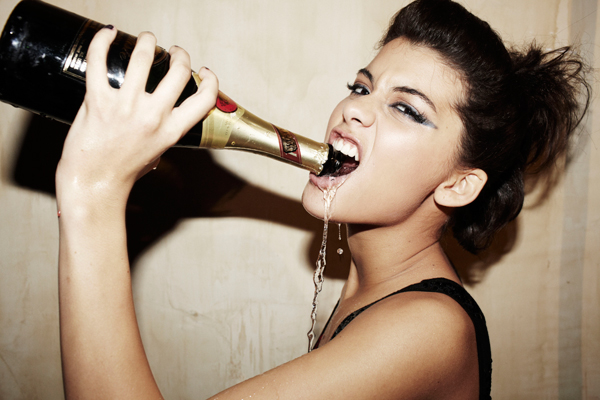 If you don't drink, that's great! You've already mastered this rule! For everyone else, this can be a bit tricky. Liquid courage is a thing, but falling down, getting lost, crying to your ex, kissing your ex, kissing your friend, kissing your friend's ex, losing your money or vomiting is embarrassing and not fun. It's easy to overdo it without realizing it. Hell is getting kicked out of the club for falling too many times. Getting puking shitfaced in public (or having a friend who does) is not fun. It is the most not fun you can possibly have at any sort of drinking and dancing establishment. It is worse than 100 crying kittens in the rain.
But there's an easy solution. Measure out your drinks. Count your drinks. Also, maybe this is implied, but make and buy your own drinks! I'm not gonna lie, if I'm having dinner with a few friends or going to a dive bar to sit around for a while I don't always count my drinks. But when I go to a girl party? I absolutely have to.
One easy way to keep track is to wear a ring on your ring finger on your right hand and move that ring over a finger every time you have a drink. Mark the finger where you decide ahead of time you want to stop. Usually I have one less than as many drinks as I'm planning to before I leave and then one when I get there, therefore leaving more sober than I arrived.
If you're one of those people who will put an unknown amount of booze into a water bottle with an unknown amount of Kool-Aid/Vitamin Water/Coke and drink it all the way there, then there's a really good chance that something fucked up will happen. (Although it is way cheaper than buying drinks at the bar, and I cannot argue with you there.)  If you insist upon this, please please please prepare yourself by having three solid meals that day, and ideally also snacks.
Have Fun With Your Friends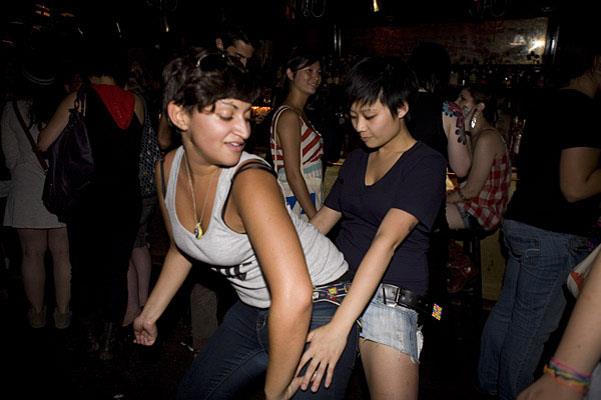 Every now and then, you'll make a new friend or meet a new activity partner at a bar. But one of the most disappointing aspects of girls nights is how insular some cliques of girls seem to be. If you're used to getting hit on at straight bars, you might feel like nobody likes you at a girl bar and have all kinds of inadequacy issues. DON'T. They're all just as nervous as you are, weirdo!
So just have fun with who you came with, and sometimes you'll attract newcomers. Don't huddle in an exclusionary group, and if you see someone looking alone and awkward, go talk to them! What's the worst thing that can happen? A total stranger will be weird to you?
Leave When You Want To
Come prepared to leave when you want to. Stick an extra $20 in a separate pocket/bra/shoe just for cab fare or have a sober friend who you know will pick you up whenever you want them to. It's okay to leave the bar before it closes. It's okay to even leave at 10:30pm if you feel like it. A really great night can get completely ruined by waiting around for an extra two hours of shittiness.
I brought up these guidelines to a friend, and she pointed out to me that she would probably get nervous and "Leave When You Want To" could turn in to leave immediately. I was in London during Pride a few years ago and went by myself to this girl bar Candy Bar. I was so terrified and nervous (and only 20 so I had never been to a gay bar in the US) that I almost left about eight times before even ordering a drink. I'm so glad I didn't because I ended up making friends and having a great night! With that in mind, I would say an important caveat is to leave when you want to because you're tired, you've had plenty of fun already, or the DJ is really bad. Don't leave because you're nervous, intimidated, scared, shy, embarrassed or you spot your ex on the other side of the room. Find your friends (or make new ones) and party until you're done. Then get the hell out before things get sloppy.
You deserve to have some fun, and going out to a gay bar should be a wholly joyous occasion. There are pitfalls to be sure and any given night can unaffectedly take a turn for the worst, but if you stick to some basic rules you should be just fine and have a great time. Good luck out there.