Gabby's Team Pick:
Julio Salgado is an out and proud "undocuqueer," which is a term that combines undocumented immigration status with the word queer to give voice to those living in both worlds. Neon greens and oranges burst from Salgado's tumblr page . Comic book style drawings of queers and quotes in curvy font provide a face and a narrative for queers who live under governments trying to squash their rights, build fences to keep them out and create legislation for swift deportation, among other things.
Citizenship is a privilege many of us take for granted. It provides us with access to higher education, keeps our families together, broadens our career paths and allows us to exist with one less barrier in the world. According to Salgado, in an article from insidelocal.com , being undocumented and queer is existing as "two oppressed minorities…For a long time I was in hiding about my sexuality and immigration status. But I'm proud to be out."
Julio Salgado wants undocuqueers to come forward, into the light and share their thoughts with the world. From his tumblr:
I am UndocuQueer! is an art project in conjunction with the Undocumented Queer Youth Collective and the Queer Undocumented Immigrant Project (QUIP) that aims to give us undocumented queers more of a presence in the discussion of migrant rights. If you want your own "I am UndocuQueer!" image, message me a photograph from the waist up of yourself to juliosalgado83@yahoo.com and a quote telling us what it means to be both undocumented and queer to you.
Also, if you dig deeper into his tumblr page, you'll find some dope images of chubby girls and lots of information on the DREAM Act.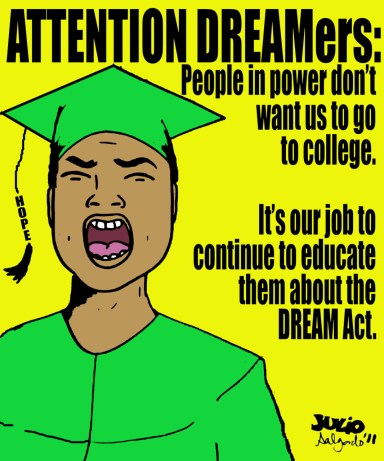 If you have an UndocuQueer story to share, Julio Salgado wants to hear it!