Last week at the Golden Globes someone won an award for Best Score in a movie, which made me think of Skor Bars, which inspired me to type some words about Skor Bars onto the internet and I was so pleased to hear so many of you loved Skor Bars as well. Thus I was inspired to unnecessarily pontificate upon this situation on a Friday night.
As a child my mother barred me from consuming gross chemical things that could kill me, like Fun Dip and basically all candy, which was totally depressing. In middle school the boys stole handfulls of Watermelon Slices and Laffy Taffy from Mr.Bulky's at the mall, and we paid for ours, but I had to eat it before I got home and I always worried my Mom would know. It was like drugs. I went on to survive most of college on a diet of salad and candy, and have been known to purchase and consume Push Pops at a rate which led many to inquire if I was, perhaps, on ecstasy. NO BUT CLOSE!
Nowadays, candy-consuming is not so much a part of everyday life as it used to be. But then sometimes you go to a gas station or a drugstore or a bodega or a supermarket or a magazine store or a vending machine and remember OH MY GOD CANDY! FUCK! CANDY! CANDAAYYYYY! All this time you were attempting complicated routes towards "happiness" or "success" when all that time, candy was there.
As per ushe, I expect you'll completely disagree with most of my selections and I encourage you to say so in the comments using lots of passionate language.  I will be sharing the Top Ten Best and the Top Six Underdog Best.
+
Top Ten Candy  Situations You Can Buy at a Gas Station:
+

+
10. Butterfinger

I'm 95% Bart Simpson sold this log of crap chemical nonsense to me, but goddamn putting butter and chocolate together is almost as genius as inventing peanut butter.
+
9. Payday Bar
I've actually never met anyone besides me who likes Payday Bars, but this is my list so I can do whatever I want motherfuckers!!
+
8. Skor Bar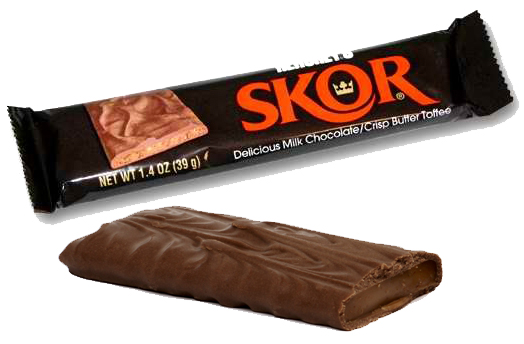 Skor Bars are the Matthew Saracen of candy bars.
+
7. Starburst

I definitely wasted at least five of the best brightest hours of my youth trying to unwrap — and occasionally succeeding at unwrapping — a Starburst with my tongue. Also I hardcore identified with that girl in the commercial.
+
6. That Bag of Mini Hershey's Bars With Mr.Goodbar and Shit
Best candy for adults. Best when frozen.
+
5. Snickers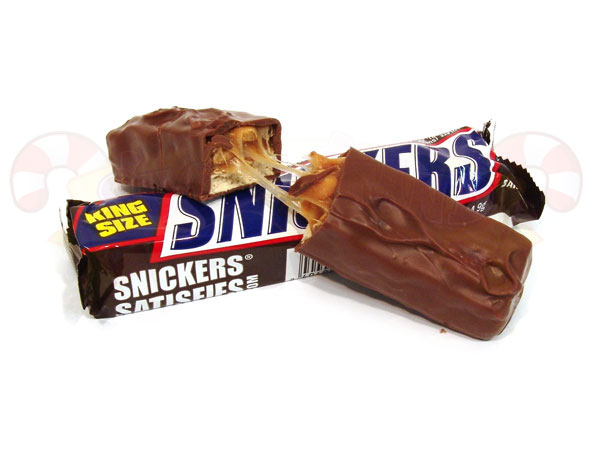 Obviously whomever invented this bullshit is a genius. I dated a boy once, in my former life, who ate Snickers bars for breakfast and when I asked him why, he told me that "Snickers really satisfies." He was like the kind of guy who treated commercial slogans like hypotheses he'd eagerly test out in his own life and then declare correct or not.  Since that relationship I've been off that sauce, but when it all comes down to it, this is the definition of a candy bar, although it gets a bit boring now. Honestly nougat is so 1992. Snickers ICE CREAM BARS however, score. SKOR!
+
4. Junior Mints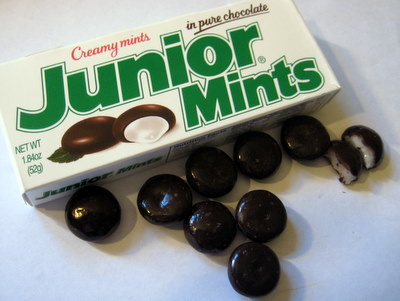 Something about the mint makes them seem healthy. It's crisp. Like spring.
+
3. Reese's Peanut Butter Cups

Lemme level with you here: this is the perfect candy flavor, but the way in which these candies are delivered to us is not ideal. I'd take a handfull of the mini-sized Halloween-style cups over two of the big ones any day. These serious Cup-Events require a certain finesse in unwrapping, they almost feel fancy, as opposed to taking a bite of a bar or popping a Rolo into your mouth. Rolos are also underrated.
+
2. Twix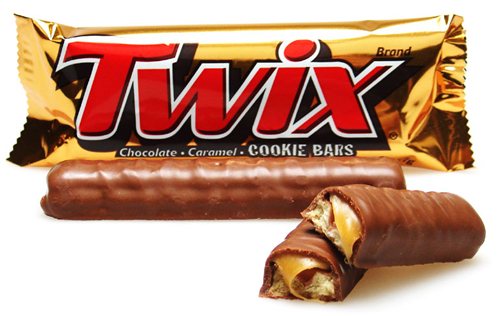 The best part about Twix is that there's two of them. I'm not even positive if I like Twix on an elemental level, I just really like there being two of them. It's like how a girlfriend has an entire hand, and a boyfriend just has one fat finger.
+
1. Peanut Butter M'nMs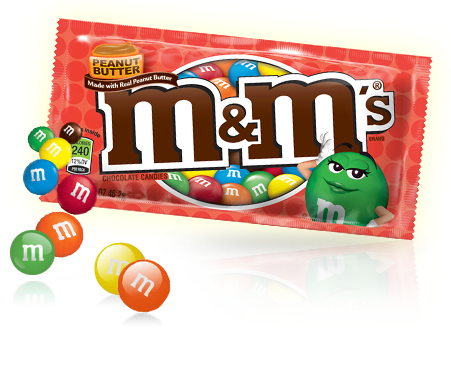 I bet the assholes who made Reese's Pieces just kick themselves in the head at night wishing they'd Plus-Sized those suckers into the perfect orb of delight that is a Peanut Butter M'nM.
Ground Zero: Reese's Pieces, Duh
It almost doesn't even matter that Peanut Butter M'nMs are so much better. It was just that Reeses' Pieces were first. They were the pioneers. You know? Plus, they have a lighter less chocolately taste I really appreciate.
++
Top 6 Underdog Candy Bars You Can Buy at the Gas Station:
+
6. Runts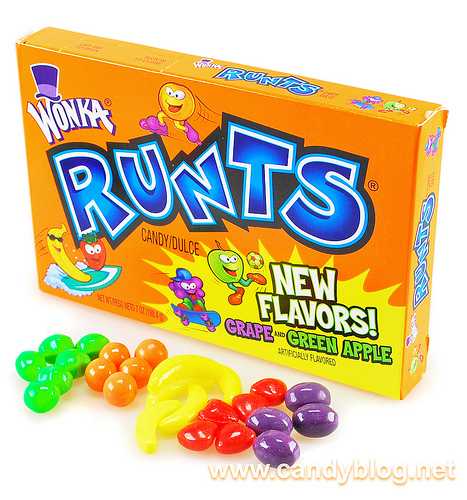 Three words: bananas.
5. Caramel Apple Pops
First of all, these suckers max out at about 50 cents. Secondly, they're haphazard as fuck and are everything your mouth never dreamed of.
+
4. Nerds
+
The fact that something so cool could be called a "nerd" made me feel like I was probably really cool.
+
3. Nutrageous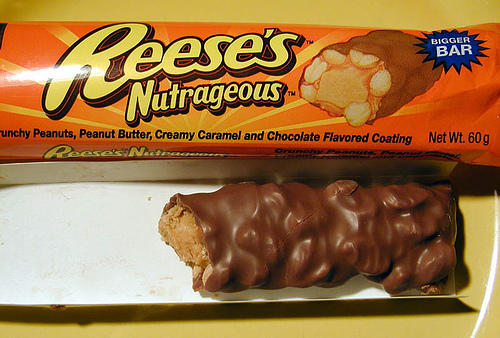 This must be really popular because it's a fucking brilliant idea, but I never hear anybody talk about it. Is it a secret, like the Tooth Fairy?
+
2. Push Pops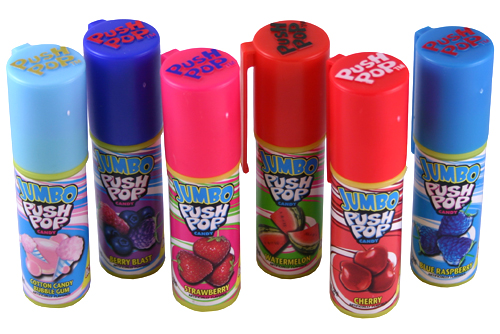 Loves of my life. I enjoy sucking on these while writing, because it's slightly healthier than smoking cigarettes or eating pencils.
+
1. FUN DIP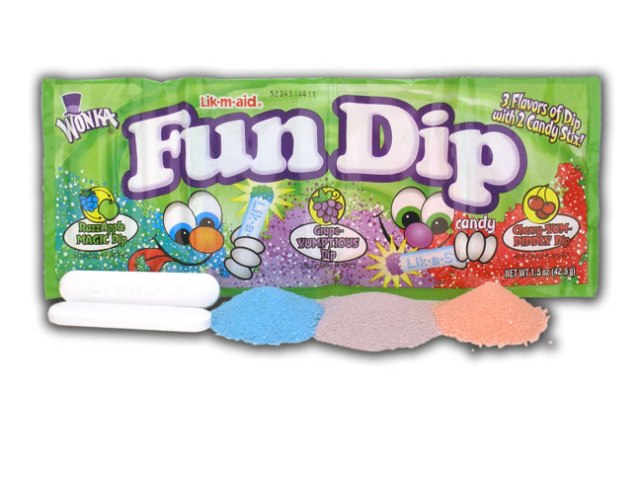 JK, I just thought it would be funny to put this as #1. I was first exposed to this situation on an 8th grade camping trip to the Smoky Mountains in Tennessee. Anyhow, it's good practice for being a lesbian.