Another year, another set of movies I didn't see and shows I don't watch potentially winning awards! This year will be a special challenge for me because Wireimage has merged with Getty Images, therefore preventing normal people from paying a nominal fee in order to download non-watermarked images. Here are some of the nominees:
Best Picture – Drama
THE DESCENDANTS
THE HELP
HUGO
THE IDES OF MARCH
MONEYBALL
WAR HORSE
Best Picture – Comedy or Musical
50/50
THE ARTIST
BRIDESMAIDS
MIDNIGHT IN PARIS
MY WEEK WITH MARILYN
Best Television Series – Drama
AMERICAN HORROR STORY (FX)
BOARDWALK EMPIRE (HBO)
BOSS (STARZ)
GAME OF THRONES (HBO)
HOMELAND (SHOWTIME)
Best Television Series – Comedy or Musical
ENLIGHTENED (HBO)
EPISODES (SHOWTIME)
GLEE (FOX)
MODERN FAMILY (ABC)
NEW GIRL (FOX)
Let's get started!
4:47 PM: Did you hear that Evan Rachel Wood Bisexual got engaged to a dude? I considered writing about it on Autostraddle, but decided to jump into a pit of lions instead. I think I made the kinder, gentler choice.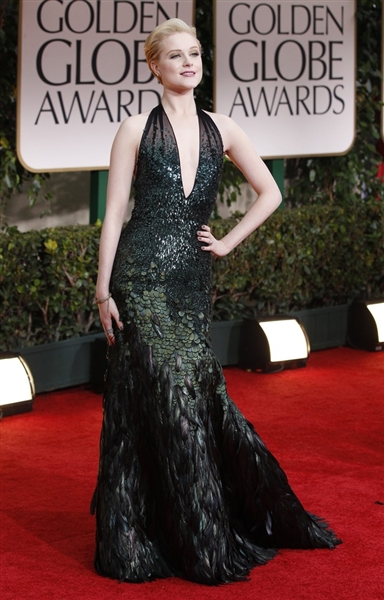 4:56 PM:
Did you know that this dress actually slays dragons?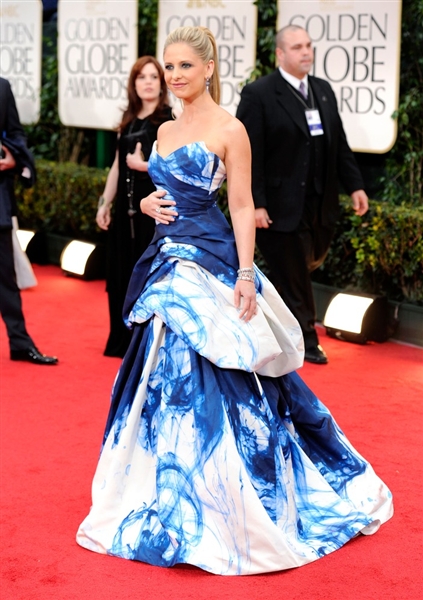 First it blinds them, then it sticks them into a washing machine until they explode in puffs! That's where "Puff the Magic Dragon" came from. True story.
Tilda Swinton always looks like a Lesbian From the Future: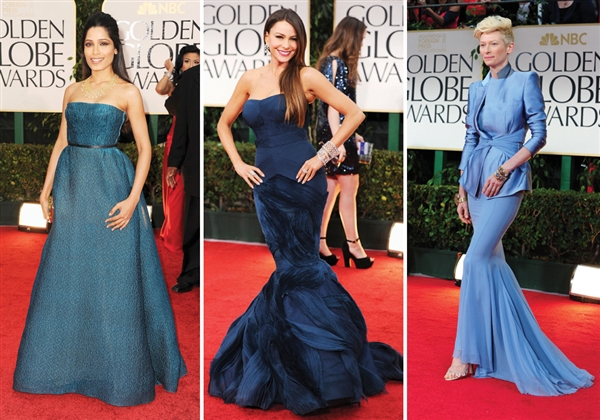 Dianna Agron is looking a little Inspired-by-Jenny-Schecter tonight:
Naya Rivera:
Lea Michele and Dianna Agron:
5:02 PM:
Ricky Gervais is hosting. Is there anything less funny or less original than a Kim Kardashian joke? There isn't. But is there anything better than a joke that makes a sly nod to Jodi Foster's homosexuality? Yes, there is, but not so far tonight!
5:08 PM:
Mila Kunis, looking quite tan, along with a male human dude, announces that Christopher Plummer wins Best Supporting Dude in a Motion Picture for Beginner, in which "a young man is rocked by two announcements from his elderly father: that he has terminal cancer, and that he has a young male lover." Therefore so far The Gays Have Won the Night!
5:13 PM:
Laura Dern wins Best Actress in a Musical/Comedy in a television show for Enlightened, which I have never seen. If you think this means the gays aren't still winning, you'd be wrong, because Dern played a pivotal lesbian role in "The Puppy Episode" of the former TV sitcom Ellen, in which Ellen came out as a lesbian! It was a big deal.
5:20 PM:
The teleprompter broke! Awkward! Except not, because Julianne Moore could read the back of a cereal box and I'd still be totally captivated. Rob Lowe looks like he died inside a tanning bed.
So, Downtown Abbey wins for Best Miniseries/TV Film — I've been hearing a LOT about this show, are there lesbians in it? Sounds neat, like it's about history or something.
5:25 PM:
Kate Winslet honestly is so beautiful she should have an entire wax museum devoted to her. Madame Winslet's Wax Emporium of Rack and Face. In lieu of that, she apparently starred in a Miniseries/TV Movie called Mildred Pierce and has been rewarded for it. Gays are still winning because Dorothy Snarker is obsessed with Kate Winslet.
5:35 PM:
Wow, Kelsey Grammer is way older than he was in Frasier. Isn't he a Republican or something? Anyhow, he won another award for being The Best Dude Among Dudes.
5:38 PM: 
Homeland starring Angela Chase wins for Best Drama Series, this is actually the show on my list with my girlfriend for "the show we have to watch." I'm not going to say anything about Melissa McCarthy's outfit. I  mean right now I'm wearing a heather grey tank-top, a heather grey hoodie (a grossly-similar-yet-not combo I'd never sport in public), sweatpants from French Connection with FCUK on the ass (fading) and a frayed, broken drawstring, and a pair of the grey "socks" distributed to esteemed American Airline passengers when Visit Manchester flew me to their fine country. So, who am I to judge. I still love her.
5:44 PM:
Maroon 5.
So.
5:47 PM:
Score Awards. How do you feel about Skor Bars? I feel like they're underrated. So underrated that if you buy one, it's really possible it'll be fucked from sitting in the gas station since the 80s.
How is everybody. Do you feel entertained by this program?
5:49 PM:
Two confessions:
1. I actually kinda liked The Help? It reminded me of a movie I would've been allowed to see in the 90s (because it was rated PG) and that if I had, my little heart would've been heartwarmed. But maybe also ignorant?
2. I think Bridesmaids is SO overrated. Y'all, women have been making fucking awesome comedies for years, do not act like women just got born this year 'cause you've not bothered to release any of their movies since like 2005.
5:50 PM:
Madonna just corrected herself when she said "who" and meant "whom." She's just a girl, you guys. Just a girl in the world. When the music tries to cut her off, she keeps talking, like in "Me Against the Music."
I wish plastic surgery was illegal.
5:57 PM:
I am so much more excited about Smash than I am about whomever wins this award.
5:58 PM:
Idris Elba wins for Luther. You guys, IT'S STRINGER FUCKING BELL.
6:01 PM:
So grateful for that update on Seth Rogen's penis! So Michelle Williams wins for Best Performance by an Actress in a Motion Picture (for that autobiographical movie Dawson Leary made, obviously).
"I consider myself a mother first, an an actress second," says Michelle Williams, making me feel bad for the fact that I wish one of those other women who all of us would like to fingerbang had won (Kristen Wiig, Charlize Theron, Jodie Foster, Kate Winslet). Because you know. Because of Heath Ledger.
6:07 PM:
Piper Perabo and Sarah Michelle Geller — two women very familiar to the hearts and vaginas of so many women with hearts focused on vaginas — award Peter Dinklage of Game of Thrones for Best TV Actor in a Supporting Role in a Thing.
6:10 PM:
George Clooney gives a shout-out to Brad Pitt, thank G-d, now I have an excuse to post this photograph: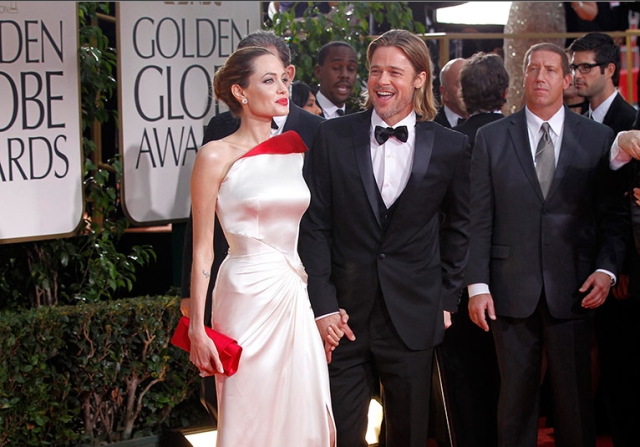 6:14 PM:
I totally had my money on The Adventures of Tin-Tin. Steven Spielberg thanks his "partner, Peter Jackson." Is there slash fic on this topic?
6:20 PM:
Ewan McGregor — raise your hand if you still associate him with:
a) Trainspotting
b) Moulin Rouge
c) both
 6:22 PM:
I like how Nicole Kidman is being so honest in her delivery about her lack of desire to be on this stage reading those lines. Also I love that she's made her dress so confusing that nobody could possibly like or dislike it.
Woody Allen didn't bother to show up to win Best Director for Midnight in Paris.
6:23 PM:
I think Felicity Huffman wrapped herself in really expensive packing tape and honestly, it looks fucking AMAZING. You GO, Felicity. YOU GO.
6:24 PM:
HEY-O so smokin' hot lesbian Sarah Paulson is sitting next to Jessica Lange, who just won for American Horror Story.
bcw: "OH  MY GOD IT'S QUEEN LATIFAH AND HER GIRLFRIEND — wait just kidding, that's Mary J Blige… only Queen Latifah could take Mary J Blige to an award show and still look like she's bearding."
6:30 PM:
Madonna: "If I'm still just like a virgin, Ricky, then why don't you come over here and do something about it? I haven't kissed a girl in a few years… on TV."
WOW! This is how that went for me:
"If I'm still just like a virgin, Ricky, then why don't you come over here and do something about it"
"…I haven't kissed a girl in a few years…"
"…on TV."
+
6:37 PM
Oh BUT. Claire Danes. I mean it's. She can thank her parents like she forgot to do the first time.  For My So-Called Life. And I just. I mean. Can you? I know. It's just. It's just so. For Homeland. But also you know.
6:42 PM
Emily Blunt just said the word "poop"
6:43 PM
Jane Lynch and Tina Fey. The Godddess is smiling upon you.
Tina Fey: "I am nothing like Liz Lemon, I just can't think of any examples to prove it."
6:47 PM:
OMG it's Octavia Spencer winning for the movie I secretly really liked, The Help. Also her dress is really nice and is lavender, which is a color I'm fond of w/r/t dresses. Not for me, but for other ladies.
6:55 PM:
About six of the presenters tonight give off the impression of a family that just got back from vacation in Myrtle Beach, during which they forgot sunscreen. And they all look really hot now, but also y'all know they're gonna peel.
7:03 PM:
This Morgan Freeman award has been the awesomest part of the night because it involved a lot of movies that I love like Seven and The Shawshank Redemption.
7:20 PM:
Modern Family just won the best thing! Probably same-sex marriage is legal now.
Oh also, obviously: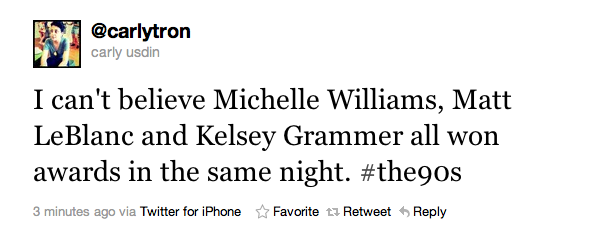 And I think she wrote that before Claire Danes.
7:25 PM:
Jessica Biel, it was the fact that I had 10 pictures of you over my bed that led a male sleepover buddy to tell me "I think you're more than just HALF a fag," (that was his super-special way of saying "you're not bisexual, you're gay!") And now there you are on stage wearing a tablecloth stolen from hell.
7:35 PM:
Oh wow, Rooney Mara is really striking.
7:35 PM:
MERYL STREEP FTW. Oh hey — remember why you love women? And remember why you love movies? There she is.
OMG MERYL STREEP CALLED OUT PARIAH WHICH SHOULD HAVE BEEN NOMINATED FOR LIKE 56 AWARDS TONIGHT AND THE LEAD ACTRESS IN PARIAH SHOULD'VE BEEN NOMINATED AND LADIES AND FUCKING GENTLEMEN, MERYL FUCKING STREEP.
You know I feel like ultimately the reason people always go over the music is because even though it's like this huge corny cheesy thing, these people were all in the elementary school talent show once.
7:45 PM
Can you tell that I started drinking at 5:15
7:47 PM:
Leonardo DiCaprio — who, btw, I was OBSESSED with in a way I cannot even put into words, back when he looked like a girl — is always nominated for something. George Clooney won the award. For ER. HE WAS SO GOOD IN ER!
I mean, for The Descendants.
Big news — Haviland "Rising Star" Stillwater has informed me that tonight Pan Am is gonna have lesbian action in it! She told me this like 6 days ago, I just remembered.
7:55 M:
The Descendants just won for best movie about descendants!  Or Best Drama of all time EVER!
I'm drunk.
7:57 PM:
Can we make an awards show that's just for women or boys-who-looked-like-girls-in-the-90s? Because it's only 8pm and I am already drunk.