You guys The Wire. The Wire! The motherfucking Wire! I have been eating The Wire for about two months now, and now that I'm done eating it I feel empty inside. It was just so good. I miss Omar. And, to pour a little extra salt into my wound of vulnerability — every season of The Wire is on sale on iTunes for $12.99 as of pretty much the day I finished watching them (Seasons One, Two, Three, Four, and Five) and since I can't take advantage of that deal, you probably should. It's "for a limited time." Or you can buy the entire series or stream it for $1.38 an episode via Amazon. You cannot watch it instantly on Netflix unfortunately.
The Wire follows a few cops and detectives and the criminals they prosecute in the city of Baltimore. Season one of The Wire focuses on the illegal drug trade, Season Two on the seaport system, Season Three on the city government, Season Four on the school system (MY FAVORITE SEASON) and Season Five on print news media.
The Wire was a critical favorite — Slate.com called it the best show on television, Salon.com called it the best TV show of all time, and The Telegraph said it's arguably the greatest television program ever made.
The first few episodes of each season can be a little slow, but give it time — by mid-season you literally won't be able to think about anything else. It's masterful, brilliant, careful storytelling and these are stories we rarely hear — at least not presented with this degree of compassion.
BUT THAT'S NOT ALL!
Back when it premiered in 2002, AfterEllen pointed out that the series would feature "the first regular Asian-American lesbian or bisexual character on television and only the second regular lesbian police officer in TV history." Kima Greggs, played by African-American/Korean-American actress Sonja Sohn, was described later as serving as "a moral center for the series, one of the only cops in the group not willing to lie, cheat, and steal to promote herself or to help the case." Also she's hot: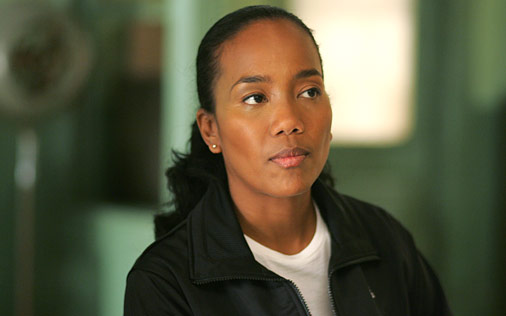 And, in one of the show's many daring/interesting/compelling choices, they made Omar Little, a "renowned stick-up man who lives by a strict moral code and never deviates from his rules, foremost of which is that he never robs or menaces people who are not involved in 'the game,'" unapolagetically gay, with an extended network of other gay men who meet up at a gay bar owned by a really nice blind guy named "Butchie" who I wanted to hug a lot.
Omar was hands down one of my favorite characters on the show — and FUN FACT! President Barack Obama says Omar Little is his favorite television character (his favorite TV show is, of course, The Wire) — "that's not an endorsement. He's not my favorite person, but he's a fascinating character."
The Baltimore City Paper said:
"Omar [is] arguably the show's single greatest achievement. Omar is a same-sex-loving, shotgun-toting free agent who robs drug dealers of their cash and stash. He's fearless yet tender. He could be as viciously cold-blooded as any thug, yet he's the show's most constantly hilarious presence. He is as scary a human being as ever depicted on television, and yet he is one of the only characters who never has a doubt about right and wrong."
Season Four introduced Snoop, a drug gangster played by lesbian actress/rapper/ex-con Felicia "Snoop" Pearson.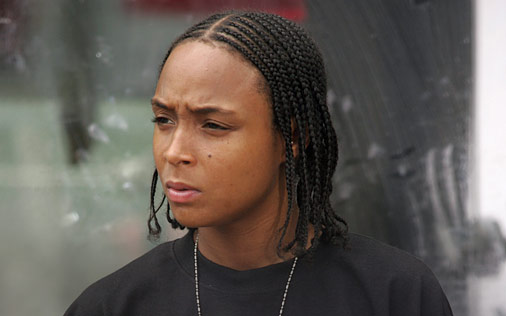 AS A MASSIVE SIDENOTE — in a bizarre intersection of art/life, Felicia, an ex-con, was arrested last week in Baltimore as part of a massive drug bust and charged with conspiracy to distribute heroin. When The Wire creator David Simon was asked to comment on the arrest, he had this to say:
First of all, Felicia's entitled to the presumption of innocence. And I would note that a previous, but recent drug arrest that targeted her was later found to be unwarranted and the charges were dropped. Nonetheless, I'm certainly sad at the news today. This young lady has, from her earliest moments, had one of the hardest lives imaginable.  And whatever good fortune came from her role in The Wire seems, in retrospect, limited to that project. She worked hard as an actor and was entirely professional, but the entertainment industry as a whole does not offer a great many roles for those who can portray people from the other America. There are, in fact, relatively few stories told about the other America….
In an essay published two years ago in Time magazine, the writers of The Wire made the argument that we believe the war on drugs has devolved into a war on the underclass, that in places like West and East Baltimore, where the drug economy is now the only factory still hiring and where the educational system is so crippled that the vast majority of children are trained only for the corners, a legal campaign to imprison our most vulnerable and damaged citizens is little more than amoral. And we said then that if asked to serve on any jury considering a non-violent drug offense, we would move to nullify that jury's verdict and vote to acquit. Regardless of the defendant, I still believe such a course of action would be just in any case in which drug offenses—absent proof of violent acts—are alleged.
Both our Constitution and our common law guarantee that we will be judged by our peers.  But in truth, there are now two Americas, politically and economically distinct. I, for one, do not qualify as a peer to Felicia Pearson. The opportunities and experiences of her life do not correspond in any way with my own, and her America is different from my own. I am therefore ill-equipped to be her judge in this matter.
Anyhow. If you need more convincing I'd recommend checking out The Baltimore Sun's Top 10 Reasons to Watch The Wire, which includes this compelling argument in its favor:
On its surface The Wire is a cop show, the most stereotype-ridden of TV genres, yet nowhere in The Wire do stereotypes exist. There are no good guys and bad guys, merely men and women who work on opposites sides of the socially acceptable. The Wire treats both as people caught up in the same racial, class, and political tensions that afflict any American, and dramatizes them in manners that feel natural.
Mostly I'd like you all to watch it so that we can all talk about it. It feels so realistic that after devouring five subsequent seasons of The Wire, I find Law & Order really disappointing.
Also Holly from The Office is in it.
Season One: Season One