This salad is delicious and really easy. And vegan!
While the original recipe doesn't, I toast the pine nuts, because toasting things is fun. If you are in a hurry or disagree, add them when you add the raisins.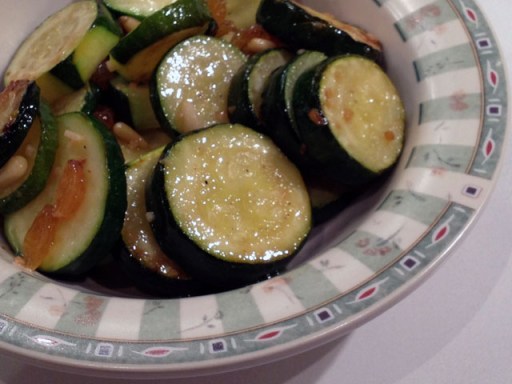 Zucchini, Raisin, and Toasted Pine Nut Salad
Adapted from Vincci Ceci nest pas un food blog.
Ingredients
1/4 cup pine nuts
1 tbsp. olive oil
2 medium zucchini, sliced into coins
2 cloves garlic, minced
1/4 cup raisins (golden or otherwise)
1 tbsp. fresh lemon juice
Salt and freshly ground black pepper, to taste
Instructions
1. Toast the pine nuts in a skillet over medium-low heat, stirring frequently to make sure they brown evenly and don't burn. When they're evenly golden and fragrant, transfer them to a plate to cool.
2. Heat the olive oil in a heavy-bottomed skillet over medium heat. When it's hot, add the zucchini, and sauté until it begins to soften (after about five minutes).
3. Add the garlic, raisins, and salt and pepper. Cook for another 2-3 minutes. Add the toasted pine nuts, add the lemon juice to taste, and toss. Serve.