Grilled Pizza
LAURA
Let's be honest: I could eat pizza 4 times a week and never get bored. Last week, I discovered a way to cook pizza that would let me eat it at least 3 more times a week bringing the total number of days I could eat it a week to every single day. But let's not get carried away. Today we're talking about grilling pizza. We decided to try it because it was so damn hot out and we didn't want to turn on the oven. The pizza turned out mostly perfect (I accidentally ripped my crust in half because I was impatient and wanted to make crosshatched grill marks on mine) and really smoky in a good way. If you're a vegetarian who's looking for something to grill, this might even make a good cookout activity*.
First you will need pizza dough. You could take the easy way out and go to the grocery store, but that wouldn't really be as fun, you know? So here's how to make it:
+1 cup of water at 100 degrees F (that's slightly warmer than your skin)
+ 1 packet (2¼ teaspoons) of yeast
+ 1 tablespoon of sugar
+ ⅓ cup of olive oil
+ 3 to 4 cups of flour (we used whole wheat)
Combine the water, sugar, and yeast and let it stand for 10 minutes until the yeast blooms. Next add in the oil and 3 cups of flour. Mix it all up and add up to another cup of flour until you have a nice elastic ball of dough. If it feels like cookie dough, you've added wayyyyy too much flour.
Place the dough in a greased bowl, cover it with a cloth, and let it stand in a warm place for an hour. After it's risen, punch it down, flip it over and let it rise again.
Okay now we're ready for the fun part! Turn your grill on as hot as you can. The directions I got from The Kitchn say 600 degrees but whose grill even goes that high? It's important to let the grill preheat for at leasts 10 minutes so you're putting your pizza on a hot grill.
Take a piece of dough and smash it out into a pizza-esque shape. Brush olive oil on both sides and put it directly on the grill. Cook it for about 5 minutes with the lid open until the bottom of the crust is hard.
Take the dough off the grill and decorate your pizza on the side you just grilled. When you're all ready, place it back on the grill uncooked side down, close the lid, and cook the pizza for 5 minutes or until the bottom is done and the cheese is melted.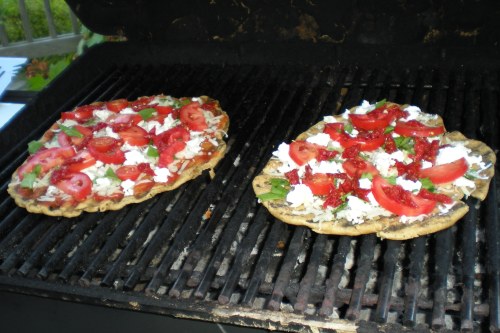 Since the pizza only needs 5 minutes of each side, we found out that it's really easy to make pizza for multiple people this way by doing it like an assembly line. We cooked 2 doughs at once and when those were done, we decorated them while 2 more grilled. Overall, this method was quicker, summerier, dykier, and tastier than using a boring old oven.
*Yes activity. When you invite someone over for dinner, you can save yourself a lot of work by serving something that people have to make for themselves (e.g. shish kabobs or tacos or whatever). People will be impressed by all the work you did to make everyone happy (when really all you did was go grocery shopping and buy artichoke hearts or whatever else your friends like on their pizza) and you can diffuse any potential awkwardness brought on by having someone you don't know very well over by giving people something to do with their hands. Everyone knows the most uncomfortable part of standing around is trying to figure out what to do with your hands/arms.
Vegan Pizza with Romesco Sauce
Rachel
Pizza is one of the easiest foods to veganize, as long as you're cool with dropping like $10 on soy cheese and also think that soy cheese tastes a) good and b) like cheese. If that does not sound like you, then congratulations, you get to Be Creative when it comes to making pizza!
I have a few different things I like, but most recently I tried Isa Chandra Moskowitz's Romesco Pizza. Romesco is a traditional Italian sauce that is (I think) naturally vegan, and uses ground nuts along with roasted red peppers, and is really thick and rich and delicious. Perfect for pizza sauce, and so tasty and flavorful and creamy that you don't miss the cheese! (People with nut allergies: I KNOW, everything is terrible for you, I AM SORRY.)
Warning: this is basically the complete opposite of Laura's recipe in that it will take you WAY MORE than ten minutes to make. Also, dishes? I ended up using 2 pans, a stand mixer, a food processor, a bowl, and a baking pan. But it's worth it! Just don't try to fit it in on a weeknight. Take your time on Saturday afternoon, and surprise your hot vegan date by being all "Oh I dunno I thought we could just have some pizza and watch Adventure Time" and then making this gourmet pizzapalooza and then still watching Adventure Time. Makes the panties drop.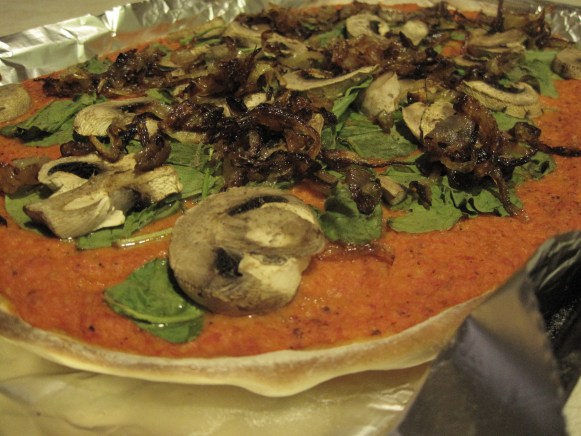 Obviously I changed a bunch of things about this recipe because I am broke and lazy and don't own a mandolin. I also halved it because I don't have any friends. Anyways, here's what you need.
Ingredients:
2 balls of pizza dough, for 2 large pizzas
(make your own or buy; I used this recipe)
Olive oil for brushing
For the caramelized onions:
1 tablespoon olive oil
2 large yellow onions
big pinch salt
For the sauce:
1 1/2 cups slivered almonds
4 red bell roasted peppers (you can also use drained, jarred roasted red peppers)
1 tablespoon olive oil
1 small onion
5 cloves garlic, minced
Fresh black pepper
1/2 teaspoon dried marjoram
1/2 teasoon salt
1 tablespoon red wine vinegar
1 teaspoon agave nectar
3 cups baby spinach
6 oz mushrooms (white or baby bella)
The pizza dough: okay, this is your responsibility. I cannot help you here. Buy it from the store, or have the 2 hours of foresight to just do it yourself before you start dinner; this is a safe space. Just make sure it's taken care of.
Okay, now there are two things to do: the onions, which need to caramelize for maybe 30 minutes, and the sauce, which also involves cooking onions and using a pan to toast some almonds. I recommend making the sauce first; you can either make it way ahead, like the day before or a few hours beforehand, in which case this pizza will be pretty fast. Or you can toast your almonds, put in the food processor, cook your onions, garlic and herbs, and then use the same pan to work on caramelizing while you finish the sauce. Up to you.
Okay, so, assuming that you're doing that: heat a heavy-bottomed pan to medium and add the almonds, stirring every once in a while, until they're lightly browned and smell very almond-y. Set aside. Using the same pan, dice and saute the 1 small onion and the garlic until the onions are translucent. Add the black pepper, salt, and marjoram a few minutes before they're done. Then take out of the pan and set aside.
And again, using the same pan, put in a little olive oil and turn the heat to medium while you slice the two large onions into long thin slices. (Use more onion if you like. Onions get a lot smaller when they're caramelized, and you can never have too many caramelized onions, so.) Throw them all in there and make sure they're well stirred and coated with oil, and then let them cook slowly for about 20 minutes. It will be tempting to stir them often during this time; do not do this. Stir sparingly. Add some salt at some point. I don't know. Caramelizing onions is really hard? I never do it right? Here's a helpful summary if you feel you need it. Anyways, once they get sort of amber-colored, you'll turn up the heat a little higher, and they should get nice and caramelized. Add some water if the pan is dry; that will keep your onions from being crispy.
To keep yourself from stirring overmuch, finish the sauce. Pulse the almonds in a food processor until they're finely ground, then add the roasted red peppers. Blend until smooth, and add the sauteed onion mixture, then the vinegar and agave or honey. Taste for salt and pepper. Mazel tov, it's delicious. Have you preheated your oven to 500 yet? Do it now. If you have a pizza or baking stone, add it now, and also lend me your pizza or baking stone, you asshole. Where did you get that. I want one.
Are your onions caramelized yet? Are they are they? It's not actually a big deal, because they can keep cooking while your pizza bakes. Roll out your dough to your desired thickness (I like mine very thin) and spoon on the sauce. Do this little by little, as I've found that there is a high sauce amount to pizza area in this recipe, and just stop when you think there's enough. (Don't make any less, though, because the sauce is delicious and you can save it to put on pasta!) Throw on the spinach and mushrooms. Stick in oven. If you have a baking stone, just slap this bad boy right on there. If you don't, try to just put it on the oven rack. If this won't work, use a baking sheet, but your crust might be a little soggy. Sorry.
Bake the pizza for about 15 minutes, or until the crust is golden and the veggies look cooked. Remove and add caramelized onions to your heart's content. You can sprinkle with nutritional yeast if you want, but really, I don't feel like you need to. This pizza is fly as hell without it.