Oh darling dear, let us eat foods outside in the sunshine. It is called a 'picnic' and I need you to know, love, that the etymology of the word 'picnic' is apparently up for debate. Is it from the French pique nique? Was it introduced sometime in the sixteenth century? When did it come to mean "eating foods from containers in an outdoor setting," hm? Shhh, I don't know. Be quiet. Pass the hummus. WHAT DO YOU MEAN NO ONE BROUGHT HUMMUS good grief.
Hey can it be Stock Photo Day at Autostraddle?
Yes, it can. And it shall.
Vegetarian Kebab Picnic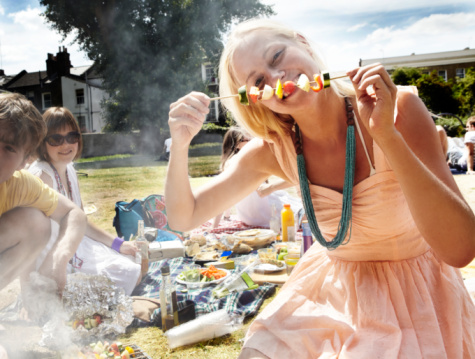 Ha Ha Ha, Dog at a Picnic!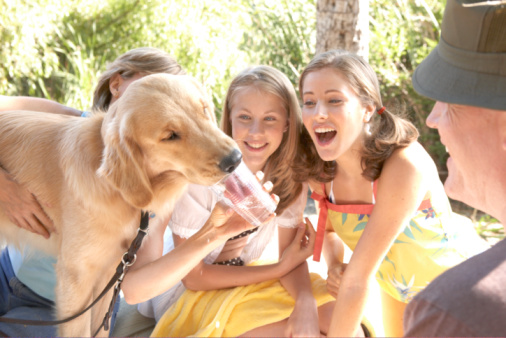 I Brought My Dining Room Table to the Lake Picnic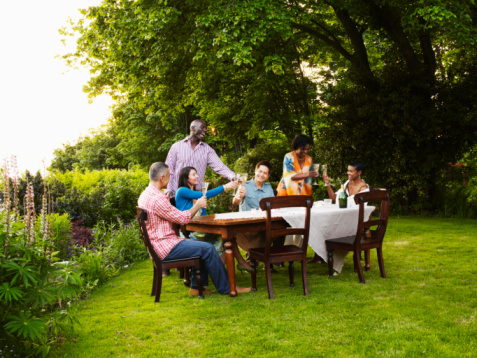 Child Labor Picnic
Forever Alone Picnic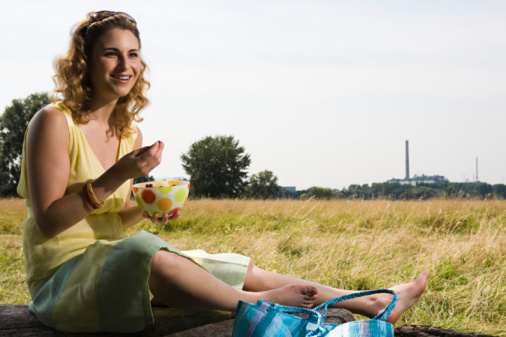 Adventure Picnic!
Ha Ha Oh, Picnic!
Picnic?
Picnic!

SMASHED CHICKPEA SALAD
(VEGAN AND GLUTEN-FREE, MOTHERFUCKERS)
by Rachel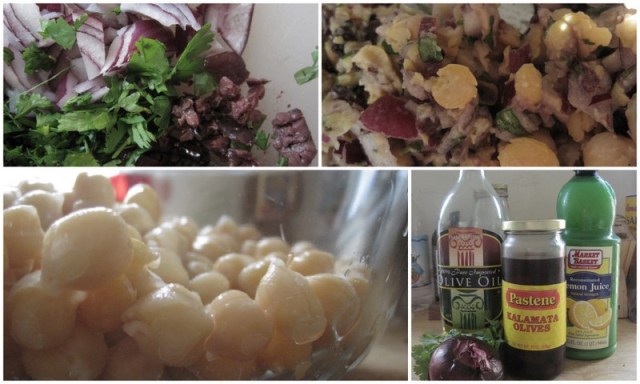 This recipe is so easy it's actually stupid. Like, I feel really stupid even typing about it. But I'll do it anyway. For you. Here is how to have chickpea salad in your house and later, your mouth.
1. Have some chickpeas. Cook them or open a can, I don't care. Actually open like two cans I guess.
2. Take some red onions, olives, and parsley or cilantro. I like kalamata olives so I used those. I also really like cilantro so I used that, but if you are one of those people for whom eating cilantro is like drinking turpentine mixed with Pepto Bismol, that's fine, whatever, quit moaning about it and use some parsley.
3. Chop up all the abovementioned things.
4. Put them in the same bowl as the chickpeas. Add some olive oil, and the zest and juice of one lemon. I didn't have a lemon so I used bottled lemon juice from Market Basket. Do as I say, not as I do. Then add some salt and pepper.
5. You can be done here if you want. Just eat it with a spoon. If you had more complicated eating plans for this, like perhaps putting it on a sandwich, I would recommend taking a potato masher and mashing it a little, so some percentage of the chickpeas are broken up. I guess you could also pulse it in a food processor for a few seconds, I dunno. Although I think that would make it tempting to just take this to its logical conclusion and make hummus.
Mazel tov, you have chickpea salad. Eat it with a spoon, in pita, in a sandwich, wrapped up in lettuce or collards, whatever. I don't care. I personally like it on a piece of toasted bread spread with harissa, but don't let me shove my delicious, fantastic eating ideas down your throat. Because then you wouldn't chew properly and you'd get indigestion.

CREPE PICNIC
by LAURA
You can put just about anything that will fit in a crepe. (e.g. avocado = yes, bicycle = no) For my picnic, I straddled the line between fancy and lazy by making everything out of crepes. Your friends and lovers will undoubtedly be impressed and you'll be happy because you didn't even have to do anything hard.
Ingredients:
4 Eggs
1 1/3 cup of Milk
1 cup of Flour
1 tablespoon of Sugar
1/2 teaspoon of Salt
2 tablespoons of melted Butter
Food to put inside
First mix beat the eggs like you're going to scramble them. Add the milk and stir, then the flour, sugar, and salt. Add the butter last. You can do this all with a whisk or a fork or in a blender if you just have no fucks to give (but do have a blender.)
Let the mix refrigerate for at least half an hour while you go shopping for stuffing.
Okay, you're ready to cook now. Put a non-stick pan on the high side of medium-high. I know this is like a sin or something because it destroys teflon but if you try to use a normal pan, your crepes will look like broken snowflakes and if you don't turn it on high they'll be dry and hard. If you don't want to ruin your good pan, IKEA sells a nice one for $1.99.
Rub a little butter on the pan but not a lot since it's already in your mix. This is probably the only time you'll have to grease your pan but if get halfway through your batter and find that the crepes are sticking, add a little more. Using a ladle, spoon some batter and swirl the pan so it coats the whole bottom evenly. Let it cook for a little over a minute and then shake to pan to see if it's loose yet. If it won't move around, it needs to cook a little longer. When the crepe is moveable, flip it over using a spatula or doing a fancy wrist-flip. I would encourage you to try a little wrist action especially if people are watching you. Everyone likes a showoff who's going to feed them in a minute.
Let the other side cook just until it's got brown marks. Flip it over onto a plate and decorate.
I made eight different crepes, four savory and four sweet.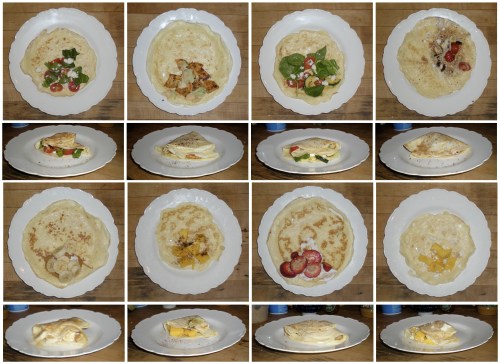 RIGHT-CLICK IMAGE TO ENLARGE
From the top left to the right bottom, here's what's in them:
+ raw tomato, basil, feta cheese, pepper
+ sweet potato (sliced, covered in olive oil, cumin, pepper, salt, and chili and cooked on a pan for 15 minutes at 375F), hummus
+ tomato, zucchini, garlic (all three cooked in a pan with olive oil), spinach, goat cheese
+ tofu, tomato, sun-dried tomato (cooked in a pan with olive oil), mozzarella, feta cheese, balsamic vinegar, pepper
+ banana, plain greek yogurt, peanut butter, honey
+ mango, chili, lime juice
+ strawberry, plain greek yogurt, brown sugar
+ mango, goat cheese

"MEXICAN" POTATO SALAD
by STEF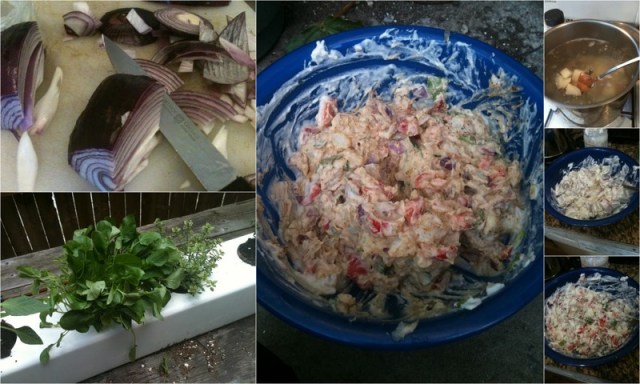 I don't like procrastinating, but I made this recipe on Cinco de Mayo, many days after the due date for picnic recipes.  Because I was on my way to a Mexican-themed party, I decided at the last minute to take my time-honored potato salad recipe and tweak it slightly to suit the occaison.  Potato salad is awesome for picnics, because it's super easy to make but impresses people anyway.
Ingredients:
8 small red potatoes
1 1/2 cup Vegenaise
1 small red onion, diced
1 red bell pepper, diced
1 lime
1/4 cup watercress (or cilantro)
4 ramps (optional)
2 tsp chili powder (to taste)
salt and pepper to taste
Cut potatoes into potato salad-sized chunks, about 1 1/2 inch around.  You can peel them, but you don't have to; I like my potato salad with skins.  Boil a pot of water on the stove and then add potato chunks, stirring until potatoes are a bit soft (about 9-11 minutes).  Strain and add to a large mixing bowl.
Add vegenaise and stir.  Then add your diced onion, pepper and watercress.  I also added ramps, which are like garlicky baby leeks, but you can add whatever vegetable is hanging out in your fridge.  My weirdo friends don't like cilantro or tomato, but maybe yours do.  Squeeze in the juice from one lime, and then add chili powder.  I used 2 tsp, but you can add more or less depending on your sensitivity to spice.  Add salt and pepper to taste.
Refrigerate and serve.  I find that this potato salad is best if made the night before and refrigerated overnight.

CARROT SALAD WITH CUMIN
(ADAPTED FROM MARK BITTMAN'S RECIPE)
by EMILY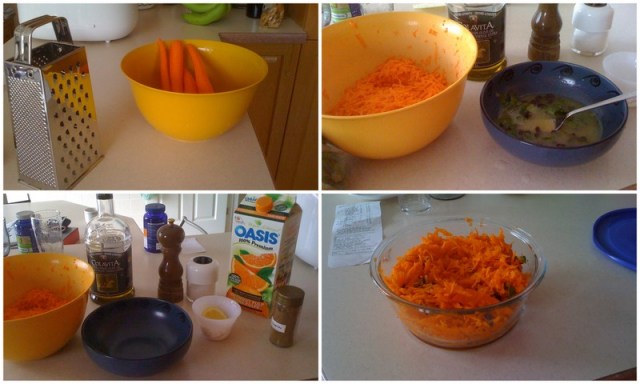 Hi! This was my first time making this carrot salad, and the first thing I did wrong was go to the grocery store without looking at the recipe, so I had no oranges. It's okay because I used orange juice instead and it still tasted fine, but let this be a lesson to…me. Anyways, this is a pretty easy and quick salad to make and it can be refrigerated for your picnic tomorrow. Also I didn't measure anything which means that I can't exactly tell you how I made the dressing which might defeat the purpose of me sharing this recipe with you. But you guys are smart, will figure something out, etc.
Ingredients:
~6 or 7 actual carrots
1 orange or orange juice
1/2 of a lemon
olive oil
cumin
salt and pepper
optional: raisins and coriander
1. Peel, wash, and grate your carrots. This will take the most time.
2. Mix the juices, olive oil, and cumin in a separate bowl. I put about 1 tablespoon of olive oil and just kept adding cumin until I could taste it/it tasted good. Sprinkle a little salt and pepper.
3. If you like, add some raisins and coriander. I like the added sweetness of the raisins.
4. Pour the dressing onto the carrots. Mix together and adjust seasonings to your taste. Enjoy!

Oral Hygiene Picnic
Please share your picnic feelings in the comments!