This chicken is the best thing ever and you should make it tonight. I tend to say that every recipe is the best thing ever because I like trying new things, but in this case, it really is (though admittedly, it is not very photogenic). It also probably works with tofu, and definitely doesn't work with only vegetables.
Coconut Mango Chicken
Ingredients
Half a large red onion, diced
1 can (about 400 ml) coconut milk
1 ripe mango
1 handful or more of cilantro (if you don't like cilantro you can use fresh basil and it will be just as good)
2 tsp cumin
2 tsp basil
1/4 tsp red pepper flakes or to taste
Two boneless skinless chicken breasts, cut into bite-sized pieces
vegetable oil
pappadums (about two per person)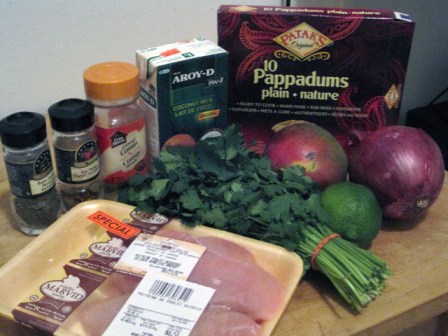 Instructions
1. Sautée the diced onions until they start to soften.
2. Turn up heat and pour in the coconut milk. Add the cumin, dried basil, and red pepper flakes. Add the chicken. If you're paranoid, you can precook the chicken, but the coconut mixture needs to reduce by half and boil, and the chicken will cook while the milk is reducing. Stir occasionally.
3. While the chicken cooks, chop the mango into smallish chunks. When the mixture has reduced by half, add the mango and turn the heat down just a little.
4. In a different small saucepan, heat half an inch or so of vegetable oil (enough that it more than covers the bottom of the pan) until hot (but not smoking). You will know when the oil is the correct temperature because if you dip a corner of a pappadum in it, it will puff up. Using tongs or two forks and dexterity, quickly submerge individual pappadums in the oil until they get puffy, and place them on a plate lined with a paper towel. Make sure to angle the handle of the pan away from you as you do this. (And maybe watch this safety video about oil.)
5. Turn off the heat under the chicken, coconut milk, and mango. Add the cilantro or basil. Squeeze a half a fresh lime over the chicken and stir. You will know when it is done because it will be delicious. Serve.