Is it fall already?! I don't know about you, but I'm excited for college football. Grab yourself a pumpkin beer – if that's your kinda thing – it's time to celebrate the season with apple tarts, mulled cider, pumpkin spice bread, and roasted root veggies.
Puff Pastry Apple Tart with Mulled Cider
This happens to be my favorite type of apple tart because it remains simple, showcases the fruit, and is incredibly tasty. Maybe I love these because butter is the main component in puff pastry, but who cares.
If your puff pastry is frozen, make sure you move it to the fridge at least 3 hours before you make this. Pick any good baking apple that happens to be at your neighborhood market. Think Granny Smith, Gala, Braeburn, Gravenstein, etc. Preheat the oven to 400F.
Ingredients:
4 – 5 apples
Pre-packaged puff pastry (but if you're an eager beaver, you can make it from scratch)
AP Flour for rolling
½ cup sugar
1 tablespoon cinnamon
¼ cup butter, melted
Start by lightly flouring a working surface. Roll the puff dough to even thickness, about a quarter of an inch, rolling from the center out. Don't press too hard or you'll damage its delicate layers. You can make a large tart or small individual ones. After rolling, refrigerate the dough for at least 45 minutes and then cut it to your preferred size.
Mix together the cinnamon and sugar in a small bowl. Peel, core, and slice the apples so that you have thin pieces. Dock your puff dough with a fork and then shingle the apples on top. Brush the tarts with melted butter and then sprinkle with the cinnamon sugar mixture.
Bake at 400F for about 15 minutes for small tarts, 25 for larger tarts. Lift to check the underside of the tart and take them out of the oven when it's golden brown.
For the Mulled Cider:
2 quarts apple cider
2 T brown sugar
2 cinnamon sticks
1 star anise
10 cloves
1 lemon, ends removed and halved
Put all ingredients in a stockpot and bring to a simmer. Simmer 30 minutes, strain and serve warm. Add a touch of calvados for an extra good time.
Pumpkin Spice Bread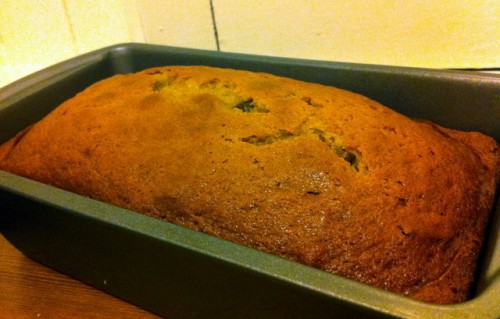 Ingredients:
1 ¼ cup AP flour
½ tsp baking powder
¾ tsp baking soda
¾ tsp salt
½ tsp cinnamon
¼ tsp nutmeg
7 tablespoons oil
1 ¼ cups sugar
¾ cup pumpkin puree, approx half of a normal can
2 eggs, room temp
7 tablespoons water
¼ cup pecans, toasted and chopped
Preheat the oven to 350F. Coat a loaf pan with butter or nonstick spray, and sift the dry ingredients together (flour through nutmeg). Combine oil, sugar, pumpkin, eggs, and water in a medium bowl and gently blend until incorporated. Add the sifted dry ingredients and blend just until homogenous, making sure the sides are scraped. Add the nuts, stir, and pour into your prepared pan. Bake for approximately an hour, until the loaf pulls away from the sides of the pan and a cake tester comes clean. Cool completely before slicing.
Roasted Fall Veggies
You will need a sheet pan or some sort of casserole dish that is oven-safe. Preheat the oven to 400F and thoroughly wash all veggies. This can be made a multitude of ways depending on your local produce, so substitute away.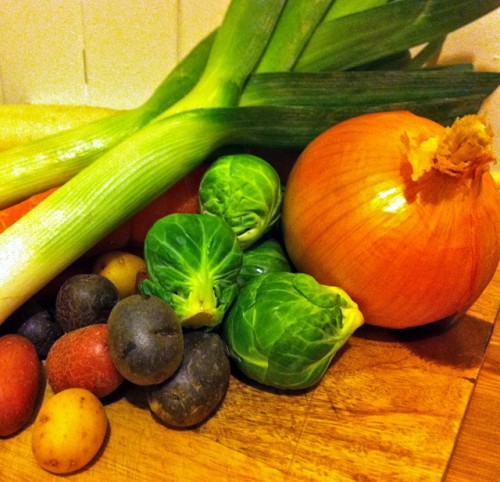 Ingredients:
1 pound brussels sprouts, ends and outer leaves removed, halved
1 pound baby potatoes, quartered or halved, depending on size
1 pound large carrots, peeled and cut into inch-sized pieces
1 daikon, peeled and cut into inch-sized pieces
½ large onion, sliced
2 leeks, halved and cut into inch-sized pieces
¼ cup olive oil
4 tablespoons fresh rosemary, chopped
2 teaspoons dried oregano
Salt and Pepper
Prep the vegetables by slicing them in similar-sized pieces. The more similar in size they are, the better they will cook. Toss the vegetables in a bowl, drizzle the olive oil over them, and then toss to coat. Season with rosemary, oregano, and salt and pepper, stir. Spread this mixture onto a cookie sheet or any kind of oven-safe casserole pan. Cook for approximately 40 minutes, stirring every 10. Take out of the oven when the veggies have softened and gained color.