Time for another installation of 2 Broke Girls. You probably watched "And The Rich People Problems" and just don't want to tell anyone. It's ok. I understand. What I don't understand is how Kat Dennings' boobs got bigger this week. I swear I am not that focused on her chestal region but they were just distracting. This is my official call to action for more busty women on TV so that such a distraction is no longer the case… or so that this is always the case.
The "young people please relate to this show" joke
Max: You can't give hipsters a microphone. That's like throwing gasoline on a pretentious fire.
The dark joke
Max: Hold up. You know the names of your teeth?
Caroline: Don't you?
Max: I don't even know the name of my father.
The edgy joke
Earl: That boy's more stiff than Michele Bachmann's husband at a Chip N' Dale's.
The non-PC joke
Guy Behind Glass: Come in the back.
Max: If you go back there with him, you'll need a bite guard and a rape guard.
The "is that racist joke?"
Earl: Max, what is the worst sentence you ever want to hear come out of Han's mouth?…(with an accent) I'm putting in karaoke.
The vagina joke
Max: This one is shaped like a vagina.
Caroline: It's a seashell.
Max: Sister, this is a mint green vagina.
The joke that leads to a lot of questions
Caroline: My bite guard is just sitting in the bathroom of my townhouse. If I could only get up on the roof I could break in through the skylight like I used to when I snuck out in high school.
Max: Hello, I'm Max. Have we met?
She could have broken into her townhouse this whole time? It never occurred to her before? No one ever reported a girl breaking into a townhouse the other times she's done it? What exactly was in that suitcase she had in the first episode if there was only one outfit and no biteguard? How did security not show up in time for them to get away with all that stuff? Does that mean the townhouse is in a bad neighborhood?
For those of you that tuned in, you might have enjoyed the end of the episode which involved Caroline and Max dancing to "I'm Not Gonna Teach Your Boyfriend How to Dance with You." There was some butt to crotch action so they're pretty much dating now.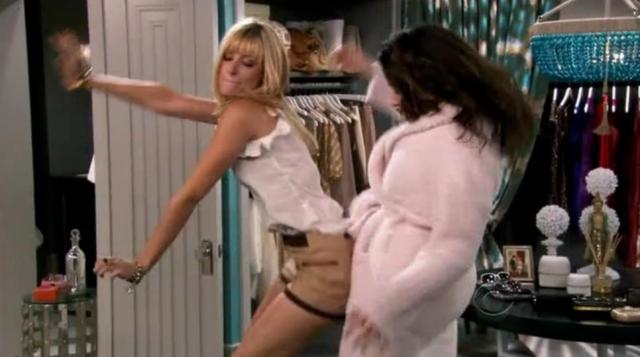 What'd you think of the episode? Feelings about Max and Caroline bonding over absentee parents? Feelings about Max and Caroline bonding over booty dancing?