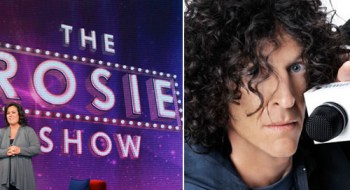 A funny thing happened on the way to Rosie taking over for Oprah. Originally intended as an Oprah-esque single-topic hour focused on human and social issues like autism and education, the The Rosie Show (now airing on OWN and TLC) transformed into something that looks awfully like the original Rosie O'Donnell Show we all fell in love with back in 1996.  In a brand new revealing chat with Howard Stern, Rosie describes how the show plan evolved from pre-taping several shows a week in Chicago to a LIVE variety/celebrity/music/comedy hour each night at 7pm. Rosie confessed she probably wouldn't have been any good at the Oprah model anyhow, given her tendency toward intense feelings (see: The View, Tom Selleck, various other public shitshows). She has instead chosen wisely to play to her strengths incorporating stand up comedy, celebrity interviews, games and super gay musical numbers into the brand new daily show.
LISTEN TO THE FULL INTERVIEW:
Howard also gets the play by play on how Ro snagged her "Julianne Moore lookalike" girlfriend Michelle Rounds and what exactly went wrong her her ex, Tracy Kachtick Anders (aka the woman with 6 kids). Essentially, playing the Brady Bunch wasn't as much fun as it looked on TV and Rosie realized she was in over her head and explains that Tracy and the 6 kids moved out of her Nyack, NY home last Christmas. Cut to admiring Michelle's three pound puppy on line at Starbucks and falling in love after four dates, per lesbian ushe. Rosie takes Howard through their fast track courtship despite her being intimidated by her beauty and disbelief that a lesbian could be so inherently girly with Prada bags and matching La Perla underwear. Not sure why Rosie continues to perpetuate this stereotype considering her obsession with The Real L Word, but whatevs.
Rosie also went into a bit of detail regarding the low profile relationship she had with a man at the age of 28, after dating women for 10 years. Rosie actually wrote about falling in love with this man in her first book, Find Me, but I don't believe the general public knows this little fun fact. She describes living with him and taking joy in going to the grocery store and being asked about her boyfriend, after years of hiding previous relationships with the women she dated. Howard couldn't wrap his head around Rosie's genuine attraction and sexual enjoyment with this man despite her insistence that she's gay, not bisexual. In a truly confusing moment, Howard literally had to explain what a gold star lesbian was to Rosie after admitting she never heard the term before. Really, Papi?
Other topics of conversation include safe lesbian sex (Rosie laughs off dental dams believing it's nearly impossible for lesbians to transmit STDs) and possibly marrying Michelle:  "I think it could be in the cards. It's legal in New York. We've discussed it." When Howard commented it was moving fast, Rosie replied, "C'mon, I'm 49 and I'm gay."