We were all just lolling about in our see-through underwear, sponging ourselves with cool water and braiding each other's hair when someone — was it Laura L? — said she wanted to make some ice cream. Everyone agreed that this was Laura's best idea since last weekend's whipped cream and honey wrestling match, so we paused Desert Hearts and got busy.
Intern Hot Laura even made homemade cones! So special.

Strawberry and Clotted Cream Ice Cream
by Laura Laffler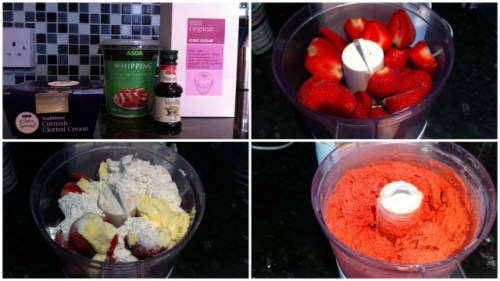 I have been hankering to make ice cream all of my not so existent summer, but don't have an ice cream machine or space / money to buy one. I was very excited to discover this method of making ice cream in 5 minutes with just a food processor while watching cooking shows on Saturday morning.
Ingredients:
1 lb/500 grams fresh strawberries or pre-frozen summer berries
¼ tsp vanilla essence
4-5 Tbsp icing sugar (depending on taste)
3 oz/75 grams clotted cream
⅓ cup whipping cream
Directions:
1. If you are using fresh strawberries (which I recommend) cut them in half and freeze them in a Tupperware overnight.
2. Combine the frozen strawberries, clotted cream, vanilla essence and icing sugar in the food processor and blend for 10 seconds.
3. While the processor is running, pour in the whipping cream and blend until it is smooth, tasty ice cream! If frozen berries keep coming to the top and not blending, stop the food processor and stir them down to the bottom.
4. Taste, add more sugar if needed as berries can vary in tartness and serve immediately or put in the freezer for later.
adapted from Saturday Kitchen Live

Mint Chip Semifreddo with Espresso Chocolate Sauce
by Abby
Sometimes all I can remember from my dreams is that I was eating ice cream. Seriously. Ice cream is at the top of my list of favorite sugary concoctions because of its endless flavor possibilities, chemistry, and associated nostalgia. Y'all can impress the ladies this summer with mint chip semifreddo, sans green food dye!
Semifreddo, Italian for 'half cold,' is a type of frozen dessert that has similar texture to mousse, isn't as dense as ice cream, and you won't need an ice cream machine to make it. You will, however, need a mixer or a set of beaters. You can freeze this in any kind of mold — muffin tins, loaf pan, cake pan, you name it. Lightly spray the mold with nonstick cooking spray.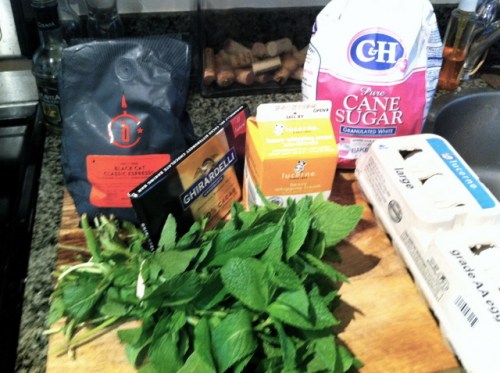 Ingredients:
1/2 cup chopped fresh mint leaves (approx 1/2 bunch)
1.5 cups water
1.5 cups sugar
3 cups cream
12 egg yolks
4 oz of chocolate, milk or dark, chopped
Directions:
Combine the water and sugar in a small saucepan and stir in the chopped mint. Boil this for five minutes and then turn off the heat. Cover the top of the pot with plastic wrap to allow the syrup to steep. Leave this undisturbed for one hour.

Meanwhile, whip the heavy cream until soft peaks form, transfer this to a separate bowl and reserve it in the fridge.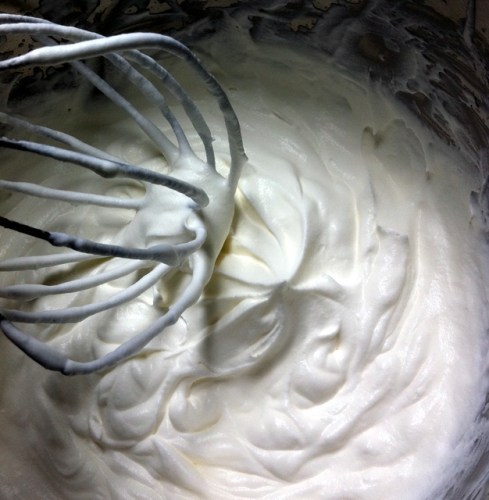 Prepare your mixing bowl with the egg yolks so that they are ready to whip.
After an hour, pass the reserved syrup through a fine mesh strainer and discard the mint. Put the syrup back on the stove and boil until it has reduced to about 1 cup. Don't let the syrup cool. When the syrup starts to bubble intensely, whip the egg yolks on high until they have turned pale yellow, approximately tripled in volume, and ribbon when you draw up the whip attachment. Continue whipping on medium, gradually pour in the reduced syrup while hot, and whip on high until completely cool.


Now you're ready to assemble and freeze.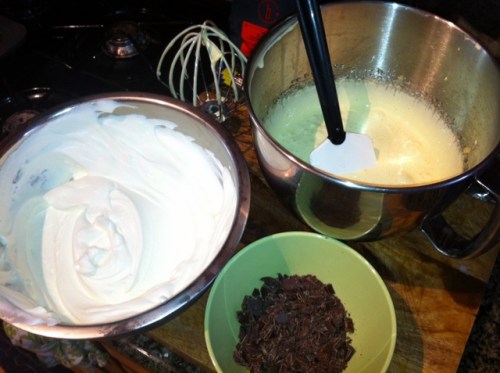 Take 1/3 of the whipped cream and add it to the yolk mixture. Stir until incorporated. Add the remaining 2/3 of the whipped cream and chopped chocolate all at once and gently fold as to not deflate the mixture.


Transfer the final product to your mold. Tap it on the counter and you will see a few air bubbles escape. Now, put it away in the freezer for at least 6 hours. Wrap it with plastic if you'd like, but it's not necessary.
When ready to serve, place a large piece of foil on a cutting surface.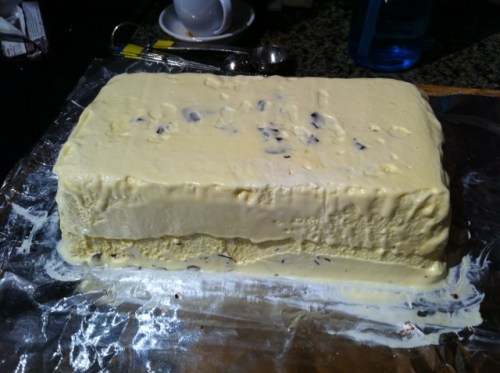 Remove your mold from the freezer and invert it onto the foil. If your semifreddo cooperates, it should release from the mold with little work from you. Is it being bitchy? You can press a hot kitchen towel to the back. Your last resort should be to use a butter knife along the edge. Slice the semifreddo with a warm knife. Ice cream social time!
Espresso Chocolate Sauce:
4.5 oz dark chocolate, chopped (chips will do just fine)
1/2 cup heavy cream
2 tbsp freshly brewed espresso, or reduce 1 cup of coffee to 1/2 cup and use 2 tbsp optional
Directions:
Put the chocolate in a heat-proof bowl. Heat the heavy cream in a medium until it gently boils, remove from the heat and immediately pour it over the chocolate. Make sure that all of the chocolate is covered by the cream. Let it sit for 2 minutes, and then rapidly stir in circles to homogenize the mixture. Add the espresso and stir. Heads up homos, let this cool before drizzling it on the semifreddo.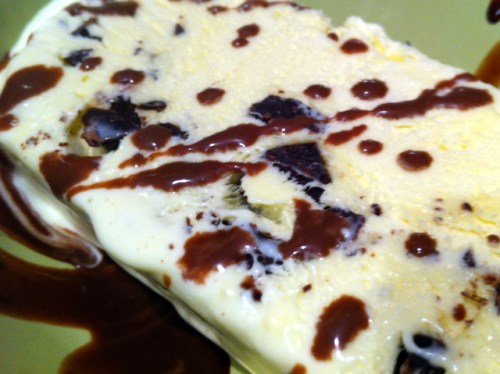 Savannah Buttermint Ice Cream With Homemade Ice Cream Cones
by Laura Wooley
I haven't had ice cream in ages but I can't think of a better way to reintroduce it to my body. This ice cream was insanely rich, pretty, and tastes exactly how it sounds–buttermint. As for the cones, well, I'm usually more of a cup girl ice-cream-wise but I thought I'd challenge myself. I usually go for recipes that are relatively easy, but this is one of the most difficult things I've ever made. It was hard to strike a balance between too crunchy and too soggy and even when I got one that worked, they were really delicate. Out of a recipe that was supposed to make 8-10, I got 4 good cones. But that doesn't mean you shouldn't try! Even if you fail you end up with delicious cookies to eat with your ice cream.
Ice Cream Cones:
+poster board
+1/2 cup of almonds
+1/4 cup of flour
+1/2 cup of powdered sugar
+1/4 teaspoon of salt (or none if you're using salted butter)
+2 egg whites
+1/4 teaspoon of almond extract
+1/2 teaspoon of water
+ 5 tablespoons butter, melted
+chocolate chips
Directions:
Trace a circle onto your poster board, cut it out, and then cut it in half. Roll the semi-circles into cone shapes and cover them with packing tape so that the cones don't stick. These will be your molds.
Preheat the oven to 300 degrees F and line your baking sheet with parchment paper or foil. Cover that shit with Pam. I thought I could get away with just a little bit the first time but I was wrong (see picture below). Lube it up!
Put the almonds in a plastic baggie and crush them with a heavy rolling pin until they're as fine as possible. Mix them with the flour, sugar, and salt. In another bowl, mix together the egg whites, water, and almond extract. Combine the wet and dry mixtures and stir in the butter until everything is uniform.
Spoon a little more than a tablespoon of batter onto the pan and spread into circles. The circles should be even and nearly translucent. Cook for at least 10 minutes; the cookies should be lightly browned or else they won't hold their shape.
Use a spatula to release the cookie from the baking sheet and fold it over your mold, rolling until it's wrapped around. Hold everything together for about 30 seconds and then move the mold and place your cookie upright in a glass to harden.
Once all the cones are made, melt the chocolate chips (I used white chocolate to go with my ice cream but you can use any flavor) and dips the ends of the cones so that ice cream doesn't drip out the bottom.
They taste better the first day, but you can store the cones in an airtight container with a bit of baking soda wrapped in a towel to keep them crisp.


Savannah Buttermint Ice Cream
from Jeni's Splendid Ice Creams at Home
+2 cups of whole milk
+1 tablespoon plus 1 teaspoon of cornstarch
+1 1/2 ounces (3 tablespoons) of cream cheese, softened
+1/2 teaspoon of fine sea salt
+1/8 teaspoon of turmeric
+1 1/4 cups of heavy cream
+2/3 cup of sugar
+2 tablespoons of light corn syrup
+3 ounces of white chocolate, melted
+8 drops of natural butter flavor
+3 to 4 drops of pure peppermint essential oil
Directions:
Mix 2 tablespoons of the whole milk with the cornstarch in a very small bowl and set it aside.
Mix the cream cheese, salt, and turmeric in a pretty big bowl and set it aside. The turmeric adds color without changing the flavor.
Mix the rest of the whole milk, the cream, sugar and corn syrup in a big sauce pan. Bring it to a boil on medium-high and boil for 4 minutes, stirring so that the pan doesn't overflow. Remove from the heat and slowly mix in the cornstarch and milk mixture. Bring it back to a boil on medium-high heat and cook while stirring for a little over a minute.
Pour the contents of the saucepan into the cream cheese mixture and whisk it until smooth. Put the bowl in the fridge until the mixture is cold. You don't want to rush this step.
When everything is cold, find a really big bowl and put some ice in the bottom. Nestle the bowl with the mixture inside and pack ice and salt in the space between the two bowls. Add the flavorings and slowly mix in the white chocolate. Using a hand mixer, beat everything for ten minutes. Cover both both and place them, ice and all, into the freezer for an hour.
Remove the bowls and stir with the hand mixer for another 5 minutes. It should be thicker but not necessarily ice-cream-y yet. Cover with the towel and return to the freezer for another 45 minutes. Take everything out again and mix, this time with a regular spoon, for 5 minutes. Make sure you scrape the parts that have frozen already off the sides and bottom. Press plastic wrap against the nascent ice cream and use another piece to cover the bowl. You can throw out the ice now because this time you're just returning the small bowl to the freezer for 4 hours until the ice cream hardens.

All of the Ice Creams
by Rachel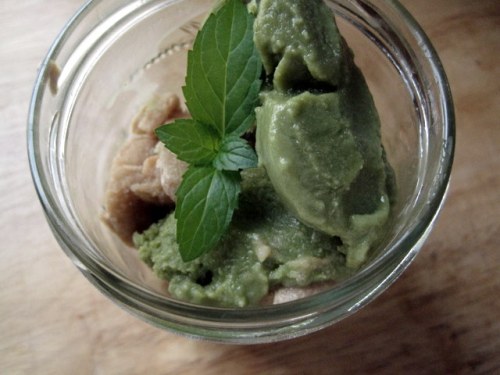 I am what my friends (or really just one friend, it's Batia, she's also in this article) call "embarrassingly consistent." For instance, if I am given the opportunity to make aaaaaaaany kind of ice cream in the world? That's right, it will be tea-flavored. I have loved green tea (matcha) ice cream since I first knew it was a thing, and when I found a recipe that lets you use any kind of loose tea you have on hand to flavor ice cream? Um, SOLD. Obvs I went with Earl Grey. Also, I would not have expected this, but they taste pretty great eaten together? Who knew?
Green Tea Ice Cream
from Veganomicon by Isa Chandra Moskowitz and Terry Hope Romero
1 cup soymilk
1/2 cup coconut milk
3/4 cup sugar
6 oz. silken tofu
1 tsp vanilla extract (I used almond instead and never looked back.)
2 Tbsp matcha powder (can be found at Asian groceries or online)
Directions:
Mix all ingredients together in a large bowl. Use an immersion blender, stand blender, or food processor to make completely smooth. Pour into prepared ice cream machine and make ice cream as per manufacturer's direction, or use preferred non-machine ice cream method (David Liebovitz has a good one!)
Earl Grey (or really any kind of tea) Ice Cream
Originally found at WhipUp.net
1 teaspoon of your tea of choice
1/4 cup of boiling water
1/4 cup of milk (dairy or non)
1/2 cup of cream (you can use soy creamer if making vegan ice cream, or just more nondairy milk
1 1/2 teaspoon of sweetener (sugar, honey or palm sugar)
1 teaspoon of powdered gelatin (I found vegan gelatin at the kosher grocery!)
Directions:
1. Bring the 1/4 cup of water to a boil, and let the tea steep in it for 5 minutes.
2. In the meantime, heat the milk, cream if using, sweetener and gelatin over the stovetop. Let come to a low boil and leave for one minute. Then turn off the heat, and add the tea with the water it steeped in.
3. Let the whole mixtures sit in the fridge for an hour, then strain out the tea leaves. Let the strained mixture sit in the fridge at least 2 hours, preferably overnight.
4. Pour into your ice cream machine and use as according to manufacturer's instructions, or use preferred non-machine method, or just go wild I guess. If you stuck with Earl Grey, it would probably be really good with a lemon garnish or even orange or something at this point! Other good tea options would be chai, chamomile (with honey? ooooh!) or a fruity or herbal tea. Let me know how it goes!

Chocolate-Raspberry Ice Cream
by Batia

If you like chocolate and fruit, this ice cream has the best effort/results payoff. In fact, way back in the day (the pre-Cecil era!), this was the first ice cream I made that came out truly recognizably ice cream-y. And since the bowl of my ice cream maker was not fully chilled (ahem *someone* was making matcha ice cream), I went all throwback and didn't even use it this time. Which is to say: if you can use a fork, you can make ice cream.
Ingredients:
1 cup half & half (the recipe originally called for cream, but half & half was cheaper, and still plenty creamy)
4 Tbl cocoa powder
1/2 cup minus 1 Tbl (bear with me here) sugar
a pinch of salt
4/3 cup raspberries (I used frozen)
Directions:
Combine half & half, cocoa, sugar, and salt in a saucepan. Bring mixture to a boil over medium heat, whisking constantly. Pour mixture over raspberries and let sit for 10 minutes to let the flavors mingle and get to know one another. Puree the mixture (an immersion blender is great for this, and ice cream in general, and life in general), and strain out the seeds if your heart moves you to (mine didn't).
If you are using an ice cream maker, chill the mixture and proceed as usual. Otherwise, place the ice cream base covered in the freezer, and every few hours get in there with a fork and stir some shit up. This prevents the ice crystals forming from getting too large and keeps the texture nice and smooth.
adapted from the Perfect Scoop by David Lebovitz

Peanut Butter Banana Vegan Ice Cream
by Sarah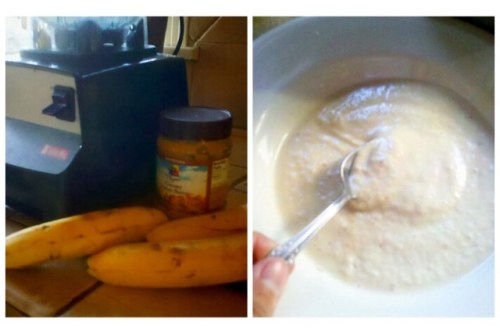 Ingredients:
Ice (1-2 tray fulls)
3 Bananas
2 tablespoons of peanut butter
A squeeze of agave syrup
Vitamix
Directions:
Blend.
The end!
I really wanted to use coconut milk and ice and bananas. It would have been much thicker. But I didn't have any at home unfortunately.
Test audience: My brother and best friend.
Audience reaction: finished the whole batch in one sitting.

Share your favorite frozen treat recipes in the comments.