Welp.
---
The 100
Thursdays on The CW at 9:00 p.m.
Written by Karly
Well, I feel dumb. I feel dumb for calling Clarke and Lexa our bookend couple when their storyline is so reminiscent of so many tragedies from more twenty years ago. Things aren't different. They're so much the same.
But let's start from the beginning. Murphy finally realizes that Polis is named after the thirteenth station, Polaris, which was destroyed when it didn't join the coalition. As he pieces it together, we flashback to Polaris and meet Beca, the scientist who created Alie. After Alie gets onto the grid and fires the nuclear missiles, Beca sees her mistake. Alie didn't value human life because she wasn't biological. So she's going to introduce Alie 2 to the united space stations. Alie 2 will be better because she'll be grafted onto humans. Of course, Beca's associates think this is a horrible idea. But Beca injects herself with black blood (nightblood! which I guess is synthetic) and sews the biological chip onto her brain stem and escapes in a pod to the ground. The badge on her jumpsuit says Commander.
Reading drawings on Titus's walls, Murphy tries to explain that the woman they worship is actually from the sky like he is. Titus, of course, will not accept that their religion is a myth, or worse, artificial intelligence, and beats him even more.
Later in the ceremony room, the TriKru village leader, Semet, brings Octavia to Polis on the anniversary of Ascension Day. Who knew this was foreboding? Semet wants vengeance for the attack on his village. Lexa decides she won't attack SkaiKru yet, but will enforce a blockade five miles outside Arkadia. Any Skyperson outside the blockade will be killed. Octavia is pissed off because she knows Pike will not abide by this. But I thought this was a reasonable policy. Clarke and Octavia need time to go to Arkadia and deal with Pike themselves before the 12 armies lay waste to their people.
Octavia finds Indra, who is not recovering well from her injury. Indra wants to give up, regretting that she didn't die with honor. But Octavia needs her to get up and help her get revenge on Pike. Indra does her change her mind in the end and they march to Arkadia.
Lexa wants Clarke to stay of course. Titus warns Lexa that to be strong, she has to enforce the blockade. She can't make exceptions for Clarke anymore. Love is weakness and that weakness may be used against her like it was in Costia's case. Bringing up Costia was the worst thing he could have said. Lexa was strong in Costia's case. The Ice Queen killed her and chopped off her head, yet Lexa still invited them to their coalition. She shouts "I am more than capable of separating feelings from duty." Lexa can't deny her feelings any more though, now that she's so close to losing Clarke.
But these women know that they are still leaders. Clarke meets Lexa in her bedroom to say goodbye, and visibly catches her breath when she sees her. She knows then she can't walk away with a handshake. They speak to each other in whispers and Lexa starts to cry. They kiss like this is the last time they'll see each other. They kiss like they are so hungry for each other and sad about the circumstances. I want to fall to my knees when Lexa lets out a strangled breath through her tears. They walk over to the bed and the screen fades to black.
Later, in Lexa's giant bed, Clarke runs her fingers over Lexa's tattoos and asks her about the one on her back. There are seven circles for the seven nightbloods who died on Lexa's ascension day. What happened to number eight? Lexa doesn't want to talk about it. And Clarke just wants to extend this moment of peace they have with each other before their duty pulls them away.
So Clarke leaves with Octavia to Arkadia, and Lexa deals with the unrest in Polis, right? No. Of course not. Instead, Clarke goes back to her bedroom and finds Murphy and Titus there. Titus intends to frame Murphy for Clarke's death and pulls a gun on her. Titus has never fired a gun, so he's firing bullets everywhere. Lexa enters and catches one in the stomach. Clarke wants to stop the bleeding, but Lexa and Titus know exactly what this means. Lexa isn't afraid.
My problem is that instead of seeing Lexa die in Clarke's arms, I see the strings around them. Instead of hearing "I don't want another commander, I want you," I hear "contractual obligations" and "plot device." I didn't even start to feel sad about Lexa's death until two hours later, and still in a mixture of anger and hurt about what this means in the bigger picture.
Because we have to consider the bigger picture here. This is not a twist: it is only surprising how awfully familiar it is. We feel this in our bones. Science fiction television isn't written in space: writers are just as surrounded by this media as we are. This isn't new. There is a mass communication theory called cultivation theory that assumes there are common themes in all of television and hypothesizes that heavy viewers will begin to perceive reality as it is portrayed. What does it say when so many lesbian storylines end in tragedy? When the theme here is that lesbians must die to move a story forward. It has been cultivated in us for decades. The writers and producers have to acknowledge where their story falls in this narrative. And what effect can it have on us?
---
How to Get Away With Murder
Thursdays on ABC at 10:00 p.m.
Written by Sadie
It's the week we've all been waiting for: EVE IS BACK! And I'll get to that, I swear. We start with Laurel confronting Annalise about Wes's involvement in the murder of his mother. Annalise says that he wasn't involved and that an investigator messed up and ultimately it was ruled a suicide. Laurel points out that the police and the investigators lie all the time and that she thinks Annalise knows more than what she's letting on. She tells her to mind her own damn business and if Wes wants to ask her something, he should ask it himself. Meanwhile, Wes is back at the therapist's office and he's telling her that he thinks Annalise killed his mom. Naturally the therapist, being a therapist, is more interested in Wes's obsession with Annalise than she is a ten-year-old alleged murder.
Flashback: Wes and his mom are sitting on the couch when there's a knock at the door. Immigration Customs Enforcement or ICE is there for Rose. Lo and behold! Who's the lawyer for ICE? That would be Eve. Really dramatic music plays right here but even at this point I was pretty sure this was a trick by Annalise to get her to testify.
Back in the present Laurel and Frank go down into the basement to continue their never ending fight. Frank is all "you asked me to share so I sharedwp_postsand Laurel was like "yeah but the thing that you shared is that you killed someonewp_postsand then get really mad about it which is a really self-righteous stance to take, considering she's been part of nearly half a dozen murders herself. But who's keeping score?
While the team stands around and debates about what to do next, another email comes in and this one is a video Michaela at Caleb's house. Annalise demands to take the computer with her to the DA's office and then she drops it on his desk. She asks for blanket immunity for her and the team in return for the email evidence that Philip is back in town.
Flashback: Eve shows up to Annalise's hotel room, finally. So it turns out the whole immigration thing was actually set up by Annalise as a scare tactic. Eve feels rightfully skeevy about all this, but still wastes no time in hitting on Annalise. Annalise then reveals to Eve that she's pregnant and Eve's reaction to this kind of puts the nail in the coffin on the "it's Eve's babywp_poststheory.
Back in the present the therapist is still obsessed with Wes and his maternal complex. I don't really understand why he didn't expect this. Wes says that he is going to go to the police instead and then storms out of the office.
Back at the DA's office, Annalise calls the team and lets them know that the immunity deal could be coming through, but during the call she gets a tip from Nate who says they're actually about to serve them with a search warrant. Like a total badass, Annalise knows exactly what to do. With the DA standing right in front of her she calls up the team and tells Bonnie to shred everything. Because they've got this kind of mind meld thing going on, Bonnie knows not to actually do this, but to put in motion the steps it would take to get the search warrant and all evidence obtained invalid. (Or " fruit from a poisonous tree,wp_postsas it were.) Needless to say they get their immunity.
Flashback Eve is still in the hotel room and obviously bitter about Annalise being with Sam. (Aren't we all?) Old white dude calls up Annalise and ask her about this whole immigration mess, and Annalise assures him she'll show up for court.
Back in the presen,t Laurel tries to invite Wes to the team slumber party but he tells her he's not interested and he'll take his chances with Philip. Over at the slumber party, Asher is the only one prepared, wearing the appropriate dragon onesie. Frank and Bonnie opt to wait things out at a bar instead.
In the hotel room ten years ago, things come to a head between Annalise and Eve. Eve, like pretty much all of us, really hates Sam. Eve then does that thing that lesbians do sometimes do where she accuses Annalise of going with Sam because he's the safer bet. Then Annalise does the thing some bisexuals (or at least myself) do where she doubles down and says that she's not even gay and that's why she left Eve. Man, they are really trying to hurt each other aren't the?. This is not the reunion that I expected. Clearly these two have cleared up these problems between them in the last ten years!
In holding, Rose and Eve discuss the options, which are limited. Eve tells Rose without this testimony she will be sent back and Wes will be left in the US. Rose asks Eve if she could spend the night at home and Eve relents.
In the present Wes breaks into Annalise's house and finds both the accusation that she may have killed his mother and he finds Eve's name on the court documents.
In the past, Eve and Annalise make up and the Annalise has a minor maternal breakdown and Eve walks her back. Come on, Annalise! Just run off with Eve; you know you want to.
Wes has now convinced himself that he was the one who murdered his mother. His therapist isn't so sure.
Back in the basement argument zone, Frank professes his love for Laurel… again… but still Laurel can't get over the whole "strangled a girl on the roofwp_poststhing and she officially breaks it off.
Ten years in the past, at 2:02 apparently, Annalise gets a call from old white dude, who wants to see her in gis office. He begins to threaten Wes again and Annalise leaves to see Rose. At 3:20, she makes it to their apartment and she warns Rose of the threat against her son. Rose says, "You don't know what he's capable of," in reference to old white dude. So was he the real killer? Is that why he's so concerned with the outcome?
Rose then gives this amazing speech about how she will not be owned by the creepy old white dude. She then walks over to the sink and seeing no other way out, she turns and says, "Take care of my boy" and stabs a kitchen knife into her neck. Annalise screams and then begins to call 9-1-1, but doesn't. And runs from the kitchen just barely missing Wes on his way in. So, this is what Eve and Annalise did to Wes.
The episode concludes with Wes traveling to see Eve and Annalise. He is not there to greet her but from underneath the bed Philips hand reaches out, and with Eve on the phone, Annalise calls out for help.
Wow. So here we are just two episodes left in the season and there is still more to be revealed. It looks like Eve should be here for the remainder of it!
---
Broad City
Thursdays on Comedy Central at 10:00 p.m.
Written by Riese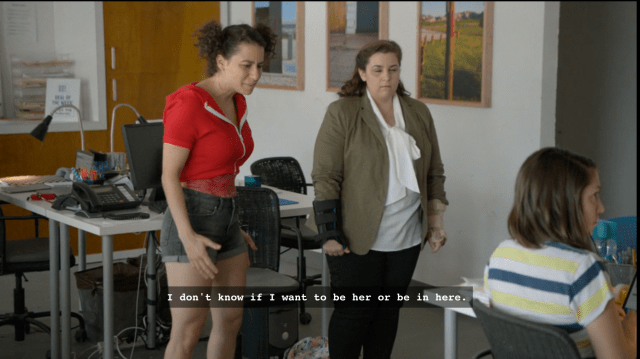 This week on Broad City, a new investor walked into Deals Deals Deals and consequently into Ilana's sexual fantasies. Played by Vanessa Williams, hot Investor Lady pings Ilana's pants (well, hot shorts, really) from the moment she strides into the office, hair aloft, scarf blazing in the AC, non-prescription eyeglasses concealing her penetrating eyeballs. "Flawless bitch!" Ilana exclaims, declaring that she's not sure if she wants to BE Miss Hot Lady or if she wants to be INSIDE Miss Hot Lady.
This is probably similar to when I didn't know if I wanted to be Shane or date Shane (it turned out to be the latter, but trying the former was pretty fun). Ilana's wearing a dog hoodie, though, so there's that to contend with. Ilana is totally transparent about the fact that she does zero work at work, but having her salad-finger on the pulse of the social media generation. Miss Hot Lady puts her in charge of social media, suggesting Ilana has been an untapped resource prior to this moment.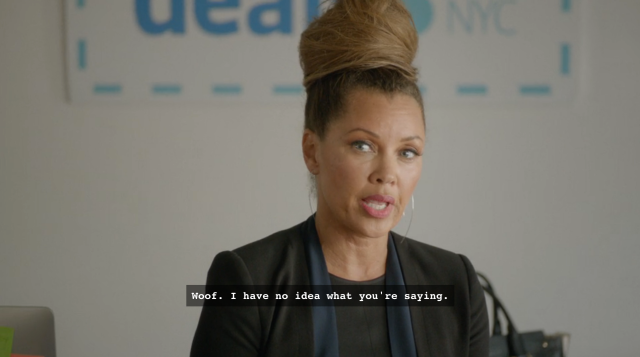 Then Ilana tweets a thing about a horse fucking a dude and gets fired. She tells Miss Hot Lady that she's figured it out — she wants to be IN her — and the lady tells her that she has to leave and so she leaves. It's okay! I think she's gonna be working for the Hillary Clinton campaign soon which'll be hilarious, I saw some sides! There are bound to be some more lesbos there. Oh, also she called Abi her wife. I really love that Ilana's desire for men and for women are getting pretty equal play this season.