We asked our moms to give us their favorite holiday recipes and this is what happened! Seems like this might be the closest we'll ever be, you and I. Happy Holigays!
+ Christmas Morning Breakfast Casserole, from Abby's Mom
+ Beef Brisket, from Lizz's Mom
+ Latkes with Applesauce, from Riese's Mom
+ Holiday Brownie Bites, from Carolyn's Mom
+ Party Cheeseball, from Laneia's Mom
+ Buckeyes, from Laura's Mom
+ Christmas Cherry Chocolate Kisses, from Rachel's Mom

Christmas Morning Breakfast Casserole
by Abby's Mom
Every Southern mom knows how to make a damn good casserole, but unfortunately a lot of them are computer illiterate. My mom, Jayne, wants to share her Christmas Morning Breakfast Casserole with y'all, as transcribed by me via telephone communication. This is one of my family's favorite holiday meals. Combined with homemade sticky buns, this is the perfect cure to a good Christmas Eve hangover! Also, you'll want to make this the day before you plan to eat it because it has to sit overnight. Happy holidays, homos.
Ingredients
6 – 8 slices stale white bread, crust removed
1 lb. pork sausage, without casing (you can also use chicken or tofu sausage)
4 tsp. Dijon mustard
1/2 cup Swiss cheese, grated
1/2 cup Monterey jack, grated
5 scallions, sliced thin
10 eggs, lightly beaten
2 cups half and half
Salt and pepper to taste
Prep
1. Lightly grease an 8"x13″ casserole pan.
2. In a sauté pan, brown the sausage, breaking it up into smaller pieces as you go. As soon as it is fully cooked, drain and discard the oil.
3. Trim the crust off the bread and arrange it on the bottom of the pan, like a puzzle.
4. In a small bowl mix the sausage with the mustard and arrange it on top of the bread.
5. Layer the cheese and scallions next.
6. Beat the eggs, half and half, and salt and pepper together and pour it over the top.
7. Refrigerate at least 12 hours.
8. Preheat oven to 350°F and bake for 45 minutes or until browned on top.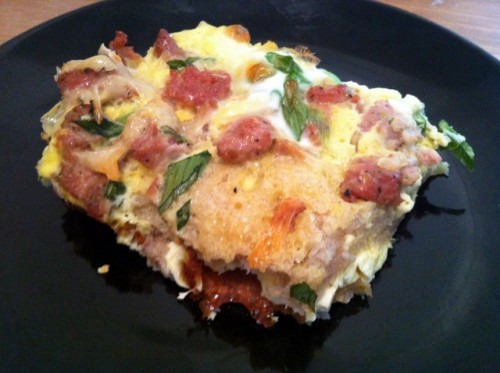 Beef Brisket
by Lizz's Mom
This is a family favorite and should be serve for Chanukah with latkes or for Christmas with mashed or roasted potatoes. It's fool-proof and serves 6-8. Happy Holidays Autostraddle!
Ingredients
5 lb flat cut beef brisket
Yellow Onions, 3 large
One bottle of chili sauce (the cheap kind you buy from Heinz)
One bottle or can of beer
Salt and pepper
Have the butcher cut as much fat off a brisket as he can. Just nod and smile when he says this will ruin the flavor. When you get home you can also try to cut more of the fat off (but not all of it).
Preheat the oven to 325. Slice up the onions and put them aside. Place the brisket in a roasting pan, salt and pepper. Cover the brisket and pan with sliced onions. Pour chili sauce over the brisket and onions, and add a 1/2 cup water to the bottom of the pan. Roast uncovered until the meat is brown. Cover the pan with tin foil and roast covered at 325 degrees for about three hours.
After three hours, uncover the brisket and pour beer over it, then re-cover and roast another 2 hours.
Remove meat and cool, then slice. Keep sauce and onions separately. Serve immediately or refrigerate. If you make this a day ahead, make sure to store the onions and sauce in a separate container or it will get gross. Reheat the meat in the sauce and onions in the oven at 325. This also freezes really well. Grandma says you should always make it a week ahead and freeze it but actually you don't need to.
A Note From Lizz: When you're making this, don't try to use fancy pants beer. Like no pumpkin flavored microbrew. It screws everything up. Just use like a Stella Artois or something. If you do all your shopping at Whole Foods, you'll never find a tomato-based chili sauce and you'll probably end up making this with some version of homemade hippy ketchup, which will feel really weird but turn out fine.

Latkes With Applesauce
by Riese's Mom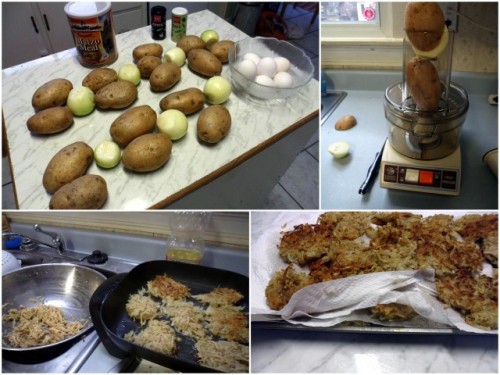 Potato Latkes (1 portion):
+ 2 potatoes
+ 1 onion
+ 1 egg
+ Salt and pepper to taste
+ Matzo meal or flour
+ Oil. Lots of oil.
Scrub the potatoes, remove any bad spots. Put the potatoes and onion in a food processor using the shredding blade. (I know your great-grandparents hand-shredded the potatoes, trust me, they taste better without scraps of skin and blood).
Empty the shredded potatoes and onions into a strainer and rinse with cold water as you go.
Beat the egg in a large bowl and add salt and pepper. Add potatoes and onions, squeezing excess moisture. Mix it all together with a spoon, if no one is looking, use your hands.
Before you start frying, consider disconnecting the smoke alarm. Trust me on this one as well.
Heat the oil in a large pan, I used my brand-new electric fry pan. Usually I have every burner going with every size pan I can find. Put small globs in the fry pan, I use my hands (even if everyone is looking) to "measure" out a pancake. They are ready to flip when the edges begin to change color and you can put your spatula underneath and nothing falls apart.
Line a baking sheet with paper towels for the latkes as they are ready. Layer and layer. If serving them right away, put in a low oven, ~250. If getting ready ahead of time (like doing this article forced me to do), refrigerate, and re-fry them up before serving. You will not need to add any more oil to the pan, honest.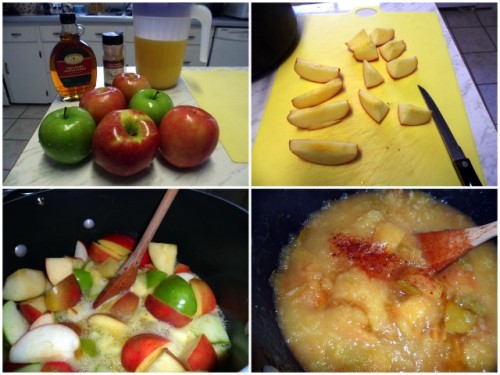 Applesauce:
+ 2-3 varieties of cooking apples
+ Sweetener, I prefer maple syrup w/ brown sugar
+ Cinnamon
+ Orange juice or a Vitamin C enriched apple juice
Wash the apples, remove bruised spots and the core. Cut into 1-2 inch chunks.
Put the chunks into a saucepan/pot, add enough juice to almost cover the apples.
Bring to a boil then reduce to a simmer and cover the pot.
After 15 minutes or so, try the smash test using a wooden spoon against the side of the pot to see if they've disintegrated and are slightly chunky w/ peels.
Add cinnamon to taste, along with sweetener. Ta-dah!
Hanukkah dinner: Potato Latkes w/ homemade Applesauce and sour cream. Riese was raised in a Applesauce household, but some people prefer sour cream. Go figure.

Holiday Brownie Bites
by Carolyn's Mom
Adapted from the Brownie Miniatures recipe in The Canadian Living Christmas Book.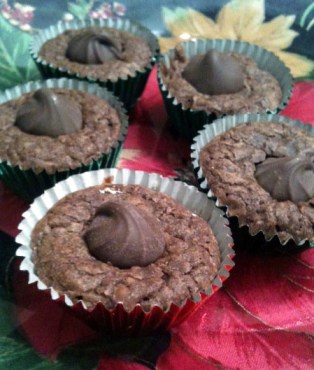 This is really just a homemade version of the popular "two-bite" brownies (or one bite if no one is looking). The recipe can be easily doubled or tripled — 24 is just not enough. The brownies also freeze well and will keep for a few weeks if no one finds where they have been hidden (to defrost, just leave them on the counter).
Ingredients
1/3 cup packed brown sugar
1/4 butter
3oz. semisweet chocolate
1/2 tsp vanilla
1 egg, lightly beaten
1/3 cup all purpose flour
24 chocolate Rosebuds
In saucepan, melt sugar, butter and chocolate over low heat, stirring, until chocolate is just melted. Make sure that the heat is low so that the mixture doesn't burn. Remove the pan from heat and let cool for 1 minute. It's important to let the mixture cool a little otherwise the egg will slightly cook (not good). Blend in vanilla and egg; gently fold in flour just until blended.
Spoon into tiny paper baking cups. It's easiest to spoon the batter into the foil type of mini cups. I put the little cups on a baking sheet evenly spaced so that they cook evenly.
Bake in 350 degrees F oven for 10 to 12 minutes or until set. Brownies are done when a toothpick inserted into the middle comes out clean. Remove from oven and set a Rosebud on top of each while the brownies are still warm but not hot. Makes about 24 brownies.

Party Cheese Ball
by Laneia's Grandmother, via her Mom
This recipe is from my grandmother, Mema! My mom thinks she opted for a cylindrical shape instead of a sphere so she could have more pecans on her cracker. I made a brick — you can make a ball if you want to. You can also halve the ingredients if you don't need to feed 20 people! Here's the original recipe; commentary from my mom is below:
Ingredients
2 8 oz. packages of cream cheese (do not use the whipped)
2 cups shredded sharp cheddar cheese
1 tablespoon chopped pimiento
1 tablespoon finely chopped green pepper
1 tablespoon finley chopped onion
2 teaspoon worcestershire sauce
1 teaspoon lemon juice
dash of cayenne pepper
dash of salt
finely chopped pecans
Combine softened cream cheese and cheddar cheese, mixing until blended. Add pimiento, green pepper, onion, worcestershie sauce, lemon juice and seasoning. Mix well and chill. Shape into a ball*; roll in nuts.
If you would like a more colorful ball, add extra pimiento and green peppers.
*If you prefer, you can shape into cracker-sized logs but you will need more pecans to coat the outside. These can be prepared up to three days in advance, just wrap and keep refrigerated. Please eat these with Ritz crackers because that's the way Mema did it.

BUCKEYES
by Laura's Mom
Here in Ohio, buckeyes are the official cookies of football, Christmas, and the state. Everyone has their own recipe, but I hold firmly to the belief that my family's version is tops. Is it healthy to eat paraffin? Probably not. But it's also not healthy to eat inordinate amounts of sugar and butter and we do that all season long because it's delicious. Here is our recipe in my mom's words:
"I might need to look at the recipe, um…
16 ounces of Jiff peanut butter
1 stick of butter
2 tablespoons of vanilla — pure vanilla
and 1 pound of confectioner's sugar
So, bring the butter to room temperature then cream the butter and peanut butter until it's smooth. Add the vanilla until it's mixed it then add the powdered sugar a little at a time and beat until it gets kind of crumbly. And then using a cookie scoop, make one inch balls, freeze them for 20 minutes, and then dip them in a chocolate/parrafin mixture:
12 oz of chocolate chips
and a half bar of paraffin
You dip the balls in the chocolate leaving a little at the top uncovered so it looks like a buckeye. Put them on a cookie sheet covered in wax paper, put it in the fridge for an hour, and then put them in a baggie or tupperware and store it in the fridge."

Christmas Cherry Chocolate Kisses
by Rachel's Mom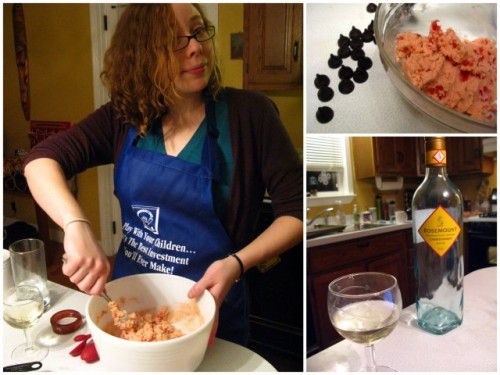 There are no pictures of my Mom because she was embarrassed by the sweatshirt she was wearing, which has a polar bear wearing sunglasses on it and the words "cool yule."
(makes 4 dozen cookies)
Ingredients:
1 cup powdered sugar
1 cup margarine or butter, unsalted and softened
2 tsp maraschino cherry juice (the liquid from the jar of cherries)
1/2 tsp almond extract
Few drops of red food coloring
2 1/4 cup flour
1/2 tsp salt
1/2 cup maraschino cherries, chopped
A bag or two of Hershey's kisses or vegan chocolate pieces
1. Open a bottle of wine.
2. Preheat oven to 350 degrees. Cream together powdered sugar, butter, cherry juice, almond extract, and food coloring.
3. Stir in flour and salt, but don't overmix.
4. Fold in cherries, and form dough into 1-inch balls. Place 2 inches apart on an ungreased cookie sheet and bake for 8-12 minutes, or until edges are light golden brown.
5. Immediately after taking cookies out of the oven, press a Hershey's kiss or chocolate piece into the center. Transfer to a wire rack to cool; be careful, because the chocolate will be very soft and melt-y.
6. Finish wine if you have not already. Enjoy with cookies.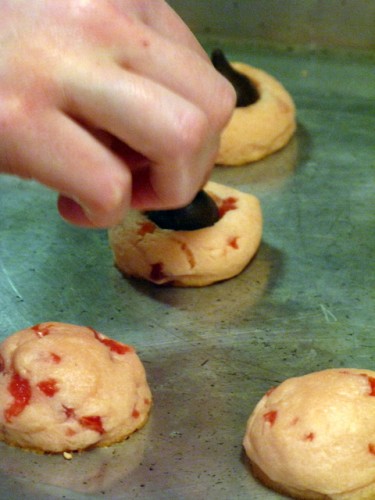 Share your favorite festive familial foods in the comments!