Pure Poetry Week(s):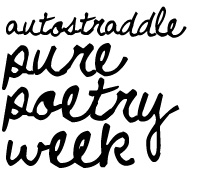 #1 – 2/23/2011 – Intro & Def Poetry Jam, by Riese
#2 – 2/23/2011 – Eileen Myles, by Carmen
#3 – 2/23/2011 – Anis Mojgani, by Crystal
#4 – 2/24/2011 – Andrea Gibson, by Carmen & Katrina/KC Danger
#5 – 2/25/2011 – Leonard Cohen, by Crystal
#6 – 2/25/2011 – Staceyann Chin, by Carmen
#7 – 2/25/2011 – e.e. cummings, by Intern Emily
#8 – 2/27/2011 – Louise Glück, by Lindsay
#9 – 2/28/2011 – Shel Silverstein, by Intern Lily & Guest
#10 – 2/28/2011 – Michelle Tea, by Laneia
#11 – 2/28/2011 – Saul Williams, by Katrina Chicklett Danger
#12 – 3/2/2011 – Maya Angelou, by Laneia
#13 – 3/4/2011 – Jack Spicer, by Riese
#14 – 3/5/2011 – Diane DiPrima, by Sady Doyle
#15 – 3/6/2011 – Pablo Neruda, by Intern Laura
#16 – 3/7/2011 – Vanessa Hidary, by Lindsay
#17 – 3/7/2011 – Adrienne Rich, by Taylor
#18 – 3/8/2011 – Raymond Carver, by Riese
#19 – 3/9/2011 – Rock WILK, by Gabrielle
#20 – 3/9/2011 – Veronica Franco, by Queerie Bradshaw
#22 – 3/12/2011 – William Carlos Williams & Robert Creeley, by Becky
#23 – 3/13/2011 – NSFW Sunday is Pure Poetry Edition, by Riese
#24 – 3/14/2011 – Charles Bukowski, by Intern Emily
#25 – 3/16/2011 – Rainer Maria Rilke, by Riese
#26 – 3/17/2011 – Lee Harwood by Mari
#27 – 3/18/2011 – Jeffrey McDaniel by Julieanne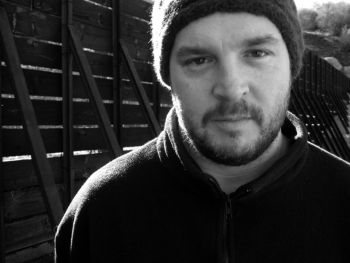 A poetry professor asked us to bring a poem to class and share it with everyone. I wanted to bypass Szymborska and Auden and Lowell and find someone we hadn't read in class, so I got lost in my university's Poetry Center.
I wound up in the M's and plucked Splinter Factory from the shelf: a small, paperback of Jeffrey McDaniel's poems. I opened it up to "The Archipelago of Kisses":
We live in a modern society. Husbands and wives don't
grow on trees, like in the old days. So where
does one find love? When you're sixteen it's easy,
like being unleashed with a credit card
in a department store of kisses. There's the first kiss.
The sloppy kiss. The peck.
The sympathy kiss. The backseat smooch. The we
shouldn't be doing this kiss. The but your lips
taste so good kiss. The bury me in an avalanche of tingles kiss.
The wish you'd quit smoking kiss.
The I accept your apology, but you make me really mad
sometimes kiss. The I know
your tongue like the back of my hand kiss. As you get
older, kisses become scarce. You'll be driving
home and see a damaged kiss on the side of the road,
with its purple thumb out. If you
were younger, you'd pull over, slide open the mouth's
red door just to see how it fits. Oh where
does one find love? If you rub two glances, you get a smile.
Rub two smiles, you get a warm feeling.
Rub two warm feelings and presto-you have a kiss.
Now what? Don't invite the kiss over
and answer the door in your underwear. It'll get suspicious
and stare at your toes. Don't water the kiss with whiskey.
It'll turn bright pink and explode into a thousand luscious splinters,
but in the morning it'll be ashamed and sneak out of
your body without saying good-bye,
and you'll remember that kiss forever by all the little cuts it left
on the inside of your mouth. You must
nurture the kiss. Turn out the lights. Notice how it
illuminates the room. Hold it to your chest
and wonder if the sand inside hourglasses comes from a
special beach. Place it on the tongue's pillow,
then look up the first recorded kiss in an encyclopedia: beneath
a Babylonian olive tree in 1200 B.C.
But one kiss levitates above all the others. The
intersection of function and desire. The I do kiss.
The I'll love you through a brick wall kiss.
Even when I'm dead, I'll swim through the Earth,
like a mermaid of the soil, just to be next to your bones.
You guys. It was like hearing an old friend's voice over the phone. Or, listening to a song you'd never heard before, but knew it was meant to be a part of your life somehow. McDaniel has been described as "one of the few poets that has successfully united the distant cousins of poetry: spoken word and written poetry."
The Quiet World
In an effort to get people to look
into each other's eyes more,
and also appease the mutes,
the government has decided
to allot each person exactly one hundred
and sixty-seven words, per day.
When the phone rings, I put it to my ear
without saying hello. In the restaurant
I point at chicken noodle soup.
I am adjusting well to the new way.
Late at night, I call my long distance lover,
and proudly say I only used fifty-nine today.
I saved the rest for you.
When she doesn't respond,
I know she's used up all her words,
so I slowly whisper I love you
thirty-two and a third times.
After that, we just sit on the line
and listen to each other breathe.