Pure Poetry Week(s):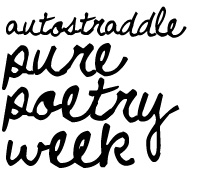 #1 – 2/23/2011 – Intro & Def Poetry Jam, by Riese
#2 – 2/23/2011 – Eileen Myles, by Carmen
#3 – 2/23/2011 – Anis Mojgani, by Crystal
#4 – 2/24/2011 – Andrea Gibson, by Carmen & Katrina/KC Danger
#5 – 2/25/2011 – Leonard Cohen, by Crystal
#6 – 2/25/2011 – Staceyann Chin, by Carmen
#7 – 2/25/2011 – e.e. cummings, by Intern Emily
#8 – 2/27/2011 – Louise Glück, by Lindsay
#9 – 2/28/2011 – Shel Silverstein, by Intern Lily & Guest
#10 – 2/28/2011 – Michelle Tea, by Laneia
#11 – 2/28/2011 – Saul Williams, by Katrina Chicklett Danger
#12 – 3/2/2011 – Maya Angelou, by Laneia
#13 – 3/4/2011 – Jack Spicer, by Riese
#14 – 3/5/2011 – Diane DiPrima, by Sady Doyle
#15 – 3/6/2011 – Pablo Neruda, by Intern Laura
#16 – 3/7/2011 – Vanessa Hidary, by Lindsay
#17 – 3/7/2011 – Adrienne Rich, by Taylor
#18 – 3/8/2011 – Raymond Carver, by Riese
#19 – 3/9/2011 – Rock WILK, by Gabrielle
#20 – 3/9/2011 – Veronica Franco, by Queerie Bradshaw
#22 – 3/12/2011 – William Carlos Williams & Robert Creeley, by Becky
#23 – 3/13/2011 – NSFW Sunday is Pure Poetry Edition, by Riese
#24 – 3/14/2011 – Charles Bukowski, by Intern Emily
#25 – 3/16/2011 – Rainer Maria Rilke, by Riese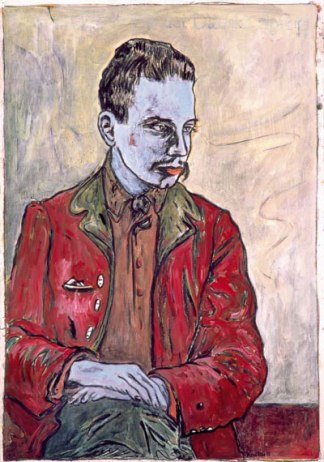 You've heard of Letters to a Young Poet, it's famous. It's by Rilke, he was born in 1875 and died in 1921, which is before you were born. Did you see Kissing Jessica Stein, that movie I disliked but many young homos liked very much? One woman is drawn to the other based on a Rilke quote used in a personal ad. Also in the movie, Jessica Stein reads this quote out loud:
"It is not inertia alone that is responsible for human relationships repeating themselves from case to case, indescribably monotonous and unrenewed: it is shyness before any sort of new, unforeseeable experience with which one does not think oneself able to cope. But only someone who is ready for everything, who excludes nothing, not even the most enigmatical will live the relation to another as something alive."
If you like that one, you might really love this one:
"For one human being to love another: that is perhaps the most difficult of all out tasks, the ultimate, the last test and proof, the work for which all other work is but preparation."
If you like that, or even if you just like "thinking" or "breathing," you will like I Am Too Much Alone in This World, Yet Not Alone. Even if you ditch everything after the very first "enough," you have a poem as grand and perfect as you could ever dream of —
I am much too alone in this world, yet not alone
enough
to truly consecrate the hour.
I am much too small in this world, yet not small
enough
to be to you just object and thing,
dark and smart.
I want my free will and want it accompanying
the path which leads to action;
and want during times that beg questions,
where something is up,
to be among those in the know,
or else be alone.
The same person who got me into Jack Spicer got me more into Rilke. I was so excited to tell her how much I loved this one poem Lament and she told me she'd already memorized it. I think it was a game, where she delivered the poem from memory and I'd correct her from the book if she lost something. She messed up once or twice, I think.
I'm only good at accidentally memorizing things. I've memorized three lines of Lament (I would like to step out of my heart / and go walking beneath the enormous sky. / I would like to pray), the rest I will have to transcribe:
LAMENT
Everything is far
and long gone by.
I think that the star
glittering above me
has been dead for a million years.
I think there were tears
in the car I heard pass
and something terrible was said.
A clock has stopped striking in the house
across the road…
When did it start?
I would like to step out my heart
and go walking beneath the enormous sky.
I would like to pray.
And surely of all the stars that perished
long ago,
one still exists.
I think that I know
which one it is —
which one, at the end of its beam in the sky,
stands like a white city…
My copy of The Selected Poetry of Rainer Maria Rilke is psychotic, quaking with the manic energy I must have been picking up from the manics around me but never from inside me. I've used two different color pens, written strange things in the margins, apparently double-underlined several lines, employed brackets, and, by the looks of it, read the whole damn book, including the Introduction (I often skip Introductions).
Here are some parts I underlined vigorously:
Whoever has no house now, will never have one.
Whoever is alone will stay alone,
will sit, read, write long letters through the evening,
and wander on the boulevards, up and down,
restlessly, while dry leaves are blowing.
(from Autumn Day)
In the poem "Spanish Dancer" I have drawn a box (red brackets, black underlining) around the words "And all at once it is completely fine." From "Tombs of the Hetaerae," I apparently felt compelled to circle, several times, the words "silent crypt of sex."
I've bracketed this:
Being dead filled her beyond fulfillment. Like a fruit
suffused with its own mystery and sweetness,
she was filled with her vast death, which was so new,
she could not understand that it had happened.
-from Orpheus. Eurydice. Hermes.
Brackets, underlining, and a star in the margin:
For this is wrong, if anything is wrong:
not to enlarge the freedom of a love
with all the inner freedom one can summon.
We need, in love, to practice only this:
letting each other go. For holding on
comes easily; we do not need to learn it.
-from Requiem for a Friend
Violently circled/bracketed single lines:
"Every angel is terrifying."
"Ah, I drank. Insatiably I drank."
"Didn't you have to promise, a hundred times, not to die?"
"We ignore the gods and fill our minds with trash."
"I don't even know what songs would please you."
"badly guesses presents."
Rilke was important, this is the part where I tell you that. The why of it. His thoughts were important and new. Rilke wrote in German and was born in Prague. His mother was tore up over her daughter who'd died only a week after birth and so she dressed Rilke like a girl and treated him like a girl. This stopped when he started school but his compassion for women and preference towards lady-company never waned. He married twice.
"[Rilke] was, if anything, androgynous. The term has come to stand for our earliest bi- or pan-sexuality, and this is not quite what I mean. Androgyny is the pull inward, the erotic pull of the other we sense buried in the self… Rilke — partly because of that girl his mother had located at the center of his psychic life — was always drawn, first of all and finally, to the mysterious fact of his own existence. His own being was otherness to him. It compelled him in the way that sexual otherness compels lovers."
–Robert Haass
Learn, inner man, to look on your inner woman,
the one attained from a thousand
natures, the merely attained but
not yet beloved form.
(from "Turning Point")
He is considered one of the most significant poets in the German language.
Poetry has a way of making people stick around. Writing these poet spotlights this week(s) — and there's still some left — I come back to the same people, the same places. I was remembering how we talked about stepping out of our hearts and walking beneath the enormous sky like it was a phrase as ordinary as English. We snuck in poetry in the same way I sneak in Ani lyrics with fellow Ani fans, the same way boys our age sneak Lebowski into everything.
I come back to boarding school, and to these four or five female friends from Interlochen who come in and out of my life, now, because we photocopy poems and put them on cardboard with magazine pictures and mail these poems to each other on our birthdays because you are never too old to collage. These moments where poetry felt so necessary I could say a thing like "poetry felt necessary" without feeling too heavy-handed.
I guess those were periods where I felt like writing was an important, necessary thing and it's hard to remember that because now the world is just so fundamentally ridiculous. But taking poems seriously makes me feel like writing & reading makes us a part of something ancient and special. Even if I'm pretty sure I cannot possibly construct one more legible sentence today.
This is one of those times, too. This Poetry Week. I'm glad we're doing this.
Aside from Lament, my favorite pieces of Rilke are from Letters to a Young Poet:

You ask whether your verses are any good. You ask me. You have asked others before this… I beg you to stop doing that sort of thing. You are looking outside, and that is what you should most avoid right now. No one can advise or help you – no one. There is only one thing you should do.
Go into yourself. Find out the reason that commands you to write; see whether it has spread its roots into the very depths of your heart; confess to yourself whether you would have to die if you were forbidden to write. This most of all: ask yourself in the most silent hour of your night: must I write? Dig into yourself for a deep answer. And if this answer rings out in assent, if you meet this solemn question with a strong, simple "I must", then build your life in accordance with this necessity; your whole life, even into its humblest and most indifferent hour, must become a sign and witness to this impulse. Then come close to Nature. Then, as if no one had ever tried before, try to say what you see and feel and love and lose.
In other words:
I would like to step out of my heart
and go walking beneath the enormous sky.