Pure Poetry Week(s):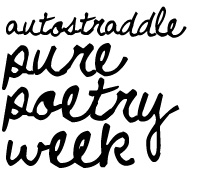 #1 – 2/23/2011 – Intro & Def Poetry Jam, by Riese
#2 – 2/23/2011 – Eileen Myles, by Carmen
#3 – 2/23/2011 – Anis Mojgani, by Crystal
#4 – 2/24/2011 – Andrea Gibson, by Carmen & Katrina/KC Danger
#5 – 2/25/2011 – Leonard Cohen, by Crystal
#6 – 2/25/2011 – Staceyann Chin, by Carmen
#7 – 2/25/2011 – e.e. cummings, by Intern Emily
#8 – 2/27/2011 – Louise Glück, by Lindsay
#9 – 2/28/2011 – Shel Silverstein, by Intern Lily & Guest
#10 – 2/28/2011 – Michelle Tea, by Laneia

You've maybe already heard of Michelle Tea because you're alive and also because you've read Autostraddle at least once. Did you know Eileen Myles dedicated Inferno to Michelle Tea? Did you read The Chelsea Whistle in three days? Can we sit up for hours and read The Beautiful to each other over glasses of whiskey or is this just the poetry talking.
When I saw Michelle Tea for the first time with Sister Spit in 2009, I felt like she knew more about me than I did about myself, and that's terrifying but also like a quiet room. I didn't want her to leave that night. Phoenix felt electric because she was there and Phoenix has never, ever felt electric, not even on its best day.
I want to copy the entirety of her book of poetry for you here, but I don't want her to be mad at me. So here are just a few poems from The Beautiful, which is a collection of her poetry written between 1993 – 1997. Themes include being a girl, being a queer girl, sex work, growing up, being hurt, or scared or tough or totally fucked or totally perfect for a minute; life.
Don't miss 'Kathleen' and 'Sushi' and also like, the whole fucking book.
We Could Be Soulmates [excerpt]
hey now tall girl
aren't you bored
all by yourself in your messy room
smoking pot till your head spins
out of your pillow
don't you want to be my
sister we can cut
ourselves open and
share what's inside smear it
altogether so there's a forever
with my name sliding through
your veins we could be
bloodsisters like two sweaty girls
in a backyard hideout you know
it might sound catholic or
it might sound cliche but you
look like the virgin to me and
i want to be hat holy child
chewing at your nipple
i've seen you
moving down valencia your
sharp bones poking at your clothes
when you walk it looks like dancin' and
hey there tall girl
don't you know you
sucked the heart right
out of my throat
this is serious
we could be soulmates you
are in my dreams like destiny
What I Know
don't you know?
don't you know?
when a boy
—————-hits you
it means he
—————-likes you.
and he likes me,
this eight-year-old boy
who took my shoulders
who held them against the wall
and made his tongue crawl
into my mouth
like a bad animal.
and he likes me,
this boy on the bicycle who keeps
hitting me he keeps hitting me
he pedals past with his hand out
to clip my head or he flicks
down his kickstand to make me
run and he likes me
this boy who took a stick
and whacked the curve of my
crotch and the girls all giggled,
yeah, he must really like you and
it would seem like the prettiest girls
could wear their luck like bruises
because don't you know?
don't you know?
it means they like you
when they fling small rocks
in your direction
it means they like you
when they tug your hair
to make your neck snap back
when they pinch your arm
to make your skin glow red
it means they like you,
judy blume said so, too,
it's in her books it's in
a lot of books it's in
their eyes as their hands
are reaching out for you,
that look of love,you've
seen it in your father's eyes
as his own hands reached out
for your mother and he likes her,
he even loves her, don't you know?
they just sometimes
have a hard time
showing it, these boys,
these silly
————–silly
——————–boys, when
they hit you
——————–it means
they like you.
don't you know?
I Used To Be Straight [excerpt]
i'm lighting votive candles
for the straight girls of america
lying on mattresses in their boyfriends'
loft apartments, posing naked for
their brilliant artist boyfriends, or otherwise
inspiring them to new levels of straight boy
genius, smoking cigarettes with each other
as they bitch about their sadly
tortured boyfriends, so proud
they've got a boy to bitch about.
i'm lighting votive candles
for the straight girls of america
because they'll never get the oscars
they deserve. and every now and then
i catch my ghost astride a cock that wasn't
even paying, hearing him ask
do you ever think of being with a woman ?
Original illustration for Autostraddle.com provided by and copyright Michelle Mishka Colombo 2011