Pure Poetry Week: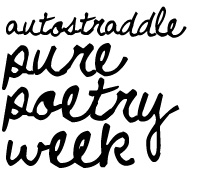 #1 – 2/23/2011 – Def Poetry Jam, by Riese
#2 – 2/23/2011 – Eileen Myles, by Carmen


I met Eileen Myles on Autostraddle, which was a good sign. My first thought at meeting her was that I had to leave this class I was in because oh my god I found this poet. Eileen knew everything, and her poetry felt genuine. I always feel when I read an Eileen Myles poem that I am getting to know her so much better.
My first Eileen Myles poem said this and was called "Smile":
"Every
time he smiled he thought Eileen
is a fool. Or that's what love looks
like."
Somewhere between that day and today, the day you let me talk about Eileen Myles, I left class and bought a leather bomber jacket and bought Skies. I had also developed an ebay addiction. Skies is a collection of poems. It was really cheap on ebay. The day after it arrived, I packed a bag and left home. I packed Skies. I didn't want to lose it so I carried it with me.
That night I ended up at a close friend who also writes for Autostraddle's house. At the end of the night it was my two friends and I and Eileen. I read Skies to them.
When I put Skies in my backpack I put away a photograph inside of someone I thought I was losing. I knew it would be safe there because I was going to keep Skies on my bedside table. It seemed cute, just her and I and Eileen.
Soon I had bought Sorry, Tree and The New Fuck You: An Adventure in Lesbian Reading which wasn't written by Eileen, but she edited it and I knew she'd have good taste. And I took Cool for You out of the library… and renewed it. I saved up for Inferno.
Every time I read a new Eileen Myles book, I end up carrying it on me for weeks. I think I'm going to end up with a good collection. I would never lose it.
"in a few
days you'll
be shaped
by this
& a new
meaning
will
come."