Pure Poetry Week: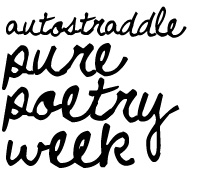 #1 – 2/23/2011 – Intro & Def Poetry Jam, by Riese
#2 – 2/23/2011 – Eileen Myles, by Carmen
#3 – 2/23/2011 – Anis Mojgani, by Crystal


Anis Mojgani is a Portland-based poet who ignited my love for spoken word and poetry slams. He is a genius, he speaks with passion and honesty that makes my heart leap.
I find myself enamored with every word that tumbles out of Anis' mouth, however there are 3 poems in particular that blow my mind: Direct Orders, Here I Am and Shake the Dust.
Watch Anis perform these poems below. You've been given a direct order to rock the fuck out.
Anis has also written two poetry collections, Over the Anvil We Stretch and The Feather Room.