Are you over the fact that Obama declared [part of] DOMA unconstitutional today? No. Neither are we. No one is. But even crazier than that is the fact that things actually get even crazier: on the exact same day, Ted Olsen and David Boies filed to have the stay on gay marriages in California ended. Despite Judge Walker's having ruled it unconstitutional, the 9th Circuit upheld an injunction barring gay marriages from actually being performed until the possibly neverending appeals process has been resolved. The California State Supreme Court recently announced that they will address whether the Yes on 8 side has standing to appeal, but the timeline for that is vague and will likely take months. There's no way to predict when marriage equality might finally become a reality given the pace of progress inside the legal system.
But basically — DOMA has always been that hold-up. That thing that happens when we try to push forward using this messy system of ours. It's like where the buck stops. So, without DOMA, the buck might never stop. You know?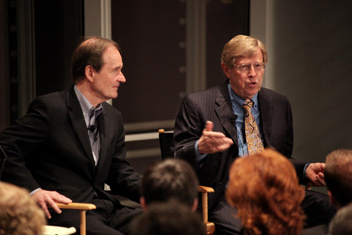 Today in a teleconference with reporters, Olson and Boies announced that they've filed a motion with the 9th Circuit of Appeals in San Francisco to lift the stay on gay marriages. There's no real sense of how long it make take the court to act on their request, or what action the Yes on 8 side might take to try to prevent marriages from commencing again. But Olson and Boies were adamant that the action needed to be taken.
"We had a trial, an exhaustive trial," said Boies. "We are now at two-and-a-half years since Prop. 8 passed. We are going on almost a year since it was held unconstitutional, and we simply believe it is time to allow gay and lesbian Californians the same rights."
It's been an incredible day for marriage equality already in the US; the very future of Prop 8 and other measures like it may now be radically different. We had thought that Prop 8's progression in appeals towards the Supreme Court might one day affect DOMA; now it seems like changes to DOMA might take place before same-sex marriage is even a possibility again in California. Ultimately the connection between the two cases isn't totally clear; there are interesting parallels, like the fact that Governor Schwarzenegger chose not to defend Prop 8 in court, and Protect Marriage was forced to take up the case on their own. How the fates of these two laws will affect each other, though, is complicated. The best explanation we've found so far is this one:
The long and short of this is that Boies and Olson argue that between today's announcement of the quantum shift in policy by President Obama and Attorney General Holder and the direction the California supreme Court is heading creates a situation is which there is simply no resolution of the appeal that favors the challengers – the h8ters – actually winning on the merits. There are several ways the case could go down, as pondered through by Boies and Olson, but none of them favor the bigoted proponents of Proposition 8.
There's no way of knowing when marriage will be possible in California again, but Olson and Boies have already proven themselves to be amazing litigators and human beings; if anyone can use their knowledge and experience to bring equality to California, it's them. It's clear that they understand what's at stake, and how much this means to us, and with that, anything is possible – as the events of today make brilliantly clear.
The more we speak about this, the more arguments are made on both sides, the more people are swinging to the side of believing that this is not tolerable. The more some members of the public change their minds, the more other members of the public will change.