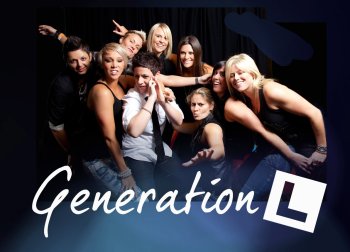 Australian production company Freehand, has followed in the footsteps of Ilene f*cking Chaiken by creating a reality television show that is centered around the lives of a group of lesbians living in Sydney, Australia.
The show is called Generation L, and it promises to be "a sensational new reality series that goes behind closed doors and into the lives and bedrooms of the new generation of gay women." Neat, huh.
According to Mumbrella, the show's 'sizzle reel' is currently being shopped around to Australian television networks. Meanwhile an 8-part web series, Generation L: The Road To Mardi Gras, will launch via YouTube this week! It will begin airing this Wednesday, March 2, and intends to document the lead up to this weekend's Sydney Gay & Lesbian Mardi Gras.
At the moment this is all I can tell you about the show, sadly no-one from Freehand has emailed me any official information such as a press release or my audition call time. So let's just watch that sizzle reel, shall we.
Thoughts:
– The Real L Word has made me absolutely terrified of how Australian lesbians will be portrayed on screen. Honestly the only thing that made The Real L Word even slightly bearable to watch was the knowledge that it was created in the USA and therefore I could distance myself from it. Not this time.
– Gay marriage is still illegal in Australia. This probably isn't very clear given that everyone in this preview seems to be engaged or wed. Maybe they were wed by our open-minded neighbours, New Zealand. I guess they'll explain all that later.
– The scene where Rachel calls Amber a "starfish" and Amber responds "I look like a dud root!" is perhaps the most unintentionally hilarious / awkward 15 seconds of footage I've seen this year. Thank you, Amber and Rachel.
– We really do speak like that.
– Sydney has quite an ethnically diverse lesbian population. I guess you'll just have to take my word for it.
– Kate is cute. I like her vest.
– While there were a few moments in this preview that made me cringe, my gut feeling is that this reality show / web series will be fine, I might even enjoy it. What do you think?