Welcome back to Autostraddle's Book Club! Let's talk about Juliet Takes a Breath by Gabby Rivera.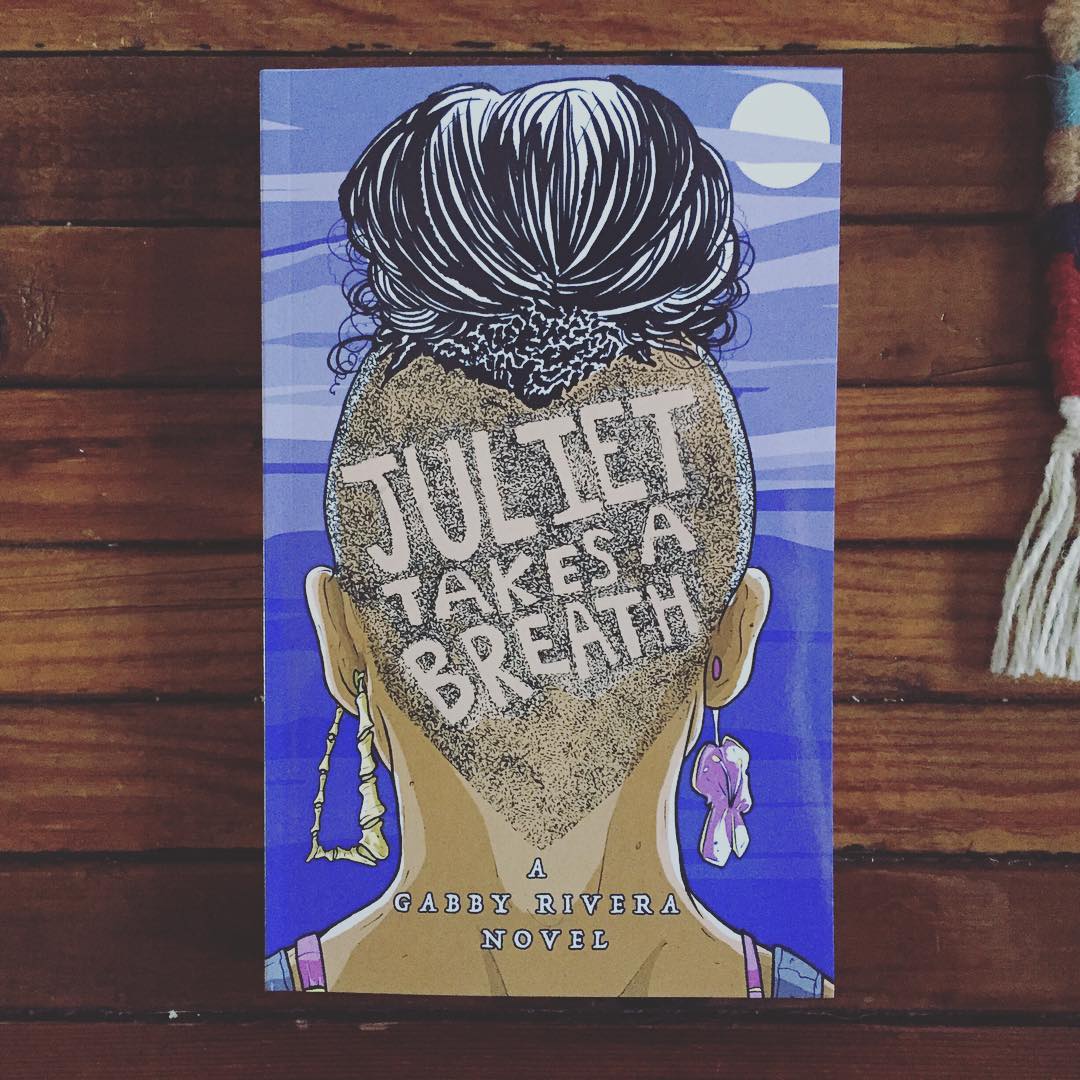 Since I last announced we were going to have an Autostraddle book club on Juliet Takes A Breath, so many things have happened! You ordered the book, it arrived, you dove right into the book and didn't come up for a breath till you finished, Roxane Gay read it too and gave it raving reviews on Goodreads and on Twitter and now we're all here to revel in all it's glory together!
I interviewed Gabby — well it was more of a conversation with Gabby, a really good conversation with Gabby about her book. We talked about subtleties in Latinx media representation, queer community, forgiveness and, of course, Lil' Melvin.
---
Yvonne: It's been a couple weeks since your book has been officially out. How do you feel about the world getting your book?
Gabby: I am so pleased that Juliet is being received with lots of love and excitement from other people, especially other queer people and queer women and women of color, my community of people. I feel really humbled and excited about all of that for the book. I feel really excited for Juliet, she gets to go out into the world. She's not just this character/book situation that I am grappling with alone at home. So I feel really excited. Muy excited.
Yvonne: That's good, I'm glad. I feel like everyone should be excited because it is such a good book and I'm not just saying that. I really do think it's really awesome.
Gabby: That means a lot coming from you. I have so much love for my queer community. It's full of really smart and honest radical folks. One of the things I was worried about was will my family, my queer chosen family, appreciate this and love this because I know that they wouldn't bullshit me.
Yvonne: Yeah, I feel that.
You're writing an essay for Autostraddle about how Juliet Takes a Breath came to be. Can you give us a little sneak peak of what that essay will be about? What inspired you to write this book? Why did you want to take it into the YA novel direction?
Gabby: One, it started off as a short story. Anyone who has bought, purchased or read Portland Queer: Tales From the Rose City edited by Ariel Gore knows that. You'll find the first iteration of Juliet Takes a Breath in that book. I never meant it to be a long novel. I just wrote this short story. During a reading for Portland Queer — it was nominated for a Lambda so the Lambda Awards had a reading for the nominees — somebody who was in the audience was like, 'I really like the way you told that story and I really liked this story, if you turn it into a book I will publish you.' I was like Whhhaaat!
Someone was just like, I will publish you. What? That wasn't even my world at the time. I was still freelancing in TV/Film, I was on the hunt for something to crack. I took a year off on unemployment. I just want to say, in case the government is reading this, that I definitely tried, every week, my best to find legitimate employment while I was home working on my book. That is kind of the long and short of that, with more details to come.
And the YA direction, well technically it's something called New Adult. It's New Adult because Juliet is a little older. She's above the age of consent and is involved in stuff that goes a little beyond high school experiences. That was just how it was. I was writing from a first person perspective which was the attitude and tone which naturally fell into that genre. I think I kind of write in that way in general. Very first person, in your face, this is what I'm going through here are my jokes. This is how I see the world kind of thing.
Yvonne: One thing that I love about your book is that it doesn't follow the formula of other queer New Adult narratives. It's not centered on a love story. There are a lot of different threads throughout your book that it is not like oh, the protagonist meets a girl, she falls in love and now she has to come out to her family and that is the whole plot. It's centered on finding new things about herself. Why is that narrative important in telling other LGBT stories? I know you were centering these things on your own experiences, maybe you can talk about that?
Gabby: One, yeah, it's based off of something I actually experienced. When I was first writing it, I wanted the book to be as true to form as I could remember it. We're talking about before workshops, before anyone was reading it, before people were guiding me, it was just me in my brain thinking 'oh this is how you write a book, you have to write down every single thing that ever happened to you.' For me the story was always about that moment you fall in love with a book. There are only some moments with girls that have felt even a little bit like what it's like to experience revelation that comes from a book. That was always the central focus. This is the story of about someone who goes on a journey because of these new experiences and new ideas. Also, ideas that feel really familiar because I think Juliet is grappling with feminism in that way. Here is a white lady author who has all this sparkly new language for some stuff that she is already seeing in her mom and grandma and in her own life. I also I wanted her to have fun. Sometimes I think when someone is stuck on one person and they're only dealing with the ups and downs in that relationship it can feel real heavy. I didn't want to do that. I wanted Juliet to be able to make-out with other people and not have audiences be like, "she's cheating, oh my god." I wanted there to be some wiggle room. Also, you and I know this — you never hear about Latinas reading anything! I've never read a novel about a Latina queer person and their nerdiness.
Yvonne: I found myself laughing out loud to so many things you wrote and really connecting with Juliet and random Latino things. Not just with the Virgen or Selena references but also — the one that stuck out the most to me was when she was on the bus in Portland and everyone was smelly, that legit happened to me in Austin too. I thought why the fuck are all these white people on this bus and why do they stink? That whole section about your mom telling you how to clean yourself, I thought this is a Latino experience, this is exactly what my mom told me too. I really appreciated that your book incorporated things like that — that weren't just outright oh this is a Latino thing like saying a Spanish word or sharing Puerto Rican food or something that is super identifiable. It was more like seeing my own experiences and knowing how that feels. This isn't really a question. I wanted to appreciate that. Maybe you wanted to talk about that.
Gabby: It's hard to be seen sometimes. I think sometimes the only way that mainstream entities think that certain identities can be made visible is by music or food. If it's McDonald's and it's the Latino McDonald's commercial it starts — ting ting ting, salsa music starts to play and it's someone with a Spanish accent talking about McDonald's.
Or like on The L Word for Carmen, I loved that representation but it was very much, 'let's make sure there's a quince in there.' What I'm trying to say is that there isn't a lot of subtlety in portrayals of Latinos or ethnic group or whatever group of marginalized people. It's really cool to hear you say that you identify with those things. Because of that lack of representation, then you aren't sure if other Latinas are experiencing the same things you are. There isn't enough media for us to see those other smaller ways that we experience similar things. It was also important to just be honest. You know, I have this same experience, I got on a bus in Portland and was like what the fuck? The Bronx has its own smell, urban environments have their own smell and I think you get kind of used to that. I think that there is also ingrained internalized white supremacy at play because you imagine that white people are not going to smell or not be gross, or be poor. Those moments, I didn't want to water them down. I didn't want to portray Juliet in that way. She isn't perfect. She is going to be wide-eyed and awkward with things. She is going to be like 'damn, this fucking stinks.'
Yvonne: Were you ever like "I'm a Latina and this book is going to be about queer people of color so I have to actually bring it." You know what I mean? Did you ever have a fear of not owning up to that?
Gabby: Yo, girl let me tell you, the first iteration of this book happened before I was really deep in my evolution and deep in my political consciousness or my radical self. It would've been the novel that fucking bombed in my face if I hadn't taken time to explore things with Autostraddle — explore writing about different stuff for Autostraddle, reading Autostraddle, being, unfortunately, called out by people in the comments section for all sorts of things. It may have been hurtful or made me feel ashamed but it helped me grow. Also, the internal community of Autostraddle always being there. 'Hey, you got called out, let's talk about it, all of us will talk about this with you together, we are going to get through this and learn what it means to be seeped in white supremacy and learned what it means to be transphobic and we're going to have this safe space to learn about all this stuff.' That support was always there.
The book is at least five years in the making. When I hit a certain point, I thought 'this can not work.' Something in my head thought, wait, my people are missing from this. My radical consciousness is missing from this. I didn't know who Juliet was. It was just this story that had no context. I didn't feel pressure to hit every point to make sure she didn't do this, and make sure she doesn't say that. But I owed Juliet depth and I owed her an evolution. I owed the people in my life representation. For example, Maxine is based on a mentor of mine who is a Black womanist theologian and when I was writing Maxine first I didn't have that person in mind. Maxine was flat and was maybe stereotypical in different ways. When I started sitting in myself and thinking, who do I love, who are my people, how can I pull their voices into this? It really raised the novel up and elevated the writing and Juliet's experience.  It really raised it to a place where I was like, "Oh I feel proud of this."
Y: The biggest revelations or takeaways that I got from the book happened at the end of the book when Harlowe does some fucked up shit to Juliet and then Zaira basically teaches Juliet about how not everyone is disposable and about forgiveness. There's this really awesome line that I really love, I'm just going to read it to you: "You'll learn when to forgive human error and when to eradicate the unworthy from your spirit."
It's something I've been grappling with a lot, like when somebody in your community fucks up, how do you deal with that? We live in a hardcore call out culture and we're just so used to just telling people, "You fucked up, get out." It just made me pause and think, like, "are they really disposable? Are these queer people, who are supposed to be your community, disposable?" Even if they're white. As a person of color, white people can do fucked up shit but do we really need to shut them out? It was just something that hit me for some reason. So was that an intentional thing to incorporate or was that something that you learned, you've been learning, how did you come to put that in the book?
G: I really wanted to explore relationships and the way that they're complicated. I've had the lovely experience to exist in many different types of queer, lesbian, dyke circles and age ranges. I noticed how deep and strong their bonds were with each other were, but also how deep a cut off could be. And so it wasn't like their first response is to cut people off. I've seen a lot of older women be in these really impenetrable, unbreakable, totally solid relationships, platonic or otherwise, and that isn't something we always get to see. Because one of the lesbians dies or something comes along and seems unforgiveable, you know for the dramatics of the story, people break up and that's it.
And so, with their friendship, i wanted to explore that. In my heart Zaira is Afro-Latina, but also Black American so she's both of those worlds and Maxine's Black American and then you have a couple of other characters, another Latinx character and a white character, so it was all these women with all these different ethnicities and some white people. I took the pressure out dealing with whiteness in this particular context because I'm dealing with it so much in other ways, like how would they navigate this friendship? Would changes in their intimate relationship really be the thing that totally cuts them off from each other? And also is that what I want to say to my people and to the younger queers out there in the world? Like, oh yea, well, since this happened and she did this and they did that, now no one is speaking to each other and that's fine and forget them. I don't think that's the answer. When you can move forward and you look back on your relationship with a person and it has withstood all of these things, I think in front of you is someone who you can say will always be there. And we need to model loving behaviors. No one is doing that for us. Where can we see that? Where in our actual lives and in media representation do we really see queer women, queer adults, continuing and holding onto these friendships and these relationships in a way that doesn't diminish their spirits, but that make us all stronger. A lot of it is intentional, but there was definitely a moment in those scenes where I was like, "Ok. What do I want to say, what would be authentic to them? What do I want to leave them with?"
Y: I know you as a person are just very good at like being… I don't know. You look at all the good in people. You're very good at that. And I feel like that portion in the book was a representation of that. You see the good in people and you take that with you.
G: It's so hard! All of this shit is so hard, like, I think that we should move with love and especially gentleness. I think sometimes it's hard to be gentle because we are violated, we are marginalized, we are pushed to our limits, we are not supported in so many ways, and that's like a general we. We, people of color. We, queer people. We, poor people. We, all of these people, right? Why not try? And this is also in no way indicative of cosigning these bad people in your life, you know what I'm saying?
Y: Definitely, yea.
G: And that also is the tricky part because some people may look at Harlowe's behavior and be like, I will not accept that, I will not tolerate that, I will not keep that, and so it's not like an indictment against either, it's more like this situation, this is what these people chose to do.
Y: Yeah, what I'm trying to say is that I think we're so quick to cut people off, and I mean it's true, sometimes some people do need that, like if someone really crosses a line with them, who aren't their friends, you don't need to give them the time of day, you don't need that person. But I feel like this is something that a lot of people don't give enough thought to. 
G: Harlowe has already lost significant things at this moment. It's almost like Maxine and Zaira are so with it that they know that she is suffering in different ways, you know what I'm saying? There is loss and sometimes it's enough for a person to have lost romantic love. We do not have to then further isolate or excommunicate.
Y: I was super jealous of Juliet's mentors, just like the plethora of people of color mentors that she had, because I wish I had one. You've worked with LGBT youth in the past, and you were just talking about a mentor that inspired Maxine, so like how did your experiences with mentorship in general influence that aspect of the book for you?
G: This whole thing wouldn't have been possible without the mentorship of older women, women of color, queer women — like just hands down. So it was, for me, really important to write that. And also that was the world that I was inhabiting too, so when I'm bringing them together and fictionalizing them, I pulled from everybody.
I am a queer Latina. I am alive, thankfully. I have supportive family. I have a supportive queer community. Those are gifts, those are gifts from the universe. For me not to provide that for others, or do work in that area for queer youth, LGBT youth, to me that's like a disservice. You have to share those gifts. So building in mentorship to the story about Juliet was kind of like marrying all of those things. So it's like an homage. I'm choosing to honor the women that have influenced me. It's modeling how you can relate to others, how to reach out to others, how others can interact with young people and also creating something that will live beyond me. And creating something that can be used in a lot of different ways. And young people who don't feel like they have representation, here we go. I think that's a form of mentorship too.
Y: Another thing I really liked about your book is all the family in your book—all the badass women in your book. My family is very matriarchal. My mom runs everything. And that's something that I know isn't usually the norm in Latino families. So it was really cool to see Latina family members running shit. The aunts that you wrote about and Juliet's mom — I just felt that was really powerful in itself, even though Juliet's mom had reservations about Juliet's queerness in the beginning. It was just something that I was really happy to see, because people have this one view of what we say about being a queer Latinx. 
G: My parents have like a 50/50 situation in the house, but my my grandmas ran their homes. My mom's mom was definitely like the abuela who didn't really speak a lot of english, but was like a boss, and had five kids, worked hard and was a seamstress in the Garment District and was newly transplanted from Puerto Rico into hostile white america in NYC. I didn't get a lot of time with my mom's mom because she passed away when I was ten, but she was definitely like the matriarch. And my dad's mom was a powerhouse in her own right. She was a woman that learned English, was the cleaning woman at a school and then worked her way up to get a Bachelor's in education and become the head teacher in that school. She owned her own businesses. She sold jewelry on the side. She was the epitome of a powerhouse of a woman, a hustler. She was like Blanche Devereaux too, in her glamour, in her method of dress, in that everything had to be professional and stylish—I've never seen a woman like her. Maybe my mom's mom, in a more traditional sense, but I've never seen a woman like my grandma anywhere. And that was important to me. The machismo lives in other areas in the book. I think for me some of the most vibrant people on both sides of the family have been women — Titis, cousins — loud beautiful brassy bold women. There's an idea of machismo, but sometimes it's this laid-back thing where men sit in another room, watching the game and all the women are in the kitchen making the decisions and running shit. So that was just important to me, I love the memories of my family. Also, I'm not gonna name names, but a lot of the more famous and more well-known stories about Latinos are so male-dominated and it's so exhausting to navigate.
Y: For sure. I agree. But, Lil' Melvin was a highlight of the book too! I was like "oh my god, I love him so much! He's so cute!"
G: I know, people are writing to me about how much they love Lil' Melvin and he's like, in eight pages!
Y: No, he's like so good! He's so good. 
G: Okay, let me ask you, why do you love Lil' Melvin?
Y: I think I love Lil' Melvin because I also have a little brother too. I have images of childhood too, like with his round belly, being a weirdo and us being weirdos together. When I came out to my brother, he was just like "okay." Because we were having a conversation about girlfriends, and I asked him, "do you have a girlfriend?" and he was like "No, I'm not seeing anybody, how about you?" And I just went for it, I was like "Yeah, I have a girlfriend," and I was just talking to him about her. And I was just looking at him and he was like "What? Did you want me to judge you?" And so Melvin just reminded me of my own brother, how he's just low-key super supportive. 
G: I wanted him to not be a loser, to be a nerd and be hilarious and be supportive and be his own little rockstar. I feel we don't get that either—I feel like Latino men and boys are treated in a certain way — they're like gang bangers or drug dealers or assholes. Where there could be more nuance, there isn't, and so Lil' Melvin was just fun, and incorporated some elements of my brother when we were growing up. My brother and I would spend hours playing Final Fantasy. And by playing, I mean my brother would play, and I would sit there with the story and help him strategize.
Y: That's hilarious. Just having him be gay or queer too is awesome too, it's just like, "What! Lil Melvin! You're so cute!"
G: If I remember correctly I don't think Juliet's father Ernesto has any actual lines in the book. I know this is silly, like "oh not all men are bad," but I also wanted there to be a relatable or lovable character that identifies as male. I think that's important too, if there is a queer Lil' Melvin out there and he snatches his sister's copy of Juliet Takes a Breath, I want that to be there too — some goodness, so that I don't demonize my people too. I didn't want the only reference of Latino boys in the book that even I wrote is a bunch of guys cornering this one girl in a bodega — that didn't sit well with me either. It kind of goes back to your question — there were totally moments where I gotta hold myself accountable for so much in here so that I can serve my people as best as I can.
Y: Yeah, definitely. And it's a tall order, you have to write to the queer aspect, and the Latina aspect, and your feminism and this and that…
G: And gender too! If I was further along too in my own personal evolution there may have been more there as far as gender essentialism and pulling those pieces apart too. I wanted Juliet to be authentic in the way some people experience evolution. For me, there was figuring out I liked girls, and then there was identifying as a lesbian, and then identifying as queer, and then altering my presentation to feel more comfortable, and then there was experiencing this and that, so it happens in pieces and stages for some people. Maybe someone experiences all of these things at the same time, but I wanted it to be there in the ether—like there is so much more for her to learn, for people to learn, and it doesn't all have to happen at one time. And also, a part of that is that there's still so much space for so many narratives.
Y: Yeah. And nobody, not one person, evolves that much in like, one year. 
G: One summer!
Y: One summer, yeah! I totally understand where you're coming from, and I think you did that—you made room for those other things to be told, in other stories.
So another big pillar in this book is the queer community of course, something that is also not talked about in YA/new adult books. It's not talked about, as in when you're newly queer, you think queer community is going to the gay bar, and you really don't know what that looks like yet because you're a new member of the club and you don't know where to go. I feel like queer community is something we don't talk a lot about but we really need in your life. I don't know how to explain it…we all have to figure out how to find that, and there's different ways you can find your queer community, but it just demonstrates how important it is to find your people, and to find a crew that you love and that loves you back, that reflects your whole self. I know Juliet was trying to figure it out in Portland, and then when she went to Miami she found a better queer community that would support her. 
G: Well it's like, layers of community. So in Portland with Harlowe, there is a definite betrayal. But Juliet's also forming relationships with like Maxine and Zaira and writing in different ways and different spaces and seeing black and brown hippie women for the first time, so there's layers of it. I think in Miami it's the younger queer community— so the time frame is a little different. I tried to play with that too, it's supposed to be set in the 2000s but in my mind it was like Phoenix's Phresh Cutz experience: the pop-up barbershop queer POC-led parties in Brooklyn, where there are young people coming up, young adults like "Fuck the gay bar, why would I even go to a fucking gay bar…like, fuck Pride, I don't want to go to Pride, I don't want to deal with that corporate white-washed bullllshit." So then what does queer community look like? It looks like parties.  It looks like going to somebody's house. It looks like Tumblr. It's all of us coming together and organizing and doing all these things and having rallies.
I think it's also interesting for Juliet, that there's a portal that comes from her family. And I don't think there's a lot of that either. I think we get these narratives where there's this ONE queer person in the whole family or in the whole fucking movie and it's about the one queer person navigating a sea of straight, and it's like, does that always ring true though? Chris Rock has that amazing joke where he's like "Everybody's got a gay cousin." But what if you have lots of family, like there's 40 cousins! It's going to be more than one of you! And so I think it's totally true and that's also something that resonates with me about how much Autostraddle influenced and supported aspects of this book. Because with AS I found so much community at so many different levels: the Auto community at large, the Speakeasy, the writers, the people who just make me laugh my ass off, the people whose faces I see at camp. There's so many layers of it and so many ways we're community. We do meetups, we do Skype sessions, we do all of these different things to stay connected…we're getting fucking married to each other, too! So it's so important, so so important, it's these communities that keep us alive and thriving. I hate the word "resilient," I hate that word, and I much prefer the word "thrive." We come into community with each other and we bloom and we grow. And it's super, super important. It's mandatory. Without it, we cannot flourish.
---
So what did y'all think of the book? Did you have any surprising revelations? What was your favorite quote of the book? Favorite moment? What did you love most about the book? Who was your favorite character? Why? If you could give a copy of Juliet Takes a Breath to someone, who would it be? Why? Let me know your answers and all your thoughts and feelings in the comments! 
Didn't see an answer to a question you have? Want to know more about the book? Tonight from 9 pm – 11 pm EST Gabby will answer your questions about Juliet Takes a Breath on Twitter. Isn't that neat? Just tag your question with #ASBookClub and you can talk to the author herself about all the amazingness you just read. During the Twitter convo, Gabby will give away a copy of the book, so stay tuned to the discussion to see how you can win!