Pure Poetry Week: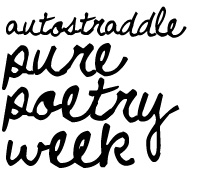 #1 – 2/23/2011 – Intro & Def Poetry Jam, by Riese
#2 – 2/23/2011 – Eileen Myles, by Carmen
#3 – 2/23/2011 – Anis Mojgani, by Crystal
#4 – 2/24/2011 – Andrea Gibson, by Carmen & Katrina/KC Danger
#5 – 2/25/2011 – Leonard Cohen, by Crystal


Poetry is just the evidence of life. If your life is burning well, poetry is just the ash.
– Leonard Cohen
It took me many, many years to recognize Leonard Cohen as one of the great [relatively] contemporary poets. During my teens I was only ever aware of his musical accomplishments, that he was the older Canadian gentleman who performed deep-toned 'adult' folk that I'd never paid attention to.
It wasn't until I was in my early 20s that I realized that Leonard Cohen was an accomplished poet, that his songs were poetry set to a soundtrack. I studied up and learned that Cohen was an English Literature undergrad at university and has been writing poetry since the 1950s. His first collection, Let Us Compare Mythologies, was published with critical acclaim when he was just 22 years old. After reading it I was compelled to read everything, all of the poems and lyrics and prose.
Over his career, Leonard Cohen picked up the titles of "the Poet Laureate of Pessimism," and "the Godfather of Gloom," largely due his willingness to write brutally about complex emotions and the darker aspects of the human condition. If I had to pinpoint one thing that I admire most about his work, that would be it.
If you've never looked into Cohen before, here are a few highlights.
Beneath My Hands
Beneath my hands
your small breasts
are the upturned bellies
of breathing fallen sparrows.
Wherever you move
I hear the sounds of closing wings
of falling wings.
I am speechless
because you have fallen beside me
because your eyelashes
are the spines of tiny fragile animals.
I dread the time
when your mouth
begins to call me hunter.
When you call me close
to tell me
your body is not beautiful
I want to summon
the eyes and hidden mouths
of stone and light and water
to testify against you.
I want them
to surrender before you
the trembling rhyme of your face
from their deep caskets.
When you call me close
to tell me
your body is not beautiful
I want my body and my hands
to be pools
for your looking and laughing.
Take This Longing
You're faithful to the better man,
I'm afraid that he left.
So let me judge your love affair
In this very room where I have sentenced
Mine to death.
I'll even wear these old laurel leaves
That he's shaken from his head.
Just take this longing from my tongue,
All the useless things my hands have done,
Let me see your beauty broken down,
Like you would do for one you love.
(cont'd)
Chelsea Hotel #2
I remember you well in the Chelsea Hotel,
you were talking so brave and so sweet,
giving me head on the unmade bed,
while the limousines wait in the street.
Those were the reasons and that was New York,
we were running for the money and the flesh.
And that was called love for the workers in song
probably still is for those of them left.
(cont'd)
The Pro
I leave my silence to a co-operative of poets
who have already bruised their mouths against it.
I leave my homesick charm to the scavengers of
spare change who work the old artistic corners.
I leave the shadow of my manly groin to those who
write for pay.
I leave to several jealous men a second-rate legend
of my life.
To those few high school girls
who preferred my work to Dylan's
I leave my stone ear
and my disposable Franciscan ambitions.
You can find more in these collection:
Let Us Compare Mythologies
The Spice-Box of Earth
Flowers for Hitler
Death of a Lady's Man
Book of Mercy
Book of Longing