Pure Poetry Week: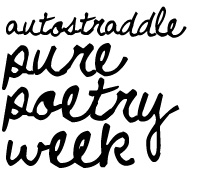 #1 – 2/23/2011 – Intro & Def Poetry Jam, by Riese
#2 – 2/23/2011 – Eileen Myles, by Carmen
#3 – 2/23/2011 – Anis Mojgani, by Crystal
#4 – 2/24/2011 – Andrea Gibson, by Carmen & Katrina/KC Danger
#5 – 2/25/2011 – Leonard Cohen, by Crystal
#6 – 2/25/2011 – Staceyann Chin, by Carmen


Staceyann Chin has very good hair. I know this because when I saw her at the Campus Progress Conference in 2009, I was taken aback by the sheer power of her hair. I was later wooed by her words, but I still love her hair. For reference, she looks this way:
I brought Chin to my own campus last year, and am continually on a crusade to bring her back. Her writing reflects a fearless spirit and an optimistic soul, and her spoken word performances only echo and emphasize her powerful pen. She's also queer and a person of color, and an outspoken feminist and activist. I really don't think she could get better.
Chin's writing covers a lot of topics- so I'm going to share excerpts of two very different pieces with you. Because I love you.
This is the first thing Staceyann Chin ever said to me. It is an excerpt from her novel, The Other Side of Paradise. She performs it A LOT. There is a good reason:
But there is also a poem that I saved after reading it and read over and over. A poem that I traced over and saw myself in each line of. This poem is called "Her Body." It is the only thing you absolutely need to read today. (Beside the rest of autostraddle.com.)
I am afraid she already knows I am not
who I pretend to be
I do not know how to tell her about these poems
leaking scared and angry from my pen
But we are going to see a therapist this week
love and basketball
and best friends in seasons keep us from killing each other
we tread safe like the way we love
I don't know if this will be enough
I cannot lose her a second time
I am not certain I could bring her back for another go-round
again
Her body
is the exact opposite if mine
sandbags at water level we prevent one another
from drowning
Her body is the exact
opposite of mine
I am desperately trying to complement her
'nuff said.