Holla, my little snowflakes!
What a week of ups and downs. Gabrielle wanted to know why "For Colored Girls" wasn't enough for Hollywood and then congress decided to up and cut spending on Planned Parenthood. The new budget also means less to no money for NPR and PBS but we've got the top 10 gayest This American Life episodes anyway. On president's day, we looked at some of the kickass first ladies and then a few days later, Obama announced his opposition to DOMA. It even looks like all the prop 8 nonsense might finally be over. Wednesday kicked of Pure Poetry Week with Def Jam, followed by Eileen Myles, Anis Mojgani, and Andrea Gibson. Riese recapped this week's episode of Glee and Chloe told you all how to properly collide your gays and strais.
---
On Facebook Adds 'Civil Union' Relationship Status (and Don't Kill Me But I Don't Like It):
The In a Relationship With Facebook Award to Kate:
Well, I totally agree. Also I think it blurs the line between relationship and domestic partnership. Which is why I am now listed as in a domestic partnership with my (male) cat.
On House Votes to Pull Federal Funding From Planned Parenthood, Does Not Know How to Treat a Woman:
The Glen Coco Award to sophie:
candy cane time! four for you jackie speier! you go jackie speier! and none for the gop, bye.
The Hi Dad! Award to TSwizzle: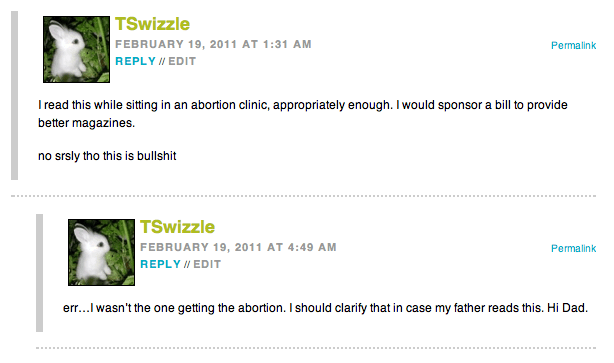 On Happy Presidents Day! Here's the Women Who Did All the Work:
The Harry Potter Award to Rachel B:

The A Day In the Life of a Homogay Award to JC, NatWalrus, scarlet!: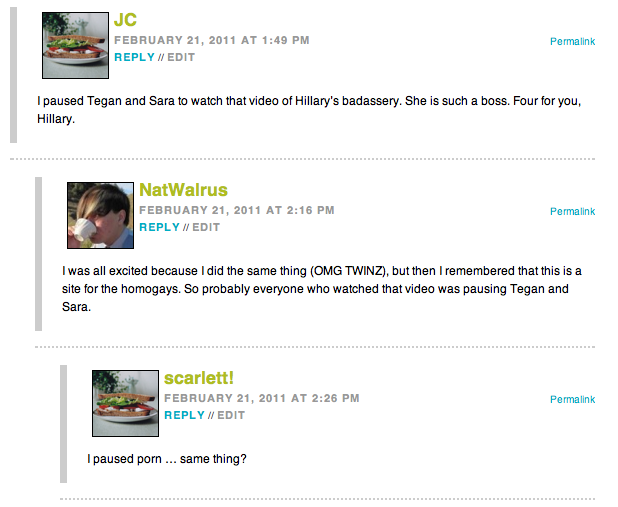 On How To Be Gay When All Your Friends Are Strai But Probably Love You Anyway:
The Cycle Award to Rawrosaureins, hmhr: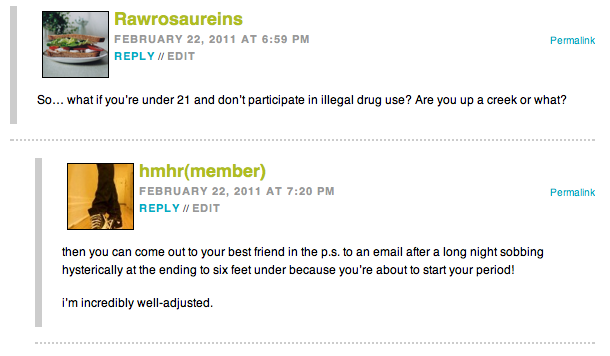 On Lady Gaga Makes Shit Happen, Demands Target Play Nice With the Gays:
The Trade Your Kids Meal Toy For Ice Cream Award to emilu:
Ooh, can we get her to go talk to Chick-Fil-A next? 'Cause that's waaay harder to resist than Mossimo tank tops.
On Pure Poetry Week Starts Now! With Pure Poetry Post #1: Def Jam:
The One Word Poem Award to diver:
My favorite poem is a fragment by Sappho. Here it is:
soap

On Obama Administration is Over DOMA:
The Comment Award Award to e, rawrosaureins, checkeredpaint, SomethingClever, Eje, Jader, terracottatoes: