Pure Poetry Week(s):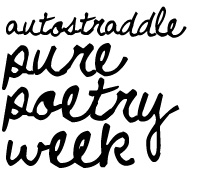 #1 – 2/23/2011 – Intro & Def Poetry Jam, by Riese
#2 – 2/23/2011 – Eileen Myles, by Carmen
#3 – 2/23/2011 – Anis Mojgani, by Crystal
#4 – 2/24/2011 – Andrea Gibson, by Carmen & Katrina/KC Danger
#5 – 2/25/2011 – Leonard Cohen, by Crystal
#6 – 2/25/2011 – Staceyann Chin, by Carmen
#7 – 2/25/2011 – e.e. cummings, by Intern Emily
#8 – 2/27/2011 – Louise Glück, by Lindsay
#9 – 2/28/2011 – Shel Silverstein, by Intern Lily & Guest
#10 – 2/28/2011 – Michelle Tea, by Laneia
#11 – 2/28/2011 – Saul Williams, by Katrina Chicklett Danger
#12 – 3/2/2011 – Maya Angelou, by Laneia
#13 – 3/4/2011 – Jack Spicer, by Riese
#14 – 3/5/2011 – Diane DiPrima, by Sady F*cking Doyle
#15 – 3/6/2011 – Pablo Neruda, by Intern Laura
#16 – 3/7/2011 – Vanessa Hidary, by Lindsay
#17 – 3/7/2011 – Adrienne Rich, by Taylor
#18 – 3/8/2011 – Raymond Carver, by Riese


Raymond Carver is a very famous short story writer, maybe even the best short story writer of the second half of the 20th century. One of them, even. It's like he invented this style. Minimalism. Some titles are What We Talk About When We Talk About Love and Will You Please Be Quiet Please?
Maybe you read Cathedral in class –Norton loves Cathedral — the one about the blind guy, and tracing?
People seem to think he wasn't as good at poetry as he was at stories. Maybe he was just SO good at stories that they didn't notice how perfect his poetry was.
He was who and what I admired when I first got to art school. I would read a Raymond Carver story and then write my own story. His protagonists were sad and their wives were disappointed. I write too many words all the time but Raymond Carver doesn't need so many words. I read three biographies about his life of drinking, being with Tess Gallagher (also a writer) and before that being married to Maryann, teaching at Iowa. New books about him have come out since. That's not important.
Raymond Carver was drunk for most of the time. Until the last five years. He had lung cancer. He gave up drinking. He had his "second life." This is when he published most of his poems. They feel like the poems of somebody gifted who can't seem to step into the light. I guess I know how that feels sometimes. Being brilliant and doomed.
People say his short stories are so much better than his poetry. What's wrong with these people. I love his poetry.
Looking for Work [I]
I've always wanted brook trout
for breakfast.
Suddenly, I find a new path
to the waterfall.
I begin to hurry.
Wake up,
my wife says,
you're dreaming.
But when I try to rise,
the house tilts.
Who's dreaming?
It's noon, she says.
My new shoes wait by the door.
They are gleaming.
When I got to college, I put this poem, "Rain," on my door. I think it scared people away because they had pictures of the football team on their doors:
Rain
Woke up this morning with
a terrific urge to lie in bed all day
and read. Fought against it for a minute.
Then looked out the window at the rain.
And gave over. Put myself entirely
in the keep of this rainy morning.
Would I live my life over again?
Make the same unforgivable mistakes?
Yes, given half a chance. Yes.
Those lines are in my head forever. Whenever I've done something terrible but knew it was the only way to do it, and also when I want to stay in bed on the rainy day.
I read some of his poems in art school and got into it. Then I was 18 living in New York and I hadn't written a thing in months and I saw All of Us: The Collected Poems at Virgin Megastore in Union Square and I bought it. There's still a yellow price tag on it: $14.99. It made me want to live/write again. THIS IS SO GOOD! I said to my fuck-buddy who was doing his accounting. I tried reading the poems to him, but he just gave me stupid looks and told me he would never "get" poetry and that I was a dork. But a cute dork.
He was always trying to change the subject to sex instead of poetry, which is why our sex was never poetry.
Raymond Carver wants to drink or to be left alone sometimes. It's like this classic depressive thing. Where you're making everyone miserable and you tell them to leave you alone because you will make them miserable, but unfortunately they care. They love you. You don't deserve it. But also he loves you. See how much he loves you:
Still Looking Out for Number One
Now that you've gone away for five days,
I'll smoke all the cigarettes I want,
where I want. Make biscuits and eat them
with jam and fat bacon. Loaf. Indulge
myself. Walk on the beach if I feel
like it. And I feel like it, alone and
thinking about when I was young. The people
then who loved me beyond reason.
And how I loved them above all others.
Except one. I'm saying I'll do everything
I want here while you're away!
But there's one thing I won't do.
I won't sleep in our bed without you.
No. It doesn't please me to do so.
I'll sleep where I damn well feel like it —
where I sleep best when you're away
and I can't hold you the way I do.
On the broken sofa in my study.
Then he wrote a poem about my Dad. I mean, actually it was technically about his Dad. Or about death in general. It was called Another Mystery. Really it had nothing to do with  me or my life except for the lines that went:
That time I tagged along with my dad to the dry cleaners —
What'd I know then about Death?
He says it was just a mystery, "the suit your grandpa is going to leave the world in," but later death became less of a mystery in which "relatives departed this way and that, left and right." Then, Raymond Carver says, "It was my dad's turn." There's a funeral scene and then he talks about picking up his own suit, and the first line and the last line of this verse come together in my mind despite the 10 lines between them–
Today I reeled this clutter up from the depths…
I reached through to the other side.
Here now are some lines from his poems, taken out of his poems for you, because they are perfect:
And last week my wife dropped by
with a can of beef soup
and a carton of tears.
(from 'Cheers')
I could drink ten quarts of this beer
and nothing it's like water
But let me get onto the hard stuff
and I'll start throwing people out windows
I'll throw anybody out the window
I've done it
But you don't know what love is
(from You Don't Know What Love Is: an evening with Charles Bukowski)
I want to say to hell with the future.
Our future lies deep in the afternoon.
(from "Morning, Thinking of Empire")
Happiness. It comes on
unexpectedly. And goes beyond, really,
any early morning talk about it.
(from Happiness)
This is the fourth day I've been here.
But, no joke, there's a spider
on this pane of glass
that's been around even longer.
(from The Sensitive Girl)
But this much is still true–
I never liked work. My goal was always
to be shiftless. I saw the merit in that.
I liked the idea of sitting in a chair
in front of your house for hours, doing nothing
but wearing a hat and drinking cola.
(from Shiftless)
I intend to take all the time in the world,
consider everything, even miracles,
yet remain on guard, ever
more careful, more watchful,
against those who would sin against me,
against those who would steal vodka,
against those who would do me harm.
(from Cheers)
This last one is on my wall. My friend Sheetal wrote it on the back of a letter she sent me once. It was one of the first poems we read at Interlochen. I think it's just perfect. Not a day goes by that I don't think of these lines.
LATE FRAGMENT
And did you get what
you wanted from this life, even so?
I did.
And what did you want?
To call myself beloved, to feel myself
beloved on the earth.