As you may recall, our favorite human being in the whole world (at least our favorite federal trial court judge) retired at the end of last year, leaving us with fond memories and an incredible 138-page decision on why Prop 8 is unconstitutional.  Now it looks like his giant homosexual judge shoes of chief judge for the U.S. District Court of Northern California are being filled by Judge James Ware.
What do we know about Judge Ware? What does this appointment mean for Prop 8? Well, there are a few different factors at work here. First of all, it may or may not mean anything at all for Prop 8 depending on how the current appeal of Prop 8 goes. It's still completely unclear (at least to me) how long the case will sit with the California Supreme Court, or where it might go after that? The State Supreme Court's decision has a lot to do with where this case goes next; it's been widely speculated that it could reach the Supreme Court of the US depending on what happens with its appeal (and who knows what that would mean, what with The DOMA Thing? Not us!) The collective opinion of people who have opinions on this sort of thing is that it will end up back in the Ninth Circuit Court of Appeals "later this year." (Possibly fall?) How it does there will determine whether Prop 8 ever ends up back in a federal trial court, such as one that Judge Ware might preside over.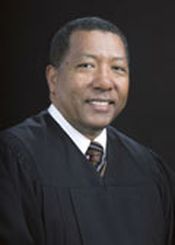 BUT in the event that that does happen, what is up with this Ware dude? Well, we don't actually know much. But here are the facts as we see them:
+ He's been nominated to judicial positions by both Bill Clinton and George W. Bush, making it difficult to pigeonhole him as either liberal or conservative.
+ We don't know for sure, but it seems statistically unlikely that he is gay, as Judge Walker was.
+ He did once rule that students have a right to sue their school district for homophobic harassment.
Ultimately, there's only so much that a long-distance analysis, no matter how in-depth, of a judge's background can give us. We have to believe that Judge Walker ruled in our favor not because he's gay, but because his understanding of the law led him to believe that Prop 8 was insupportable by legal principles and precedent – as his exhaustive ruling would indicate. And in the eventuality that Judge Ware does make a ruling on Prop 8, it will also be informed by his legal interpretation, which will be completely personal to him while at the same time as untainted by his personal views and opinions as he is able to make it. And so really, there's no way at all for us to know. We can only do what we've been doing for the past two years and also our entire lives: sit tight, hold hands, and hope for the best.