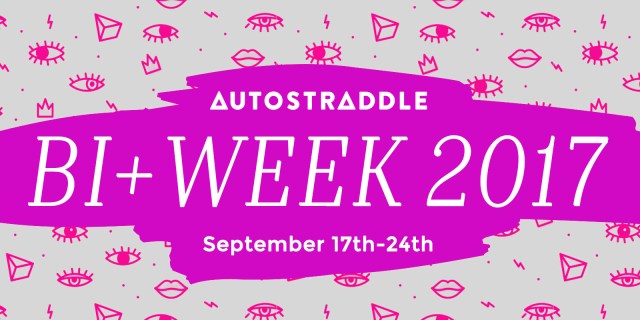 In the week leading up to what was initially Celebrate Bisexuality Day on September 23, we think a lot about visibility — characters in media who resist tropes, how we accomplish positive but nuanced representation, what it looks like to intentionally see and create space for each other, and looking at books and music that show us ourselves. Although it's obviously crucial and beautiful, visibility is also complex! How do we want to be seen in our daily lives? How much control do we really have over it? How do we make ourselves visible in a world that often chooses not to see us clearly, and what risks and complications come with it? There's no one answer, which is why we had all these Autostraddle staffers who identify somewhere under the bisexual umbrella talk about it for you!
---
Nora, Fashion & Beauty Editor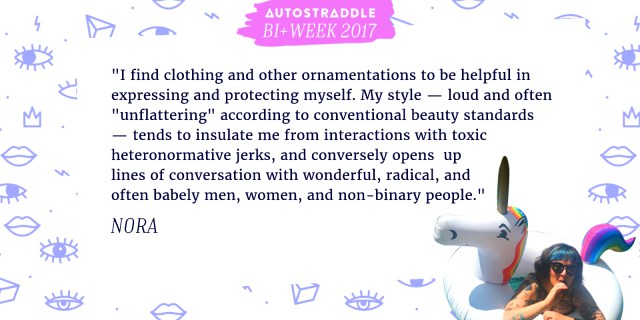 I don't feel personally compelled to describe my sexuality in a single word or limited terms. The way I tend to phrase it to interested parties is that I am attracted to certain people regardless of gender, and that I feel lucky to have so many opportunities to give and receive love — though in a pinch, I'd say the most comfortable approximation of that sentiment is "queer."
I ascribe this attitude largely to growing up in a family with two moms and a non-binary sibling, and in a social circle that knew and embraced us as such. My friends and relatives know I've dated people of different genders, but I've never had a real official "coming out"; I imagine that would feel more urgent had hetero and cis been presented as the default in my immediate community, the way they are in the world at large.
That said, I find clothing and other ornamentations to be helpful in expressing and protecting myself. My style — loud and often "unflattering" according to conventional beauty standards — tends to insulate me from interactions with toxic heteronormative jerks, and conversely opens up lines of conversation with wonderful, radical, and often babely men, women, and non-binary people. It's a pretty sweet situation, if you ask me.
---
Mey, Trans Editor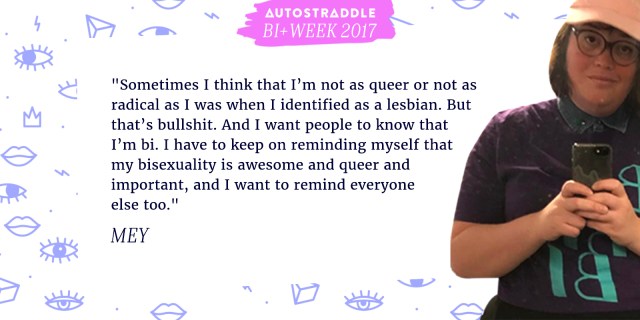 I've still not even been bisexual for a year, and I struggle a lot with internalized biphobia. Sometimes I think that I'm not as queer or not as radical as I was when I identified as a lesbian. But that's bullshit. And I want people to know that I'm bi. I have to keep on reminding myself that my bisexuality is awesome and queer and important, and I want to remind everyone else too. So whenever I get the chance, I remind people by saying "Hey, I'm bisexual.wp_postsI love labels, and this is a label that's very important to me, so I'm going to say it as many times as I can until it's stuck in both my mind and the minds of everyone I talk to.
---
Stef, Vapid Fluff Editor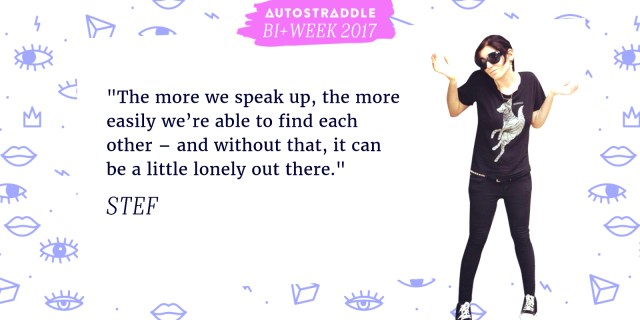 As a person who exists and writes on the internet, I do think it's important to make myself extremely visible as bi/queer/etc. The more we speak up, the more easily we're able to find each other – and without that, it can be a little lonely out there. I've been lucky in that I started coming to terms with my sexuality around the same time I met Riese and this website happened, so I never really had to go searching for an inclusive online queer community before we actively built this one.
I struggled enormously to come to terms with my sexuality in my 20s, and now in my 30s it's still not necessarily something I can clearly define. I've mostly stopped trying to limit myself with labels, and over time I've found that to actually be pretty common (I will use "bisexualwp_postsor "queerwp_postsbut have never found a term that particularly resonated with me). I will admit that it's tricky sometimes helping my straight friends understand the language regarding my orientation that feels comfortable to me. I've also definitely had issues with partners who didn't understand that my sexuality was/is real and valid. Interestingly enough, those partners are no longer around.
---
Laura M, Staff Writer
I feel like I've gotten much more chill about labels over time. I primarily identify as bisexual, but I find myself using "lesbian" and "gay" as adjectives to describe myself just as often. Outside of LGBT-specific contexts, I generally find any word that indicates "not straight" to be good enough. I guess I just don't care that much if coworkers and casual acquaintances know the granular details of my life experiences and feelings? Broad strokes are fine, whatever.
Outside of my personal life, I do think it's important to advocate for greater bi visibility in the media. People seem to have such a hard time with the concept, and honestly, it's not that hard?! (Which is perhaps why I've ceased to care; it's tiring to repeatedly explain myself.) From the rapid advancement we've gotten on other issues, it seems clear to me that solid portrayals in popular mass media are the quickest path to better understanding. We have a few, but still not enough. I would love to see more.
---
Crystal, HR Director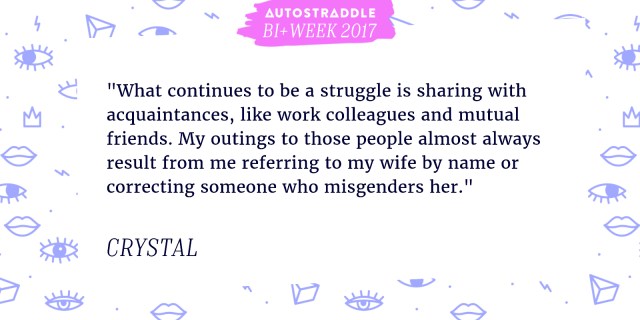 Visibility is important and so my preference will always be for people to know that I'm attracted to folks of various gender identities, although it's not always doable. With friends and family it's easy: I'll either describe my orientation for them (these days I tend to avoid using any kind of label) or let them piece it together by being openly discussing past and current partners.
What continues to be a struggle is sharing this very specific information to acquaintances, like work colleagues and mutual friends. My outings to those people almost always result from me referring to Katie by name or correcting someone who misgenders her. It feels inappropriate to divulge more detail and so I don't, even though I'm aware it may lead to incorrect assumptions about my orientation. I'm not certain there's a work-around, I'm guess I'm still figuring it out.
---
KaeLyn, Staff Writer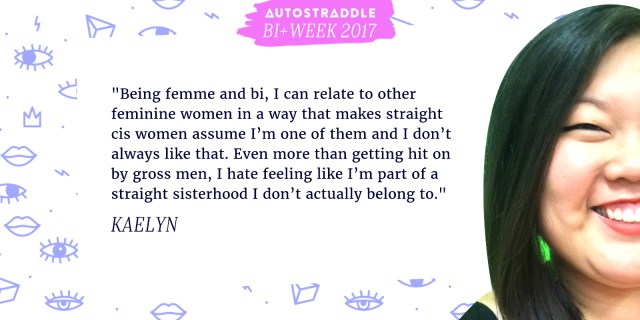 I knew that "bisexualwp_postswas the word that made sense for me when I came out to my parents (in a fit of tears and teenage angst) at 17. I came out to the rest of the world a few months later when I went three hours away to my undergraduate college. Over time, and because of the times (early 2000's), "queerwp_postsbecame a term that best resonated personally and politically with me.
I love the openness of being bi/pan/queer/whatever and the reality that who I'm attracted to changes over time and it's totally natural and chill. I have a hard time conceptualizing monosexuality. Like, how? How can you just be attracted to one gender? I know it's a real thing, but it's bizarre for me to imagine ruling someone out based soley on their gender.
Since I came out-out to the world, I've always been out. I dated a straight cis guy for three years in college and I'm married to a gender non-binary queer boi now, so being visibly queer is not always easy. I'm femme-presenting, too, which doesn't help. There was a time I felt like I had to announce it. Now, I just let it be a thing that is real and if people make assumptions, that's on them. My partner flags as queer to other queer people, so when I'm with him, I feel very seen, but when I'm on my own, it's a crapshoot whether that cute barista will know I'm flirting with her or not.
I flag queer in small ways. I have a fairly drastic undercut that I can cover or show off based on how I'm feeling on any given day. I choose to associate myself with queer things like writing for Autostraddle and serving on boards of LGBTQ nonprofits and being very visible in my social media presence. I don't wear the bi flag on my sleeve and I don't worry much anymore about how people see me, but I think that's partly just getting older and more chill about life and giving less fucks.
The only thing that is sometimes weird is, being femme and bi, I can relate to other feminine women in a way that makes straight cis women assume I'm one of them and I don't always like that. Even more than getting hit on by gross men, I hate feeling like I'm part of a straight sisterhood I don't actually belong to. My favorite part about queer-exclusive spaces is that I don't have to navigate that middle space aka talk to straight people at all.
---
Raquel, Staff Writer
Over time, I've identified as many different things — heteroflexible was my first label, dipping my toe into the waters of multi-gender attraction but afraid to go so far in the lady pond that it would disrupt my life. Then, inevitably, it did—I fell in love with a girl and my world turned upside down. I didn't know what to call myself after that for awhile, and I was just beginning to tiptoe into the world of gayness. I wanted to respect the fact that I'd just spent four years of my life dating a man, and years of my life before that with crushes on boys (and girls, but I hadn't let myself look at that straight in the face, just yet). So, I tried "panwp_posts— a term I'd learned on Tumblr, and a term I liked because I liked the ability to both have a label and be very vague about everything. ("I just like peoplewp_posts— thanks, Skins Series 5 Frankie!) Also, it reminded me of the creepy greek half-goat god, which for some reason I liked?
I even ended up starring as the token non-lesbian in a friend's documentary short, with long mermaid hair and dressed in a vest and tie, explaining what "pansexualwp_postsmeant — mostly, that it's not so much about the parts as about the people. Pretty soon, I was trying my darndest to read as gay as I possibly could — I cut off all my hair and started to dress exclusively in doc martens and button-ups, usually also with suspenders, a tie, a vest, a blazer… (I definitely could have benefitted from Coco Chanel's advice to "before leaving the house … look in the mirror and remove one [or two or three] accessory").
After I'd been in the gay community for awhile, however, I started to meet other queer and bisexual women who talked to me about why pan was a frustrating label for them, and how important it felt for them to identify as Bisexual, openly and politically. I learned that it was shitty to call it transphobic — and actually, the "biwp_postsrefers to having an attraction to both your own sex and other sexes — making it not inherently transphobic, but just as inclusive as I thought pansexual was. This is my opinion — I still have friends who like "panwp_postsas a label as well — but to me, it started to feel unnecessarily academic, niche, and thus standoffish, like I was using the term just so I wouldn't use bi, and so I could be using a term other people couldn't understand. I didn't want to be that person.
I started to want to be bi, open about it, and smarter than the people who gave me shit for it.
And I had started to get shit for it. I was accosted for threesomes, accused of being in a phase, asked if I'd "go back to dick when we break upwp_postsand what my "percentagewp_postsof preference was—i.e., 50 – 50 gals and guys? 60–40? 80–20? (The answer is, 0% for you, asshole, and what a stupid, binarist, and erasing question. Go buy me a drink and go away.)
Interestingly, being called bi by others as a slur made me start to think harder about why I felt negatively towards the term. It make me look at my internalized biphobia. I wanted to be more visible, this time not by dressing as "gaywp_postsas I possibly thought I could, but by showing up to my community and speaking up when someone else had some wrong, or hurtful ideas. I wanted to be openly bi in a way that allowed me to be a good representation.
At the same time, I love having a glut of terms I can use interchangeably. I love the term "queer,wp_postswhich I usually use as a more umbrella term, to include myself amongst other women and non-binary folx who like women and non-binary folx (and men and whomever else they damn like). It's the term I started using on my twitter and other social media, and the term I use to self-identify as a member of a community (as opposed to my specific, personal identity, for which I still like "bi"). I like identifying as, like, "sooooo gay, dude.wp_postsAnd I like being bi, regardless of who I'm dating or not dating at the time.
Added bonus? So many good puns. Bi, bitch.
---
Audrey, Writer
I fought hard to find the word bisexual and even harder to believe I could have it, so the word itself and naming myself is very important to me. I spent so many years loving boys and kissing girls and wearing my denial and confusion like chain mail — full of holes and yet still so powerful. In the five years since I first uttered the words "I'm bisexual," I've taken great joy in proclaiming them fiercely. I want everyone to hear me say it in case they don't believe we're real, in case they won't sleep with us, in case they've literally never thought about it, in case they need an opening to say it too. I use other words also – I identify as queer, I appreciate the cultural shorthand of gay, and I'll call my behaviors or clothes or social circle "so lesbian" when the occasion calls for it. But if I ever suspect there is a seed of doubt or erasure, I butt in: "Actually, I'm bisexual." It's simple, and so far it's never caused anyone to yell at me, and it's the least I can do to maybe make things a teeny bit easier for those who are still out there searching for the word.
---
Natalie, Staff Writer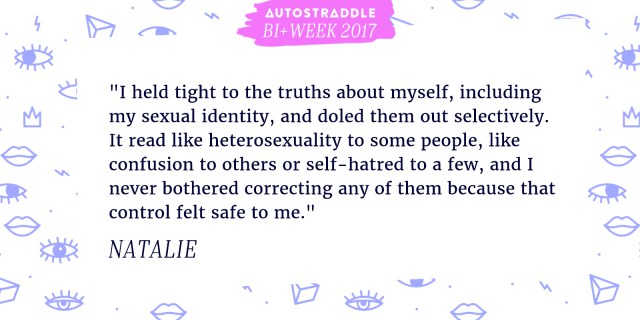 For most of my life, I've been particularly good at making myself invisible. It was an instinct borne from surviving sexual assault… a way to regain the control that had been stolen from me. I held tight to the truths about myself, including my sexual identity, and doled them out selectively. It read like heterosexuality to some people, like confusion to others or self-hatred to a few, and I never bothered correcting any of them because that control felt safe to me.
But as I began to heal from the trauma, I started to cede some of that control and my grip on those truths began to loosen. My attraction to women was, surprisingly, easier to accept than the realization that my attraction to men hadn't ended that fateful night. I told the people I cared about most… and, at some point, healing and establishing visibility as a bisexual woman became invariably linked. Both remain daily pursuits.
There's still a lot about visibility that I don't have figured out yet. The conversations between me and potential romantic partners have gotten easier but the everyday conversations… those conversations — with straight and queer audiences alike — which are completely avoidable, yet probably necessary to create a better space for bisexual people? Those conversations are fraught and require far more energy and patience than I often have to give.
---
Araguaney, A-Camp Staff
I very rarely think about visibility. More specifically, I rarely think about my own. I think it is because I'm consistently outing myself by virtue of my gender, and so with that in/visibility has been normalized as a daily practice, as routine as taking a shower. I'm genderqueer and my pronouns are they/them, so if I want to go through a meeting without feeling like I might suffocate I have to out myself from the get go. In/visibility is just routine. I say my name, I say my pronouns, I say my title, I get going with my meeting, presentation, etc. This is not to say I don't think about safety on a daily basis, to varying degrees according to the environment, it just doesn't manifest as a sidekick to visibility.
I used to think about my own visibility way more when I wasn't out as genderqueer. When people thought I was a cis woman, I was exposed to the bullsh*t of "you are either gay or straightwp_postsway more frequently. I felt it deeper, too. I don't have a control group of myself, so I don't know if it cut deeper because there were other parts of me that also didn't feel accepted (even by me, at the time) or because I was exposed to it so much more often. What I can say is that doesn't happen nearly as frequently now that I'm out daily as a genderqueer person. It's like the idea of sexual orientation is out the window once we come in with a fluid gender identity.
Are all genderqueers, queer? I do wonder, if a genderqueer person is only attracted to people of a gender other than genderqueer — does that make them heterosexual, by definition? I am by no means advocating labeling other people, just thinking out loud if the same rules of sexual orientation apply to genderexpansive folks like me, and whether other genderqueer folks have thought about this too. With a gender so happy to be outside the binary, how do we relate to words that were created with only binary identities in mind?
I don't have an answer to that yet, and I'm excited to see the definition of words to continue expanding to include us. In the meantime, while I think this through, I can let you know it is my loud mouth that keeps me visible everyday.
---
Rachel, Managing Editor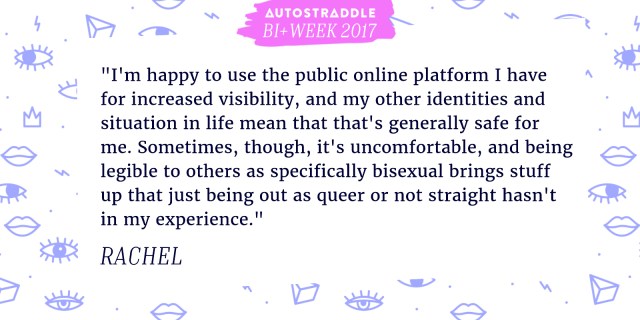 I'm in a unique position as far as my visibility as an out bisexual person because of this job and the website you're reading this on — although my presentation and visual markers are such that in the "real world" I'd usually be read as straight woman, but my "real world" is an online one where both me and my identity are highly visible in specific ways. In some ways that's been really positive — it relieves me of the burden of constantly making choices about my visibility and having to come out at least in some ways constantly and to everyone. On the other hand, in some ways it sucks — it takes away choices about my visibility, because anyone who knows what I do for work or who googles me can find out a lot about my experiences and how I identify.
Most of the time that's totally fine; I'm happy to use the public online platform I have for increased visibility, and my other identities and situation in life mean that that's generally safe for me. Sometimes, though, it's uncomfortable, and being legible to others as specifically bisexual brings stuff up that just being out as queer or not straight hasn't in my experience — I've had a lot of specific interactions with a lot of people making assumptions about my relationship to monogamy, about my sexual history or availability, my relationship to the rest of the queer community, a whole range of truly bizarre things. When possible, I like having a little more control over how I'm read and who I make myself legible to; Natalie's thoughts on wanting to maintain a dynamic of control over how others see you really resonated with me. In real-world interaction I find myself often reaching for cues or forms of communication that will resonate with other queer people but not straight people — a classic vagueness around the pronouns of former partners, etc. I'm sometimes ambivalent around concepts of visibility (I wrote a whole essay about it). I definitely wholly understand the importance of as many visible and authentic bisexual identities as possible, but I sometimes feel concern about a certain flattening of me and my community — I worry that when I identify myself as bisexual specifically, I can feel other people's expectations and connotations related to that identity suddenly superimposed onto me, and they can be exhausting to navigate. At the end of the day, though, I think that's a challenge that can only be addressed with even more depictions of us, more varied and authentic and complicated visions of us that make the weird cookie-cutter ideas of us that people have obviously and inarguably absurd.